Spellings hails No Child Left Behind
December 3, 2008 - 10:00 pm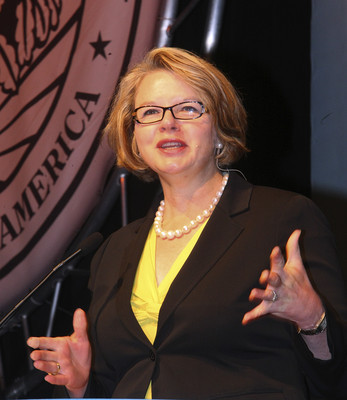 The federal No Child Left Behind Act, an education law intended to improve student achievement, can also help public schools weather the tough economic climate, Education Secretary Margaret Spellings said Tuesday.
The Clark County School District, for instance, is preparing for anticipated reductions of $120 million in state funding next year.
Armed with the student test data gathered by federal mandate, Spellings said, educators can go to lawmakers and say: "This is where we are, this is what we need, and this is who needs help."
Spellings, who was in Las Vegas to speak at the Federal Student Aid Conference at Bally's, said the economic crisis is forcing public schools to look carefully at how resources are allocated. Information on school performance can be used to set budget priorities.
"As discouraging as it can be, it's an opportunity to right the ship and make sure we're spending the money on the things that are absolutely essential."
Spellings' advice might seem counter-intuitive because school systems across the nation have spent millions of dollars to hire consultants and tutors to improve student performance on annual tests in math and reading as required by the federal act.
But resources to support that kind of spending are drying up. Because of Nevada's budget crisis, the state has slashed $11.9 million in aid that was intended to help schools meet the standards of No Child Left Behind, said Clark County School District Superintendent Walt Rulffes.
During a news conference, Spellings insisted that educators can use the information on school performance to set budget priorities "so we can be a lot smarter with the limited resources we have."
No Child Left Behind, enacted in 2001, calls for schools to have all students performing at grade level by 2014. The federal act is often criticized by those who see it as an unfunded mandate that places too much emphasis on testing and call it punitive for labeling under-performing schools as failures.
Spellings said Tuesday that she doesn't understand the criticism. She said the legislation was intended to create more awareness and force necessary change.
"It just says these are the facts ma'am," said Spellings, whose term ends with the Bush administration.
Spellings said she will continue to advocate for No Child Left Behind.
Spellings came under criticism Tuesday after speaking to the conference of financial aid advisers. Audience members criticized both student loan programs and her leadership.
She acknowledged the need for improvement, especially in simplifying the student loan application process, but she urged audience members not to be partisan.
"I regret there's this idea of division between Democrats and Republicans about funding for higher education," she said.
Contact reporter James Haug at jhaug@ reviewjournal.com or 702-799-2922.