Stone tools from the end of the ice age discovered in Lincoln County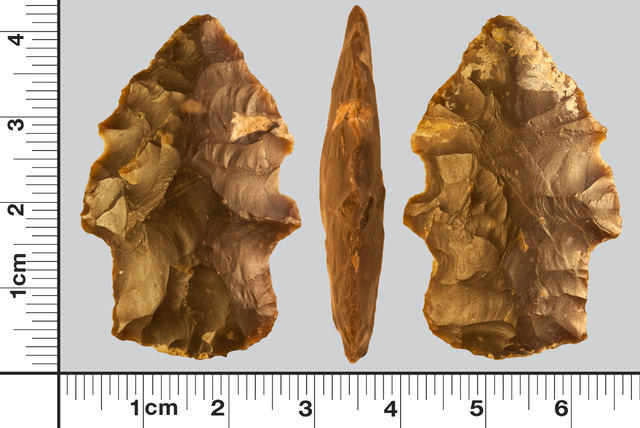 Thousands of years before Dry Lake Valley earned its name, the vast basin in Eastern Nevada cradled water and marshland that beckoned some of the Great Basin's earliest known human inhabitants.
Their stone tools are still out there, if you know where to look.
A team of archaeologists from a Utah-based firm has found artifacts at six sites in the Lincoln County valley, 130 miles northeast of Las Vegas on U.S. Highway 93. They also found ancient tools at seven sites in Delamar Valley and six sites near Kane Springs, also in Lincoln County.
The projectile points and crescent-shaped scrapers were fashioned out of chert and obsidian by people who lived in the area as many as 12,000 years ago, near the end of the last ice age.
"These are the first folks to make a living in the Great Basin," said archaeologist Jesse Adams, who led the team from the environmental consulting firm Logan Simpson.
Finds like this are "very rare," Adams said. "There are definitely archaeologists who go their whole careers without finding any, and we found several."
And almost as impressive as what they found was how they found it.
The team used computer-based predictive modeling to determine where to go looking for artifacts based on the locations of previous finds elsewhere in the Great Basin from the same time period.
The method helped them pick out relic sites 100 feet square in valleys 60 miles long and 15 miles wide.
In Delamar Valley, their predictive mapping tool led them to the rocky rubble of a long-vanished stream bed where scattered tools marked where early inhabitants may have fished, hunted water fowl and gathered plants.
"These are very subtle land forms," Adams said of the old stream channels, which have been inverted by erosion along the dusty playa.
The fieldwork was conducted from 2010 to 2013, using grant money from something called the Lincoln County Archaeological Initiative, a federal program launched in 2006 to inventory, manage and protect cultural resources on public land in the rural county.
The initiative was seeded with money from the sale of federal land for development near Mesquite. So far, the program has distributed more than $8.1 million to 49 different research and resource management projects in Lincoln County.
The initiative is now accepting proposals for its ninth round of projects, with $1 million up for grabs.
Nick Pay, an archaeologist with the U.S. Bureau of Land Management, said Adams and company found something rare, "especially in the Great Basin," where little evidence has been found of human activity from the end of the Pleistocene.
"We don't find (sites like this) very often. In this case, we found them and we were looking for them," said Pay, who is also project manager for the Lincoln County Archaeological Initiative. "It's kind of a big deal that their (predictive) model worked."
Adams said the artifacts they discovered were cataloged, photographed and left where they were found.
As a general rule, Pay said, his agency doesn't collect relics from the field unless they are under immediate threat. He said they simply don't have the money or the space to store and care for every arrowhead or scraper tool.
For members of the general public, removing artifacts from federal land is against the law.
Pay declined to identify the specific location of the relic sites, though he did say that some of them "skirt along" the route picked out by another group of people who have come to Dry Lake and Delamar valleys in search of water.
The Southern Nevada Water Authority plans to sink wells and run pipes across a wide swath of Eastern Nevada some day, supplying groundwater to the Las Vegas Valley that some researchers argue is left over from the last ice age.
Pay said the discovery of artifacts in the area is unlikely to impact the pipeline project. The water authority is already required to conduct a cultural resource inventory along "every inch" of the pipeline and mitigate for any sites that may be found in its path.
Pay said little is known about the culture and customs of the people who left the stone tools in what is now Lincoln County. He said the Paleo-Indian people were hunter-gatherers and "more than likely semi-nomadic," trailing water and game across the landscape and through the seasons.
"In the Great Basin, where you have water you have people," he said.
Adams can vouch for that. During one of their field trips to Delamar Valley in January 2013, they arrived after a winter storm to find the playa covered by shallow lake.
Standing at its edge, it was hard not to think about the people who may have stood there thousands of years before.
"It gave you an idea of what the valley might have looked like to them," Adams said.
Contact Henry Brean at hbrean@reviewjournal.com or 702-383-0350. Find him on Twitter: @RefriedBrean