Thunderbirds F-105 model resurrected at Nellis Air Force Base
November 15, 2013 - 8:55 pm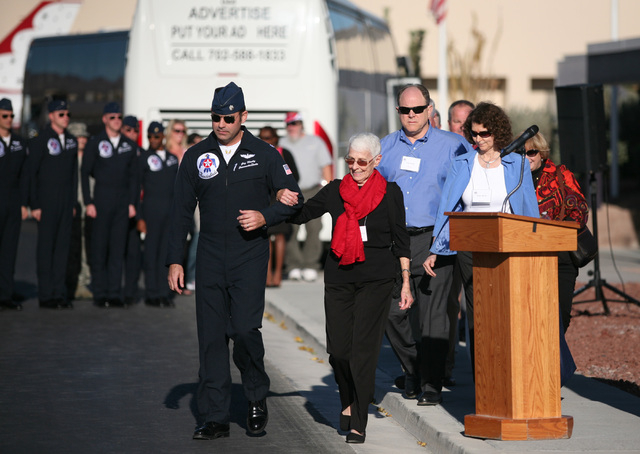 Like the red, white and blue jet their father flew, the one perched on a pedestal outside the Thunderbirds hangar at Nellis Air Force Base made their hearts soar Friday when the team rededicated the 600-pound model in honor of their dad, Capt. Gene Devlin.
Now in their 50s, the boys were only 8, 6 and 2 years old when Devlin, a Thunderbirds pilot, was killed when his plane, an F-105 Thunderchief, blew apart as the team was landing in preparation for an air show in 1964 at what was then Hamilton Air Force Base north of San Francisco.
"This is great," said oldest son Greg Devlin, who traveled from northern Virginia for the ceremony held 60 years after the Air Force demonstration team was established.
"It's good to see it back up in the air. It really is. It's good for the family. I know my mother is really happy to see it," he said, standing next to his mom, Shirley Buckley, of Texas.
Said Buckley: "I'm very honored. I know it means a lot to Gene. I know he's here. He's here" in spirit.
Thanks to a $10,000 donation from the Thunderbirds Alumni Association and countless hours of work by Rick Dale and his crew from History channel's "American Restoration" program, the one-twelfth scale model of Capt. Devlin's jet that for years had welcomed airmen and visitors to Nellis was returned to a prominent place in pristine condition.
"It means everything in the world," Dale said after he watched the Devlin family unveil the dedication plaque Friday. "It's a total honor to be part of this. Without these guys fighting for us there would be no freedom whatsoever."
He said the toughest part of the restoration project was re-painting the model after all the old paint had been stripped. "Everything is rounded and has curves, so it was very hard making it exactly the way it was. And that was very important because they did it for a reason. Everything about the Thunderbirds is exact, every single thing they do."
Built by Republic Aviation and installed at the base entrance in 1974 as a tribute to the fallen pilot, the sun-baked fiberglass model, with its faded blue stars and red-turned-pink trim, had been yanked down in 1999 and stowed in a remote hangar when the base entrance road was realigned.
For a decade, it had been forgotten but not lost. Tech. Sgt. Anthony Graham, the team's quality assurance inspector, got a call one day to retrieve it from a storage yard where a hangar was being demolished. He said he "almost had a heart attack" when he saw this Thunderbirds symbol in its tattered condition. "It broke my heart," he said in a January interview.
In his remarks at the ceremony, Thunderbirds commander and leader, Lt. Col. Greg Moseley, noted the team's role-model obligation.
"We are responsible with representing every airman out there just like Capt. Devlin did," he said. "What you see before you is a gentleman who wore a patch, much like most of us have on our chest and our arms to symbolize what is good about our Air Force, what is important about our Air Force, which is representing each and every day what's important for our nation."
Bill Devlin, a civilian cargo-passenger jet pilot from Centerville, Va., served more than 12 years in the Air Force at the controls of jets and transport planes. Because he was so young when his father died, his dad was "kind of unknown to me" but Friday's ceremony "ties it in."
Mark Devlin, the youngest of the brothers, who lives in the Houston area, said, "It's just an amazing, overwhelming day to see the level of family that's involved with the Thunderbirds.
"How warm and gracious they've always been to my family means the world," he said. "Getting to actually meet some of these people that worked with him, it just helps me so much. I know he was a great man."
Contact reporter Keith Rogers at krogers@reviewjournal.com or 702-383-0308.