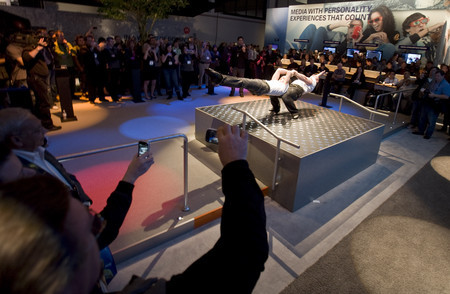 Maybe if the pretty blonde on the stage with the giant TVs were actually flopping on the floor like a live fish in a frying pan she'd have a bigger crowd. Alas, she is not.
Instead she is gesticulating wildly in front of a dozen people, smiling like a comic book villain and promising that Samsung is about to change the world.
Just like every other company here Friday at the Consumer Electronics Show, the annual megafest of technology that this year has attracted an estimated 110,000 people to our fair city.
"Here is a whole new way of watching TV!" she says into the microphone growing from her cheek like a tumor covered in fuzz.
Um hmm.
She's talking about the integration of monstrous televisions, remote controls and computers in such a way that you will be able to download recipes directly into your crock pot, print out a meal from your car stereo and feed it into your brain through your Wii.
Or some such thing.
There is much hype at CES this year, as there is every year, about how the newest gadget is going to Change Your Life Forever. Among the alphabet soup of products that have debuted at CES in Las Vegas: CD players (1981), Nintendo (1985), DVD (1996), HDTV (1998), DVR (1999), Xbox (2001) and Blu-ray (2003). This year the gadgets will even — get ready for this — save the world!
Eco-friendly is the new black. Integration is the new pink.
Yes, maybe some of this is true; maybe all of it. But, golly, does any of this really uncomplicate things?
The attention this year is going to televisions that are larger than a small office cubicle, which not only have pictures so clear it appears as if the trailer for the movie "Monsters vs. Aliens" was taking place in your actual personal space, they come in 3D so astonishingly scary that you might unconsciously wipe nonexistent monster slime from your brow before you go.
Samsung had 'em. Sony, LG, Sharp, Toshiba, Motorola, etc. Never mind that you have to wear clunky glasses, this is amazing!
But it ain't just TVs that are going to fix all your problems.
There are phones that are so smart, they'll do your kid's algebra for him. There are Internet hookups for car dash boards, so texting while driving won't be a problem anymore; we'll have Facebook on the go instead. There are more than 100 companies offering e-readers, which are $300 books without the inconvenience of having to buy $25 books.
There is a printer from Canon that will wirelessly hook up to your iPhone and chat with you when you're bored.
"It's so fun!" says the TV-news-pretty gal up on stage.
Hewlett-Packard introduced a new "tablet," which is a computer without a keyboard, which sent the media into a frenzy earlier this week.
Apple, the king of hype, is rumored to be introducing one of these really soon. It is so hotly anticipated, so fervently believed to be the Next Big Thing, the blogs are all calling it the Jesus Tablet.
There are devices that will protect your house from fire, eliminate your phone bills, Twitter your marketing plan or immerse you so deeply into video games that Stephen King would be startled.
Woohooo! Right?
Chris Murray doesn't think so. He's here from Black & Decker, the tool company. He's not selling some sort of drill/saw/sander combo that's ready for the Internet, and he isn't looking to buy anything either. He's not all that jazzed by the whiz-bang stuff that gets all the hype.
"It's just good to come and gauge what's new," he said.
He's watching. He's getting ideas. He's wondering what we'll all be talking about 10 years from now. It probably won't be the 3D TVs.
He sees products in the marketplace now that had tiny booths at CES a decade ago, not the glitzy escapades with a hundred digital TVs and the supermodels with the tumors stuck to their faces.
He's talking about small companies with significant but unflashly devices that can actually change important parts of our lives. Stuff like remote health monitoring, for example.
"For me, it's just interesting to see the kind of ground they're breaking," he said. "And nobody notices it at first."
So maybe fish-flopping isn't necessary. Just a product that does more than wow the crowd with glitz. Temporarily.
Contact reporter Richard Lake at rlake@reviewjournal.com or 702-383-0307.