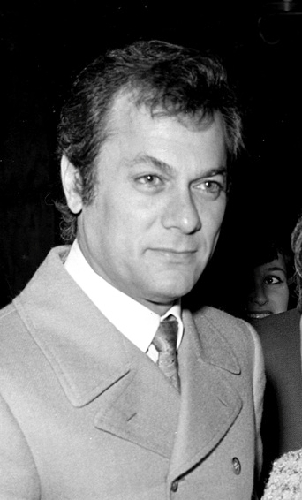 Las Vegas was Tony Curtis' second home for so long that he finally made it his home.
When I heard the sad news Thursday that he had died at the age of 85, I searched my files for a June 2006 interview.
He had called, as he would every so often, with a tidbit of news that would lead to a mini-interview. But with Tony, it never seemed like you were interviewing him. He was always so conversational, never guarded, it was more a case of two friends chatting.
He told how he ended up here more than 10 years ago because he had had it with Los Angeles traffic. He also loved the entertainment choices Las Vegas offered, the shows, the fine dining. Plus, he had so much history here.
That's what appealed to me, and that's where our conversations inevitably went.
A few years after leaving the Navy — he was on the deck of a submarine in Tokyo Bay during Japan's formal surrender on the USS Missouri on Sept. 2, 1945 — Curtis moved to Los Angeles to pursue acting. He fell in with an interesting crowd and by the 1950s was a Vegas regular.
"I used to drive (Frank) Sinatra to Vegas. He had a Karmann Ghia. Jack Entratter would be singing in the back seat," Curtis told me.
Tony was in the company of the Rat Pack so often in the 1960s that it was said he was an "honorary member." He attended the inauguration party of John F. Kennedy with "the guys."
When Elvis Presley launched his comeback at Kirk Kerkorian's King Kong of hotels, The International, Curtis was among the glitterati.
In 1978, he landed the role of Roth, a casino mogul, in "Vega$," co-starring with Robert Urich (detective Dan Tanna ). Curtis said his role model was Burton Cohen, who ran the Desert Inn, where much of "Vega$" was set.
"Burton showed me how to do it. I'd follow him around and study the way he walked through the casino. I just copied him. I watched how he talked to people. He made a point of being nice to people. He had a flair. I decided that's how I wanted to play my guy."
A couple years ago, Curtis asked me to host a Q and A at the Clark County Library on Flamingo Road. The lines ran down the block.
We did another a year ago. Same huge turnout.
One of my lasting memories will be of Curtis rolling his wheelchair to the edge of the stage to get closer to his fans and saying, "I feel like a good citizen in this community. Everyone's so nice to me."
He delivered one of his greatest lines in 1990 at a Desert Inn roast marking attorney Oscar Goodman's 25th year in Las Vegas.
After local dignitaries and a few sketchy characters roasted Goodman, Curtis went to the podium, looked around the room and said, "I don't know what I'm doing here. I haven't killed anyone."
As he would have wanted it, Curtis' funeral services at 11 a.m. Monday at Palm Mortuary on Eastern Avenue will be open to the public.
His pallbearers will be Preston Ahearn, Joe Hale, Gene Kilroy, Arthur Rosson, Clint Vandenberg, Dave Vandenberg, Tom Vandenberg and yours truly.
Honorary pallbearers are grandson Nicholas Curtis, Kirk Douglas, Dan Gillan, Kirk Kerkorian, Phyllis McGuire and Fred Palouis.
THE PUNCH LINE
"It was a rough night for David Hasselhoff. He sobered up, turned on 'Dancing With the Stars,' and realized he's been eliminated." — Jimmy Kimmel
Norm Clarke can be reached at (702) 383-0244 or norm@reviewjournal.com. Find additional sightings and more online at www.normclarke.com.
RELATED STORIES
• Tony Curtis, Hollywood legend, remembered
• R-J reporter remembers Tony Curtis
• Film legend Tony Curtis reveals his painter's soul – 4/1/10
• Tony Curtis recalls bleak childhood, Hollywood adventures in candid memoir – 1/22/09
MULTIMEDIA
Norm Clarke reminisces about Tony Curtis
Norm Clarke talks to film icon Tony Curtis
– 7/19/09
Tony Curtis photos
Tony Curtis timeline