Trial begins today for suspect accused of filing false affidavits
October 3, 2010 - 11:00 pm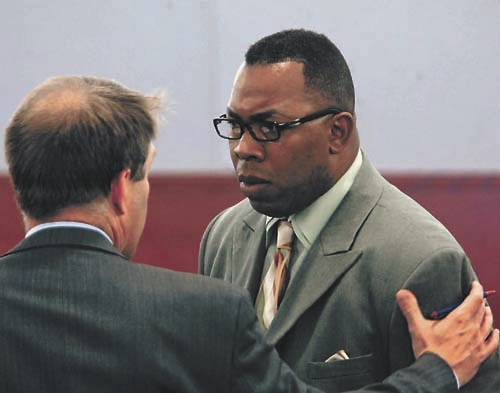 Just two months after being charged with submitting false affidavits in what has become an unprecedented courthouse scandal, former Las Vegas police officer Maurice Carroll is to stand trial today.
His lawyer, Craig Mueller, won't reveal the defense's strategy, but he promises the trial will be worth watching.
"It's going to be a barn-burner," said Mueller, who insists his client did nothing wrong even though police say Carroll admitted he had filed false affidavits in Las Vegas Justice Court.
As of Friday, Chief Deputy District Attorney Mike Staudaher, who is prosecuting the case, said there were no plea negotiations. Police are continuing to investigate Carroll, who served on the police department from 1990 to 2000.
The trial is to get under way in the courtroom of District Judge Elissa Cadish, as Justice Court officials prepare to ask the Clark County Commission on Tuesday for $60,000 to hire a special hearing master who would help sort out the process-serving scandal.
The hearing master would be asked to review some 25,000 civil default cases linked to payday loan and debt collecting companies that hired Carroll to serve court papers on defendants they were suing.
Justice Court officials are concerned that the rights of some of those defendants were violated. ­They say Carroll and his associates failed to serve the papers but certified that they had. In many cases, defendants were hit with default judgments after failing to show up for cases they knew nothing about.
Staudaher won't comment on the criminal case, but he confirmed that one of his first witnesses will be Las Vegas Justice of the Peace Melissa Saragosa, who brought the allegations against Carroll to police in May. Having a sitting judge as a key witness in a criminal case is rare.
Las Vegas Justice of the Peace Diana Sullivan, who also helped bring the improprieties to light, is on the defense witness list. So is attorney Lizzie Hatcher, whose dealings with Carroll and his company, On Scene Mediations, have come under police scrutiny.
Carroll served court papers for payday loan companies Rapid Cash and Budget Loans, and for debt collector Richland Holdings.
The criminal charges stem from Carroll's work with Richland Holdings, but the Legal Aid Center of Southern Nevada has filed a class action lawsuit against Carroll and Rapid Cash, alleging false affidavits also were submitted in cases brought by Rapid Cash.
Carroll, 42, faces 17 counts of perjury, 17 counts of offering false instruments for filing or record and one count of obtaining money under false pretenses.
Carroll and On Scene Mediations are alleged to have submitted false affidavits on May 13 and June 13.
The felony charges against Carroll focus on civil cases in which 17 people were sued by Richland Holdings. In each case, the defendant was hit with a default judgment. In some cases, defendants told police they were working when Carroll's employees claimed in affidavits to have found them at home.
Several of the defendants said they didn't live at the addresses where they were supposed to have been served.
Others said they were out of state when process servers claimed to have served them here.
Staudaher confirmed that Paul Liggio, owner of Richland Holdings, is one of the first witnesses the prosecutor will call.
In August, Liggio, who cooperated with police, apologized in Justice Court for what he said was his company's unwitting role in the scandal. He said he was "lied to," and he promised to help "clean this up."
The trial of Carroll's former office manager, Vilisia Coleman, which was supposed to follow Carroll's case, has been put off until Dec. 13. Coleman, 46, is facing similar perjury and filing false documents charges in cases involving Richland Holdings.
Carroll and Coleman have blamed each other for their legal troubles.
Contact Jeff German at jgerman@reviewjournal.com or 702-380-8135 or read more courts coverage at lvlegalnews.com.