Vegas cabbie, 1 of 3 killed in 2013 Strip shooting and crash, honored in vigil
February 20, 2014 - 10:50 pm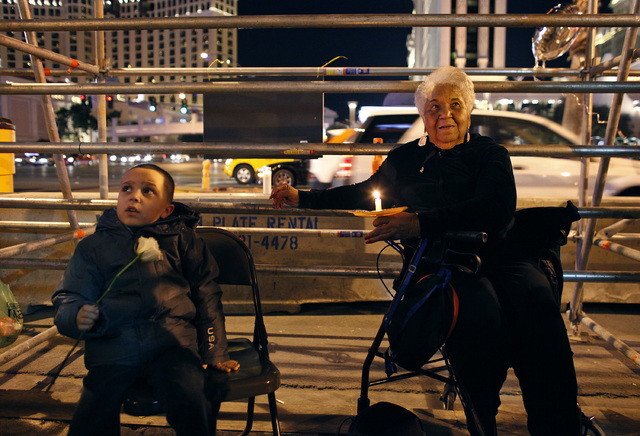 Michael Boldon loved people. As a cab driver in Las Vegas, he met new ones every day.
"He liked to entertain the customers in his cab," said Beth Hultgren, who had been his fiancée. "He'd give them his business cards and they'd call him back later and they'd talk on the phone."
In the early hours of Feb. 21, 2013, Boldon, 62, was driving 48-year-old Sandra Sutton-Wasmund near the intersection of Flamingo Road and Las Vegas Boulevard when a Maserati driven by Kenneth Cherry Jr. crashed into Boldon's taxi, igniting a fiery explosion.
Reputed pimp Cherry was behind the wheel of the vehicle prosecutors allege Ammar Harris, 27, fired on while stopped at a red light. Cherry's Maserati careened out of control and crashed into Boldon's taxi.
Boldon, Cherry, 27, and Sutton-Wasmund, of Maple Valley, Wash., were all killed.
One year later, at the same intersection where the three victims lost their lives, Boldon's family held a vigil in his memory. A wreath covered in pink ribbon was wrapped around the Flamingo Road pole across the street from Bally's on Thursday.
White roses were placed at the foot of the pole as family members clutched candles and wiped away tears.
"I hate seeing this corner," Hultgren said. "I miss him every single day."
Boldon's younger brother, Tehran Boldon, held a candle and did his best to fight back tears as he watched his young grandson, who was holding a rose.
"He would be very pleased with this," Boldon said of his brother. "He just loved everybody."
Michael Boldon, originally from Detroit, came to Las Vegas two years ago. His family knew him as the one who made everybody happy. He would always tell them how much he loved being a cab driver.
"He would always come home from work with different stories about his customers," Tehran Boldon said. "It was an interesting job for him."
Hultgren echoed the sentiment.
"He would tell me all the time that he loved his job," she said. "He would always say, 'I meet interesting people everyday'."
Hultgren said she still struggles from time to time with the loss of Boldon.
"Some days are better than others," she said. "I just think about him so much."
Harris, a pimp who bragged about his criminal life in Las Vegas, was arrested in the shooting and crash. He faces three counts of first-degree murder and is set to stand trial Sept. 8. If convicted, Harris could face the death penalty.
Contact reporter Steven Slivka at 702-383-0381 or at sslivka@reviewjournal.com. Follow @StevenSlivka on Twitter.