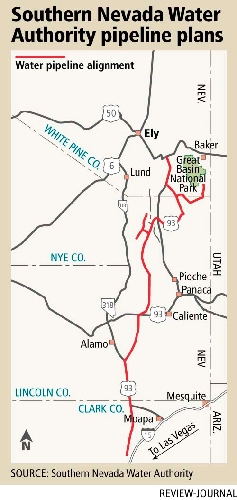 Opponents of a plan to tap groundwater across eastern Nevada said a new financial analysis prepared for the Southern Nevada Water Authority reveals that the project could cost billions more than previously thought and might lead to massive water rate hikes.
But authority officials dismissed the claim Monday as a wild exaggeration based on a worst-case analysis of the project that the agency had done in preparation for a key state hearing this year.
The "Ability to Finance" report, prepared by Las Vegas-based financial analysts Hobbs, Ong & Associates, suggests the proposed network of wells, pipelines and power lines could cost as much as $7.3 billion and might in 10 years help push the average monthly residential water bill from about $36 to more than $90.
For the ranchers, rural residents and conservationists who make up the Great Basin Water Network, the report is written proof of something they've been warning of for years: The pipeline project will cost a great deal more than even the authority's current estimate of $3.2 billion.
"We have long suspected that the numbers provided by the water authority are highly suspect," said Launce Rake, a Las Vegas conservation advocate and member of the Great Basin Water Network. "Our concern here, beyond the unsustainability and environmental damage that would accompany the wells and pipelines, is that working families who already are having a very tough time making ends meet would be hit hard by massive increases in their water bills."
And that pain could go on for generations, because financing the $7.3 billion project would require an additional $8u2007million in interest payments.
But water authority spokesman J.C. Davis accused Rake and company of taking the figures in the report completely out of context.
The purpose of the document was to demonstrate to state water regulators that the authority could finance the project even under dire circumstance.
Davis said the near-tripling of water bills would occur only if the authority found itself having to pay for the pipeline and all other pending capital projects under current revenue conditions, namely sluggish sales tax money, almost nonexistent connection charge proceeds and "no additional customers to divide this among."
Davis called the worst-case scenario "very unlikely because what it would mean is that for the next several decades, the population of Southern Nevada doesn't increase at all."
But in that event, the average customer a decade or more from now could wind up paying $31.25 more each month just to help pay for the in-state water project, he said.
As for the overall price tag, Davis said the $7.3 billion figure is based on the assumption that construction would start in 2017 and last until about 2050, with an estimate for the escalation of construction costs over that period.
Davis said the authority's official estimate of $3.2 billion represents what the project would cost if built today. Officials prefer to use that number because it's grounded in verifiable information, not speculation about the future, he said.
The authority is seeking state permission to pipe almost 220,000 acre-feet of groundwater a year from rural valleys in Clark, Lincoln and White Pine counties. The project is being touted as drought security for a community that gets 90 percent of its water from a single source, the Colorado River.
One acre-foot of water is enough to supply two average Las Vegas homes for a year, so the proposed project could deliver water for roughly 440,000 households.
Opponents and some experts warn that such large-scale groundwater pumping will destroy wildlife and rangeland.
The cost controversy comes as federal officials wrap up a six-year environmental review that will be used to determine whether the authority should be allowed to build more than 300 miles of pipelines and power lines across public land.
The U.S. Bureau of Land Management just finished a series of public hearings in Nevada and Utah to gather input on its draft environmental impact statement on the project. Based on feedback from those hearings, bureau officials plan to include a financial analysis of the project in the final draft, due for release in mid-2012.
"People have been so vocal about wanting to see that, so we thought we'd include it," said Penny Woods, project manager for BLM's review of the water development project.
Specifically, bureau officials plan to examine the report by Hobbs, Ong & Associates and other information about the project's financial feasibility. They also will look at the potential economic impact of a water supply shortage in Southern Nevada, though Woods acknowledged that such an analysis would be "fairly speculative and very subjective" because it assumes the pipeline project is the best way to bring more water to the community.
Woods said the addition of a financial analysis should not delay the release of the environmental impact statement's final draft.
A decision on whether to grant the water authority a federal right of way for the pipeline project could come within 30 days after the final draft is released.
So how much can ratepayers really expect to pay should the authority decide to forge ahead with the project?
Because of all the variables involved, officials insist they won't know until the time comes.
Davis said there is sure to be some increase, but it will almost certainly be less than the worst-case scenario laid out by Hobbs, Ong & Associates.
"I think it's fair to say that by 2025, people's water bills will go up," he said.
A state hearing on the project is set to start Sept. 26 and last into November.
The public has until Oct. 11 to submit comments on the BLM's environmental impact statement. The roughly 4,000-page document and details about how to comment on it are available on the bureau's website, www.blm.gov/5w5c.
Contact reporter Henry Brean at hbrean@reviewjournal. com or 702-383-0350.