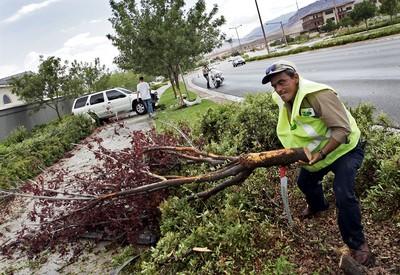 The former president of a Southern Nevada feline rescue group was arrested on animal cruelty charges Wednesday after Nye County authorities said they found more than 125 cats living in squalor at her Pahrump home.
Animal control officers arrested Sheri Allen after going to her 2.5 acre property to talk to her in their investigation of the cat ranch she ran as president of For the Love of Cats and Kittens, or FLOCK. Nye County authorities had taken over that facility three weeks earlier after finding hundreds of sick and starving cats in the fly-ridden sanctuary.
When they went to Allen's home, they found more of the same, Nye County Sheriff Tony DeMeo said.
Officers were overcome by the smell of urine and feces when they entered. They saw animal feces on table tops, blankets, shelves, desks and walls, DeMeo said. Officers also found two cat skeletons and the remains of a cat tail on the property near where several pigs were kept, he said.
Allen was booked into the Nye County Detention Center on 125 counts of cruelty to animals. She posted a $79,000 bond Thursday and was released.
The cats were sick and emaciated.
"It was horrible. I thought FLOCK was bad. This was equal or worse," DeMeo said.
Prompted by a tip, animal control officers checked out the FLOCK ranch in July and found 400 sick and starving cats roaming the Pahrump facility. Best Friends Animal Society, based in Kanab, Utah, stepped in to provide medical attention for the cats and will care for them until new homes are found.
The investigation of the FLOCK shelter was ongoing, but DeMeo said Allen could faces charges in that case.
Allen, who left FLOCK on May 30, said she shouldn't be held responsible for the conditions at the shelter because she had been gone for two months before authorities started their investigation.
She also defended herself against the allegations of putrid conditions at her home, saying investigators had focused only on the worst areas of the house and had exaggerated the level of filth.
MONDAY
Official's election causes concerns
Las Vegas Councilman Steve Ross was elected to head the Southern Nevada Building and Construction Trades Council, raising questions about potential conflicts of interest among some community activists and construction associations.
As the group's secretary-treasurer, Ross will lobby for union construction jobs and make $100,000 a year in salary and benefits.
Before accepting the job, Ross asked the city attorney's office and the Nevada Commission on Ethics for opinions. Both said the position posed no conflict of interest.
TUESDAY
Court papers filed to halt water use
Nevada lawyers filed court papers saying federal officials don't have permission to use state water for a Yucca Mountain drilling project and should be ordered to stop.
The filing in U.S. District Court in Las Vegas came in response to a Department of Justice request to block the state's cease-and-desist order barring use of the water. Federal contractors at the proposed nuclear waste storage site have been using Nevada well water to bore holes and collect rock samples for a license application due next year to the Nuclear Regulatory Commission.
An Aug. 15 hearing is scheduled before U.S. District Judge Roger Hunt.
WEDNESDAY
Water chief attacks Utah lawmakers
Southern Nevada Water Authority chief Pat Mulroy blasted Utah lawmakers pushing for a federal study of her agency's plans to tap groundwater in eastern Nevada.
Calling the move an "absolute, deliberate stall tactic" by Utah officials eyeing the same water source to fuel growth in the southern part of their state, Mulroy accused Utah of tampering with Nevada's "sovereign right" to use groundwater within its borders.
The water authority plans to build 285 miles of pipeline to transport groundwater from eastern Nevada to the Las Vegas Valley. Utah officials asked their congressional delegation to support a study of the plan, saying the loss of the groundwater in the Snake and Spring valleys could bring dust storms into their state.
THURSDAY
Rebel coach has sextuple bypass
UNLV basketball coach Lon Kruger underwent successful open-heart surgery at St. Rose Dominican Hospital to clear blockages discovered during a routine stress test.
Doctors performed six bypasses during the four-hour procedure, and the 54-year-old coach plans to return to work before the Rebels start practicing in October.
Kruger has a 64-34 record in his three years with the University of Nevada, Las Vegas. He guided the Rebels to a 30-7 record last season and the school's first NCAA Tournament Sweet 16 berth since 1991.
FRIDAY
Lawsuit may delay downtown arena
The Culinary union and developer REI Neon continued to wrestle over a lawsuit filed by the union that says REI doesn't control all the land downtown that it claims to.
The legal challenge could scuttle REI's plans and at least significantly delay the city's wish to have an arena built in the downtown area.
But the union, REI and the city were involved in talks last week to settle the suit, according to sources. The sources said that if REI Neon agrees to allow future casinos on site to unionize through "card checks," a more pro-labor way to unionize properties, the lawsuit would be dropped.
The lawsuit says Culinary staff and members regularly use Commerce Street, a road that would be closed by the project.
COMPILED BY REVIEW-JOURNAL STAFF READ THE FULL STORIES ONLINE AT www.reviewjournal.com/wir
Week In ReviewMore Information