WEEK IN REVIEW: Reporters' notebook
September 25, 2011 - 12:59 am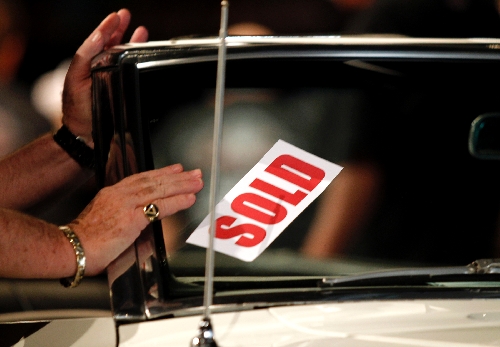 Photographing people who don't want to be photographed is an occupational hazard for a photojournalist. Of course, some hazards are more hazardous than others.
On Monday, Review-Journal photographer Jeff Scheid found himself in a cat-and-mouse chase downtown with Nicholas Bickle, a Navy SEAL on trial facing federal arms trafficking charges.
After Bickle changed directions for the umpteenth time, the photographer shouted, "Hey, stop it. You're wearing me out."
Scheid eventually got the shot. And even though Bickle's lawyer warned him to be careful, he said he was never really concerned for his own safety. It's not like he was harassing a member of SEAL Team Six or anything. Bickle is on SEAL Team Five.
HENRY BREAN
Interior Secretary Ken Salazar stopped in Primm on Tuesday to tour a solar power project under construction there.
It drew a mix of media members and Southern Nevada power brokers, both literal and figurative, and proved that a few of us still have a thing or two to learn about solar energy.
As NV Energy CEO Michael Yackira, dressed in a dark-colored business suit, gave an interview to a certain Review-Journal reporter in a black shirt, the two men had to be reminded — twice! — that perhaps they should move into a patch of nearby shade and out of the hot sun.
HENRY BREAN
What's it like living in downtown Las Vegas' hip, up-and-coming Fremont East District?
Vibrant? Maybe if you're there to gamble at the El Cortez or drink and dance at bars and clubs the city encouraged to open on Fremont Street.
But if you actually have to live there? "Loud," says Clyde Smith, 60, who lives in one of the extended stay hotels that predate the Fremont East party concept. He and others are getting sick and tired, mostly tired, of the noise.
Residents and business owners have a chance to be heard on a potential noise ordinance at 6 p.m. Tuesday at a community forum hosted by Councilman Ricki Barlow, who represents the neighborhood. The forum is at 6 p.m. at the El Cortez. It could get noisy.
BENJAMIN SPILLMAN
TWEET OF THE WEEK: @DannyZuker (Danny Zuker, writer/producer for sitcom "Modern Family") I am never a better husband and father then on the night before I leave for Las Vegas.
Week In ReviewMore Information