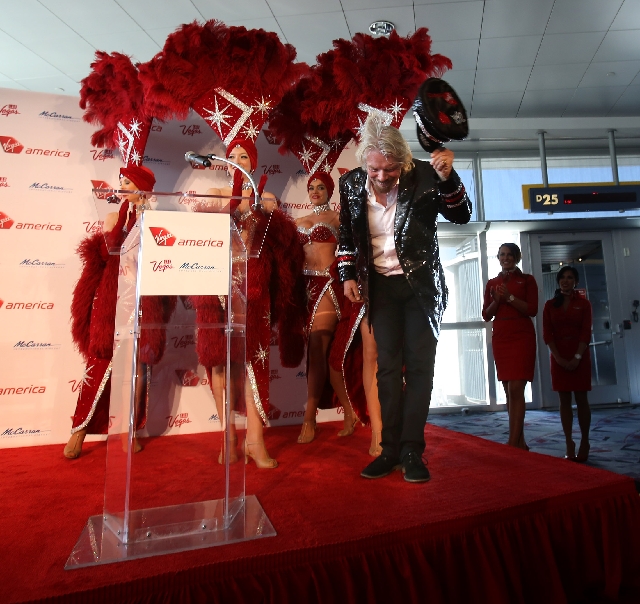 The firestorm over alleged patient dumping by Nevada's mental health system grew last week, as federal officials issued a stern warning about the state's discharge practices and the city attorney for San Francisco launched an investigation into the matter.
City Attorney Dennis Herrera said Monday that he wants all records associated with the transport of more than 1,500 mentally ill patients out of Nevada, including about 500 sent to California.
On Thursday, the federal Centers for Medicare and Medicaid Services gave Nevada 10 days to correct "serious deficiencies" in its discharge policies or face a loss of federal funding.
After strongly disputing the dumping allegations, Gov. Brian Sandoval announced that from now on Nevada will require escorts for patients who are bused out of state.
Monday
Marriage measure
A measure that would legalize gay marriage in Nevada if voters approve passed the Senate after an emotional, hourlong debate.
Senate Joint Resolution 13 would remove a constitutional provision declaring that marriage is only between a man and a woman and add new language requiring recognition of gay marriages.
There was passionate testimony on both sides.
Sen. Kelvin Atkinson, D-North Las Vegas, spoke in favor of letting voters revisit the issue. At the same time, he announced that he is gay.
Tuesday
New low for scores
More than two-thirds of Clark County School District sophomores failed the state's math proficiency exam this year, a new low for first-time test-takers in recent history.
About 15,000 of 22,100 sophomores, or 68 percent, were informed of their failure on the March test, which they must pass to earn a diploma in Nevada. They can retake the tests as juniors and seniors.
Wednesday
Drive through church
A Las Vegas man, 51, was arrested after he intentionally plowed through the front doors and drove his car around inside a Henderson megachurch, causing tens of thousands of dollars in damage but no injuries.
Henderson police said Kevin Wilson showed up at Central Christian Church on Tuesday and demanded to meet with church officials, but he became angry when he was told to make an appointment .
Thursday
In the cross hairs
Las Vegas is a likely target for a terrorist attack, according to panelists at the 20th Annual International Tourism Safety Conference in Las Vegas.
Adam Walker, an analyst with the Southern Nevada Counter-Terrorism Center, said it's "not a question of 'if,' it's a question of 'when' " something happens on the Strip.
The dire prediction — which was criticized as inaccurate by Gov. Brian Sandoval, Clark County Sheriff Doug Gillespie and a top tourism official on Friday — came as Clark County appeals the U.S. Department of Homeland Security's recent move to drop the community's national risk ranking, a change that could cost Las Vegas all of its $1.8 million in federal anti-terrorism funding.
Friday
'Problematic' money
As U.S. Sen. Harry Reid was weighing Las Vegas attorney Jennifer Dorsey for a federal judgeship in May, two senior partners at her law firm made $150,000 in contributions to a political action committee associated with the Nevada senator, records show.
While apparently legal, the donations were called "problematic" by a legal expert, who said they could hurt Dorsey's confirmation pending before the Senate.
Dorsey also made a personal contribution of $2,500 to Reid in March 2012, but Reid returned that contribution a month later, as he proceeded to check out her credentials and experience as a litigator.
NUMBERS
$14.8 million
How much Las Vegas visitors were overcharged by cabdrivers who "long-hauled" them to and from the airport, according to a legislative audit.
35
The number of endangered Devil's Hole pupfish left on Earth, according to the latest count by researchers increasingly worried about extinction.
$9,300
How much Clark County pays each month to a contractor hired to remove animal carcasses from local roads.
7,000 tons
The average amount of garbage delivered each day to the Apex landfill, 20 miles north of Las Vegas. That's the most tonnage of any landfill in the country.
QUOTES
"Assuming the reports are true, Nevada's practice of psychiatric 'patient dumping' is shockingly inhumane and illegal."
Dennis Herrera, city attorney for San Francisco, announcing plans Monday to investigate claims that Nevada may have dumped more than 1,500 mentally ill patients on other states in the past three years, including about 500 who were bused to California.
"Let me be clear, improperly discharging one patient is one patient too many."
Gov. Brian Sandoval, who denied that Nevada has engaged in widespread dumping of mental health patients but acknowledged one case where a homeless man was bused from Las Vegas to Sacramento, Calif., where he knew no one.
"Please forgive her. She didn't know what she was doing."
Christopher Serra's Twitter message to his children, Hope, 11, and Cory, 9, after they were stabbed to death by their mother, Hae Chong Serra, 40, who then killed herself. At the time of the April 19 murder-suicide, Christopher Serra, 39, was in the hospital recovering from his own suicide attempt.
"We investigate accidents. This doesn't appear to be an accident."
Patrick Jones, National Transportation Safety Board Investigator, explaining why there will only be a short report issued in connection with a pilot who shot himself to death before his airplane crashed at the Bullhead City, Ariz., Airport.
"It's a nice way to see the country at 15 miles per hour. You can hear the alligators crunch and whatever."
Alex LaVoie, a 70-year-old bicyclist who is pedaling from St. Augustine, Fla., to Seattle to raise money for the Wounded Warrior Project.