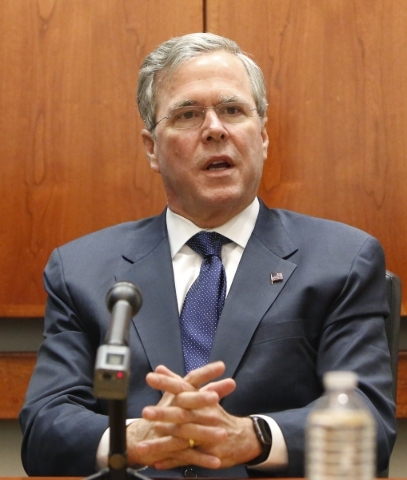 Former Florida Gov. Jeb Bush is running for president to disrupt Washington. He wants states to make more decisions for themselves. And unlike some of his rivals for the Republican nomination, he has a record of conservative accomplishments.
Mr. Bush sat down with the Review-Journal editorial board last month to discuss his candidacy. In the interest of helping Nevadans decide which candidate to support for the state's Feb. 23 caucus, we've outlined his positions that we like and dislike.
Four issues we agree on:
— Tax reform: Many of the country's challenges, from budget deficits to entitlement spending to stagnant wages, can be addressed by reforming the Byzantine tax code that is holding back economic growth. Mr. Bush has put forward an aggressive, pro-growth tax reform proposal that pares back the seven income tax rates to three: 10, 25 and 28 percent, with the top rate kicking in at $141,201 for married couples and $85,750 for singles. The plan also cuts taxes on investment and slashes the corporate tax rate, and it raises the standard deduction while cutting other deductions, including those for state and local taxes and home mortgage interest. Its simplicity and incentives for investment are exactly what American workers, investors and businesses need.
— Civil service reform: The Washington workforce has the best of everything: wages and benefits that are significantly better than private-sector compensation, as well as the iron-clad job protections that make federal employees the least accountable workers in the country. The stories keep coming, year after year, of workers who not only keep their jobs, but collect raises and bonuses despite watching porn on the job, or not paying taxes, or worse. Mr. Bush says "guaranteed lifetime employment needs to stop." He'll reform civil service rules that provide tenure, reduce the federal workforce by 10 percent by not replacing those who retire, and embrace a "21st century workforce" in which people move in and out of federal employment, just like everywhere else.
— Federal land: Washington is the largest landowner in the country, a fact that deprives states of economic opportunity and the property tax revenue that results from private ownership. Worse, the Interior Department mismanages much of its holdings, worsening wildfire risks and harming communities that depend on access to land for the livelihoods. The problem is especially acute in the West and Nevada, where the federal government controls more than 80 percent of the state. Mr. Bush says he'll give "much greater deference to states" when it comes to species management and access to land. And, most importantly, he'll end the practice of absentee bureaucrats making decisions they have no stake in by moving the Interior Department to a major Western city. How about Las Vegas, Mr. Bush?
— Balancing the budget: Mr. Bush understands the importance of a balanced budget. A balanced budget doesn't increase the national debt. So he'll overhaul the budgeting process and push for a constitutional amendment that requires a balanced budget. He wants to "put a lid on discretionary spending, shift power back to states by letting them run programs," trim the federal workforce and get to balance by increasing tax collections through economic growth. We're always skeptical of Republicans who say they can balance the budget while increasing defense spending, but Mr. Bush's plan doesn't come across as an empty promise.
Two issues we don't agree on:
— Internet gaming: Interstate Internet gaming used to be legal. Now it isn't legal. A re-interpretation of the federal Wire Act allows intrastate Web gaming, and federal lawmakers have introduced various proposals to reverse that interpretation or ban Internet gaming outright. It's a huge issue for Nevada's gaming industry, which is positioned to lead a lawful, regulated reboot of real-money Internet poker. Mr. Bush hasn't staked out a position. "I believe in states' rights and that there should be greater deference to the states. And I'm not a big fan of gambling so, mark me down as neutral until I can get a full briefing." Let grownups play poker online.
— Ethanol: Fewer federal policies have been as disastrous as the country's ethanol mandate, which has accomplished precisely the opposite of what its backers promised. Far from being "green," it has a larger carbon footprint and is more harmful to the environment than gasoline, and the diversion of corn from food products to fuels has spiked grocery prices. Mr. Bush supports phasing out the renewable fuels standard in 2022, as required by current law. We think the costly, counterproductive standards should be repealed immediately.