EDITORIAL: Visit highlights Biden's incoherence on border
January 10, 2023 - 9:05 pm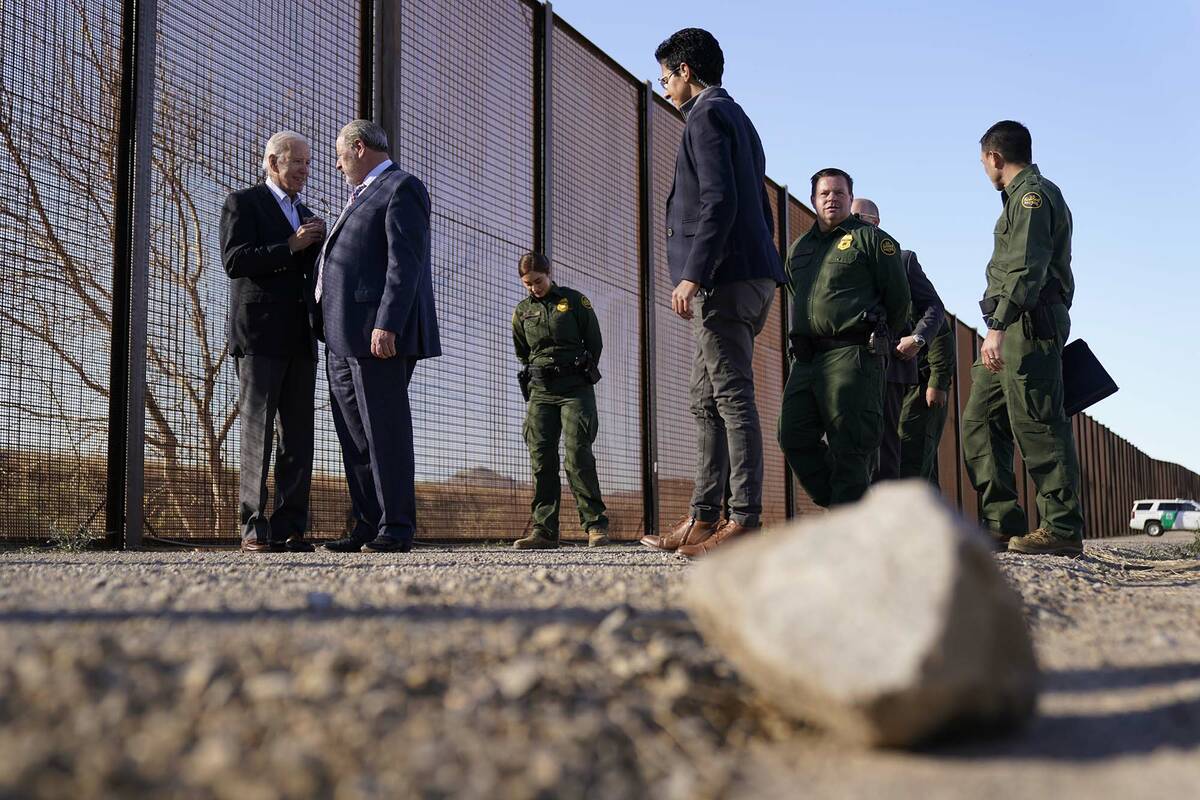 If the border always looked like it did when President Joe Biden visited, he wouldn't have need to make the trip.
On Sunday, President Joe Biden visited the U.S.-Mexico border for the first time since taking office. It was a nod to political reality. The border crisis continues unabated. Since taking office, U.S. Customs and Border Protection reports there have been more than 4 million encounters with potential illegal immigrants along the border. Last year, that number was almost 2.4 million. For context, there were more apprehensions in 2022 than during Donald Trump's entire presidency.
Mr. Biden's border policies aren't working. But he'd have been hard-pressed to find evidence of it during his recent visit to El Paso. Before he came, authorities cleared out migrants' tent cities and shipped some migrants back into Mexico.
"People are saying that if you are out in the streets the Border Patrol will get you and deport you because the President is coming to El Paso and they don't want to show him the reality of things," Maria Rodriguez, a 23-year-old from Venezuela, said per the New York Post.
As it turns out, the Biden administration does know how to secure the border. Oh, the irony.
That wasn't the only moment of blissful ignorance. He visited a port of entry and the El Paso County Migrant Services Center, but officials kept illegal immigrants out of view. Mr. Biden's incoherent border policy has been such a disaster that he couldn't be seen confronting the chaos he caused.
This visit was obviously a political ploy. Mr. Biden is eyeing a re-election bid. The border crisis is a real weak spot. Even Democratic officials are now complaining about the burden of providing services to illegal immigrants. The public generally disapproves of Mr. Biden's performance on this issue, too.
Mr. Biden is confronting a challenge of his own making. He spent the 2020 campaign criticizing Mr. Trump's approach. But his plans have been so bad that he's been forced to resort to Mr. Trump's policies. He kept Title 42, which expels migrants on public health grounds, in place for over a year before announcing that he was ending it. That decision was so ill-advised that some Democrats in close re-election campaigns, including Nevada Sen. Catherine Cortez Masto, criticized it. It hasn't gone into effect, as a court fight drags on.
Then last week, Mr. Biden expanded the use of Title 42 to all immigrants from Nicaragua, Cuba and Haiti who exceed a 30,000 monthly admissions cap. All the while, he's afraid to offend the left wing of his party, which wants open borders.
It's nice that Mr. Biden visited the border. Now it's time to stop the record number of illegal crossings.