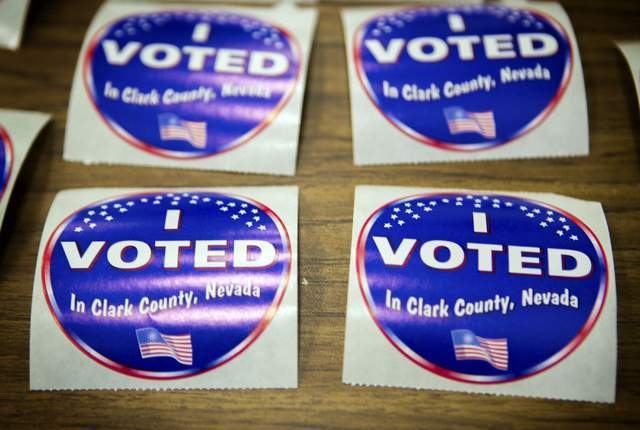 Now that the 2014 elections are in the books, I've dug into the numbers a little further to find some totally random, interesting or semi-interesting facts. Enjoy:
• Rep. Dina Titus outperformed her voter registration on election day:
Registration: 50.3%
Election Day: 56.8%
• Erin Bilbray did worse in her 2014 run against Rep. Joe Heck than any other candidate since the district was created in 2002.
Bilbray 2014: 36.12%, Heck: 60.76%
John Oceguera 2012: 42.87%, Heck: 50.36%
Titus 2010: 47,47%, Heck: 48.13%
Titus 2008: 47.43%, Rep. Jon Porter: 42.29%
Porter 2006: 48.46%, Tessa Hafen: 46.57%
Porter 2004: 54.46%, Tom Gallagher: 40.40%
Porter 2002: 56.08%, Dario Herrera: 37.24%
• Rep. Steven Horsford beat Assemblyman Cresent Hardy barely in Clark County (50,989 votes to 52,899 votes, or a difference of 1,910) but lost every single rural county in his district (White Pine, Nye, Mineral, Lyon, Lincoln and Esmeralda).
Meanwhile, the Democratic voter registration advantage in the 4th Congressional District is 130,512 to 97,356, or a total of 33,156, or 17 times the actual-vote margin-of-loss.
• Question 2, the constitutional mining tax cap repeal, lost in every Nevada county but Clark, which voted yes 57.24%.
• The closest constitutional office contest was attorney general – 4,868 votes separated winner Republican Adam Laxalt from Democratic Secretary of State Ross Miller out of 544,383 votes cast overall. The "None of These Candidates" vote (15,643) is more than three times the margin-of-victory for Laxalt.
• Laxalt is the first candidate in modern times to win a statewide race while losing Clark (145,890 to 164,632) and Washoe (51,500 to 53,106) counties.
• The largest state Senate re-election margin (other than unopposed incumbents Dr. Joe Hardy, Don Gustavson and James Settelmeyer) was outgoing Senate Majority Leader Mo Denis (76.37%), the man some blame in part for tactical mistakes that cost Democrats the upper house.
• Even with the tumult, 62% of incumbents were re-elected in the Assembly and 52% of incumbents were re-elected in the state Senate.
• Former Clark County Republican Party Chairwoman (and Ron Paul supporter) Cindy Lake came within 1,156 votes of defeating incumbent Clark County Commissioner Mary Beth Scow in District G, the narrowest margin of victory (50.89% to 49.11%) of any incumbent commissioner.
• Notwithstanding being on trial for charges related to resisting a police officer in a traffic stop that ended with him being shot by a Metro Police officer, Libertarian Raymond Duensing Jr. amassed 86,358 votes, or 27.74%, to incumbent Steve Wolfson's 224,920 (or 72.26%). Only in Nevada.
• Despite the Republican "wave," every single Democrat running for Clark County office was elected or re-elected.
• Attorney Jacob Hafter lost by the largest margin of any judicial candidate on the ballot in Clark County, losing to incumbent Judge Susan Johnson by a margin of 75.25% to 24.75%.
• Assistant Sheriff Joe Lombardo beat retired Metro Capt. Larry Burns by 6,981 votes out of 301,111 cast. (That's 51.16% to 48.84%.)
• Clark County, with the largest number of voters (822,940) logged the lowest voter turnout by percentage (41.46%) in the entire state. But even so, Clark's 341,175 votes were more than the rest of the entire state's votes combined (211,205).
• Lander County had the highest turnout (82.57%) – 2,004 of that county's 2,427 voters turned out.
• More than half of all voters turned out early (48.2%) or voted absentee (7%), while the rest (44.7%) voted on Election Day.