STEVE SEBELIUS: Too many bills only the tip of the iceberg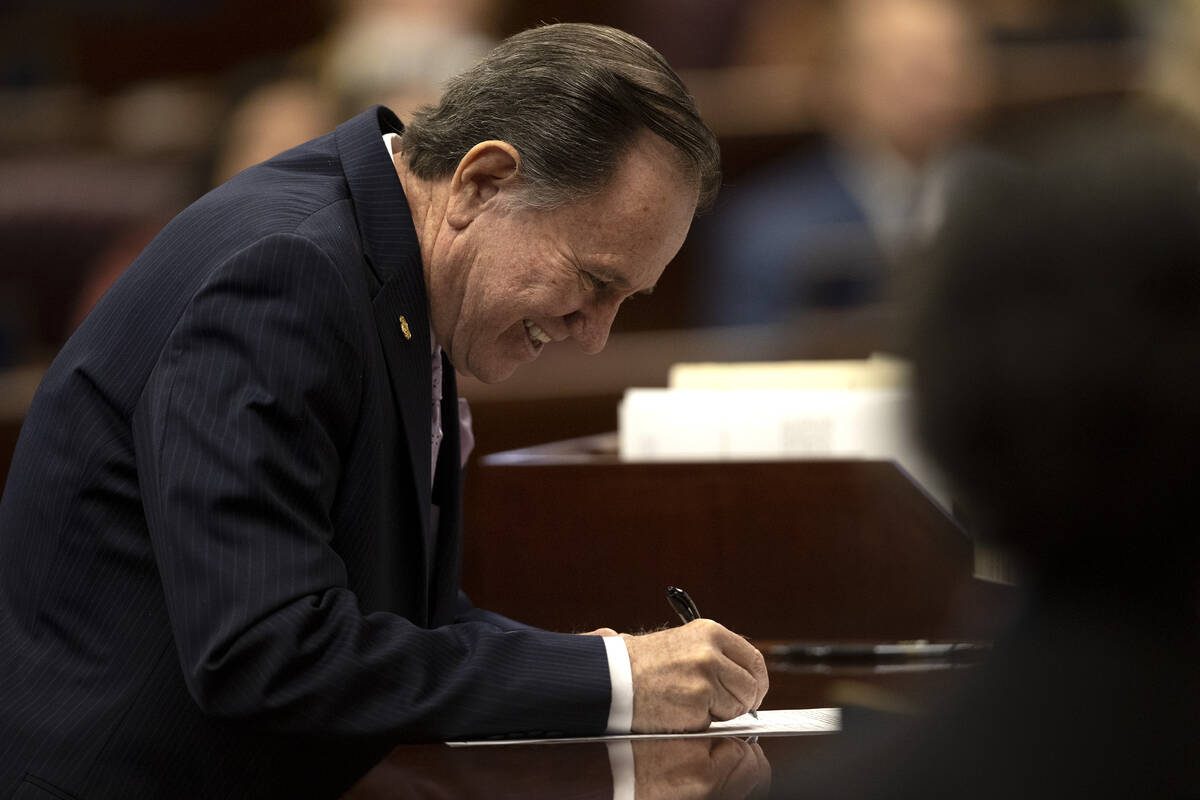 No one will ever confuse Assemblyman Richard McArthur, R-Las Vegas, with Mark Twain.
But McArthur was channeling Twain last week when he testified in support of his proposal to limit the number of bills that could be introduced in the Nevada Legislature.
It was Twain who once (supposedly) said that "no man's life, liberty or property is safe when the Legislature is in session." It was also Twain who supposedly said that instead of meeting for 60 days every two years, the Legislature ought to meet for two days every 60 years.
Both sentiments underlie McArthur's bill, which would roughly cut in half the number of bills that lawmakers, constitutional officers, legislative lawyers, local governments and interim committees are allowed to introduce.
And now, eight weeks into the session with 1,095 bill draft requests filed with the Legislative Counsel Bureau — and 787 actual bills and resolutions introduced as of last week — some people may not want to get all the government they pay for.
McArthur is one. "A lot of people use all the bills that they can use, and when that happens it jams up the system," he said, introducing his Assembly Bill 200. "I think we could do better legislation. There's no reason to jam up the (Legislative Counsel Bureau), and we're backlogged right now."
Let's leave aside for a moment the question of what constitutes good legislation and what does not, because that depends on a person's political outlook. What McArthur might think is a good bill would be anathema to a Democrat.
McArthur's primary argument predates Twain's cynicism: That government governs best which governs (with the) least (number of bills), he says, channeling a quote attributed to Thomas Jefferson.
"Now, I know there are some who want to have or have as many (bill draft requests) as they can get ahold of, but with fewer bills to consider, it will lead to more thoughtful legislation and more bills may not be necessary," McArthur said.
Here, he's half-right: If lawmakers were limited, it might weed out more frivolous measures, as they prioritize things they consider most important. But there's no guarantee those things will necessarily be better.
Another argument: time. The Legislature is constitutionally limited to 120 days, and while much time is wasted at the start of session, that's still not a lot of days to consider what McArthur's research shows are an average of 1,250 bills per session.
Assemblywoman Danielle Monroe-Moreno has a solution for that: "And if you're worried about the 120 days, then maybe what we should be looking at is to really grow up and be a real state and have a Legislature that meets on an annual basis to do the work of the people and not cramming it into 120 days. My opinion," she said.
Not just hers: Nevada is just one of four states with biennial sessions.
But good luck selling that to the public, which likes its current government just fine. Until that changes, as McArthur noted, we're stuck with 120 days.
Assemblywoman Sabra Smith-Newby might be a freshman, but she can spot a flaw in a bill like a vet: With fewer bills, won't the temptation be to cram the remaining bills full of issues that would otherwise have been addressed separately? That would result in longer, more complex bills that take more time to understand and process, rather than streamlining the process.
Yes, there is a constitutional provision that bills are to encompass a single subject. But there's also a rule that you can't drive more than 65 mph on Interstate 15, and Nevadans observe both with equal respect.
Despite McArthur's closing plea — "this is the only solution we have" — his bill is unlikely to pass, not because it's a bad idea, but because majority Democrats are skeptical. And with several sessions under his belt, McArther knows that.
There are many problems that plague the Legislature — a lack of staff, wasted time during the interim period between sessions and at the start of regular sessions, a failure to combine bills on similar topics, term limits on lawmakers and time limits on sessions. Limiting the number of bills might help chip away at some of those problems, but it won't fix what ails Carson City on its own. That's going to take a lot more work, and a change of heart in the electorate.
In the meantime, the Legislature is in session. Watch out for your lives, liberty and property!
Contact Steve Sebelius at SSebelius@reviewjournal.com or 702-383-0253. Follow @SteveSebelius on Twitter.