Republican legislators gain unexpected leverage in push for ESAs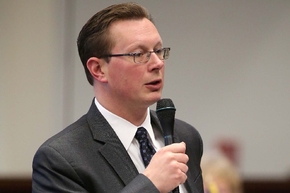 CARSON CITY
A plot twist has given Senate and Assembly Republicans unexpected leverage in their push to help Nevada students by passing Education Savings Accounts.
As of Thursday, it looked like the session had only two possible outcomes: Sandoval and Democratic legislative leaders would reach a compromise that allowed each side to claim victory or mutually assured destruction that resulted in a record number of vetoes but no ESAs. Numerous business lobbyists tell me that outcome would be fine with them, since it'd mean the death of so many bills they hate.
The possibility of a special session — forced by Sandoval vetoing the budget over ESAs — looked dead.
But when Senate Majority Leader Aaron Ford, D-Las Vegas, brought the Capital Improvements Projects budget up for a vote, it failed, despite receiving majority approval, 12-9. It's a sign of how busy things are at the end of the 120-day session that many lawmakers, lobbyists and even this columnist missed the key words at the top of SB546: REQUIRES TWO-THIRDS MAJORITY VOTE.
Ford then called for a "one-minute recess … more like a five-minute recess," a signal that that was not supposed to happen.
The reason folks expected the capital improvements bill to pass with a simple majority was that was what the 2015 CIP bill required. But as Sen. Heidi Gansert, R-Reno, told me after she met with the Legislative Counsel Bureau, at some point during the interim, the LCB deemed the bill contains a tax increase and needs a two-thirds vote. The CIP bill contains more than $200 million in state capital spending and does levy a property tax for the upcoming two fiscal years. The two-thirds requirement looks proper.
This means legislative Republicans no longer need Sandoval's veto pen to force a special session. When asked what he thought the odds are of extra innings, Senate Assistant Minority Leader Ben Kieckhefer, R-Reno, said, "Fifty-fifty. I'm not suggesting he'll veto the budget. That's not the issue. It's if we don't get a CIP bill passed (that would lead to Sandoval calling a special session)."
"There are a lot of union jobs tied up in that CIP bill," continued Kieckhefer. "No one wants to see it go down. So we need to find a resolution."
Senate Co-Minority Whip Scott Hammond, R-Las Vegas, author of the original ESA bill, said he would vote against the CIP budget until there's a resolution on ESAs and he believes his caucus would as well.
"It's hard to walk away now," he said.
Assembly Minority Leader Paul Anderson, R-Las Vegas, Senate Minority Leader Michael Roberson, R-Henderson, and both Republican caucuses deserve immense credit for standing unified and putting Sandoval in position to broker this deal.
The ability of legislators to force a special session may be the kick needed to wrap up an ESA compromise that I'm reliably told Democratic leaders in Carson City have already identified the votes for once a deal comes together.
Contact Victor Joecks at vjoecks@reviewjournal.com or 702-383-4698. Follow @victorjoecks on Twitter.