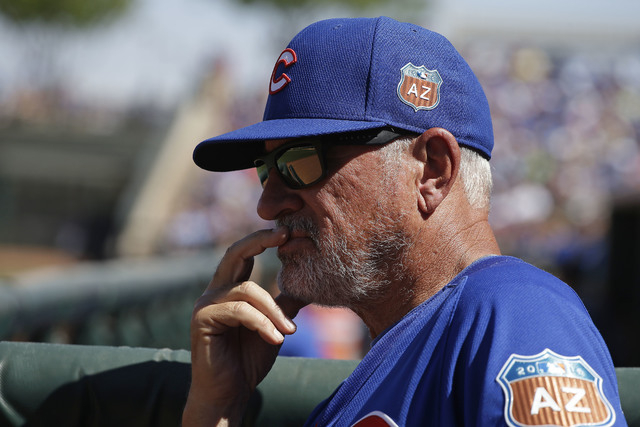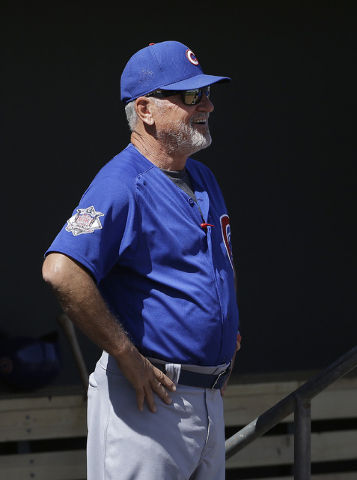 MESA, Ariz. — In his novel "Centennial," James Michener traced the plains of northeast Colorado from prehistory until the early 1970s. In it, he explains that because Indians didn't own the wherewithal to kill buffalo other than to run them off a cliff, they would determine which was the lead buffalo and guide it in the direction of the drop.
All the other buffalo would follow, eventually plummet to their deaths and the tribes were left with enough meat and clothing for the long winter.
This is how Cubs manager Joe Maddon views the issue about kids in Major League Baseball clubhouses.
Let the lead bulls decide.
What has been a longstanding tradition across baseball found itself in headlines this week when veteran first baseman Adam LaRoche of the White Sox walked away from a $13 million salary and retired after team vice-president Kenny Williams asked him to not bring his 14-year old son, Drake, into the clubhouse daily.
Or, for that matter, even 50 percent of the time.
Things became so contentious at White Sox camp, players threatened to boycott their spring training game Wednesday as a sign of support for LaRoche, but manager Robin Ventura intervened and the game against Milwaukee went on.
This is one of those can't win times for a columnist/father, because it's impossible for me to form an argument on one side. I can see both.
I don't know if there is a right answer, but I do support the whole time-and-place-for-everything theory.
LaRoche grew up around the game — his father was a Major League pitcher and is now a coach in the Mets organization who brought his three sons to the ballpark often — and it's admirable Adam wants his son to experience such an upbringing.
But every day is just that. It doesn't go unnoticed.
Drake LaRoche had his own locker with the White Sox. The kid seemed enough of a presence that he might have been a few injuries away from batting ninth.
He was reportedly around … All … The … Time.
Williams is correct in saying you wouldn't find many professions across the country where parents bringing their children to work daily would be accepted. There is no way I would do it with either of my two teenagers, given it would take others about two seconds to realize all their best qualities come from their mother.
There might even be a joke or two about the mailman.
Across town from where the LaRoche drama is playing out, the Cubs as most everyone's favorite to win the World Series follow Maddon's lead when it comes to such issues. Which is to tell them to, yes, lead.
"We're all for kids on the infield," Maddon joked in reference to his youthful roster. "You know, they even have their own lockers and we give them whatever toys they would like. We put their names on the toys. It's something we kind of advocate.
"Regarding actual children in the clubhouse, it's something we will talk about at our lead bull meeting."
He has held them since his days as interim manager for the Angels in the late 1990s, essentially identifying a group of veteran players before the start of each season and allowing them to set and monitor those rules and policies that define the clubhouse. He will hold one here Sunday.
Maddon believes an issue such as the one playing out with the White Sox should never reach his desk for an opinion or decision, that he has an office and that's where he spends most of his time and the clubhouse is where players exist.
"If they want kids in there, fine, and if they don't and there are kids in there, it's up to the lead bulls to go to the specific player and remind him," Maddon said. "I prefer players make rules and enforce them. The days of a manager or general manager running a dictatorial (clubhouse) are fading.
"We play 162 games. We don't play once a week or a few times. We are in each other's faces every day. I should be the last guy hearing about something like (kids in the clubhouse). Coaches and players should enforce that. That's how you get a really good clubhouse. It's the cleanest way to handle things.
"I'm actually considering getting a bird in my office this summer. I've always loved birds. I'm looking at a cockatoo and some other parrots. So, if I go with that, I'm going to spend more time paying attention to the bird than what's going on in the clubhouse."
I wonder if LaRoche was coming off a better season than hitting .207 with just 12 home runs and 44 RBI that the White Sox would have remained quiet on the whole Drake front. I wonder if $13 million will play on the minds of a family the next several days and LaRoche will return. I wonder what sort of zoo the White Sox clubhouse — or any for that matter — would resemble if every player with kids brought the little ones to work each day.
I wonder of Maddon will choose a cockatoo or different species of parrot.
Before a game against the Diamondbacks on Thursday at Sloan Park, Cubs first base coach Brandon Hyde delivered the lineup card to umpires at home plate.
He had a helper.
His young son, Colton.
I'm guessing the lead bulls approved.
Ed Graney can be reached at egraney@reviewjournal.com or 702-383-4618. He can be a heard on "Seat and Ed" on Fox Sports 1340 from 2 p.m. to 4 p.m. Monday through Friday. On Twitter: @edgraney