Defense — what else? — carries Gonzaga to within 40 minutes of Final Four
March 24, 2017 - 12:56 am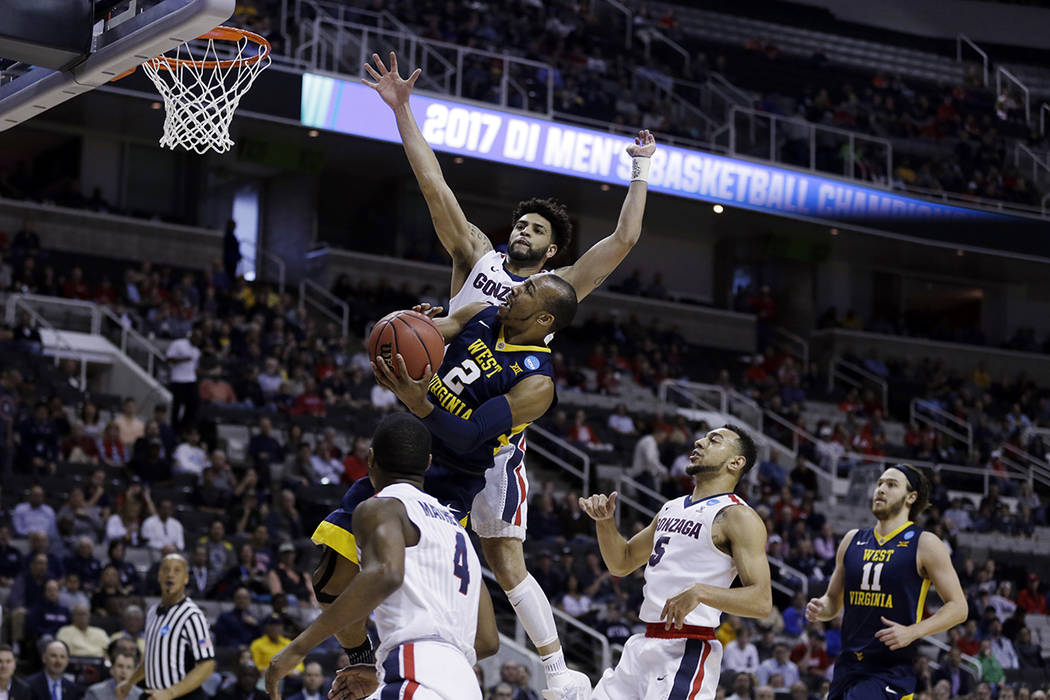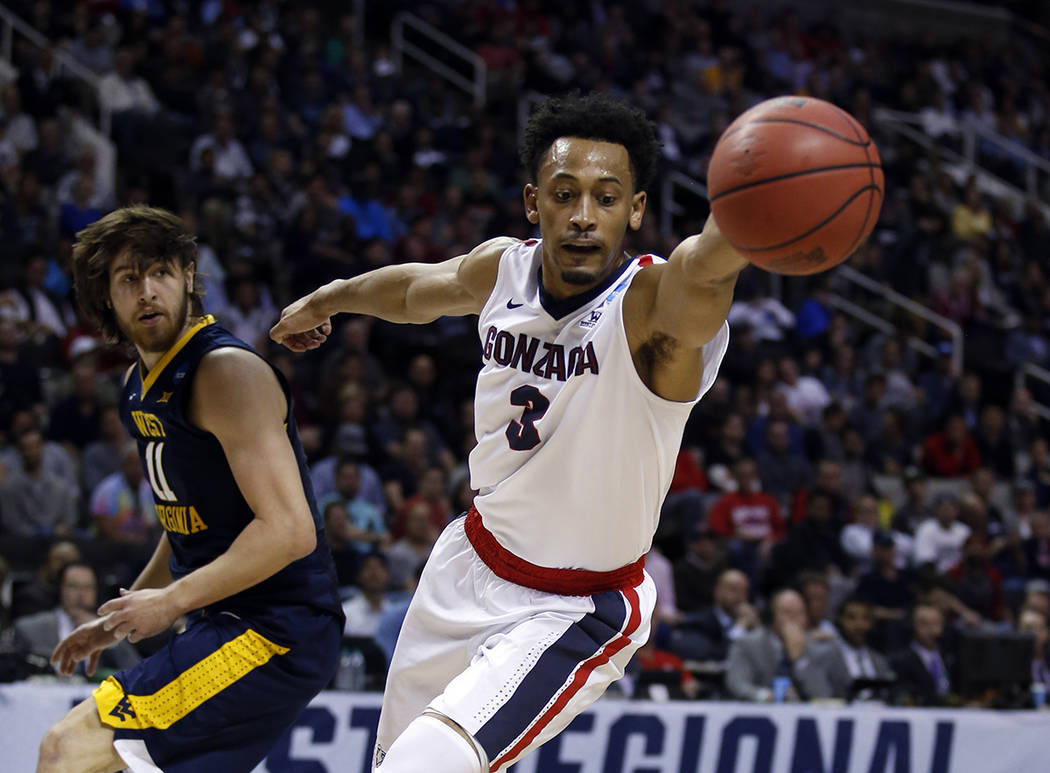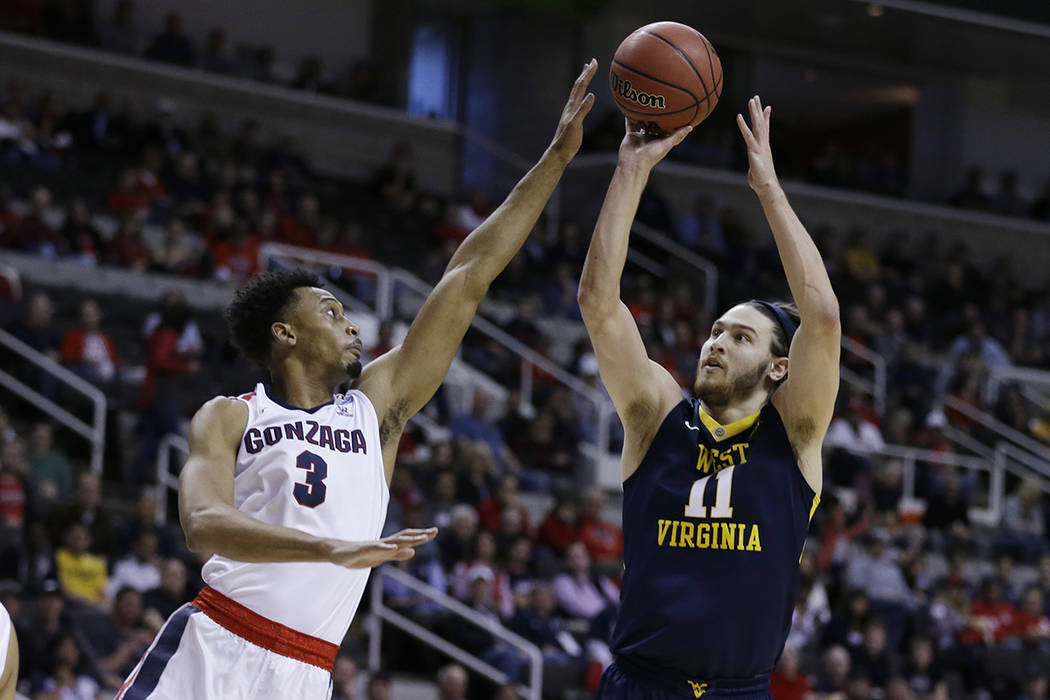 SAN JOSE, Calif. — You hear about them from the moment college basketball tips off each November until one fortunate and formidable team climbs a final ladder those first few days of April.
Ken Pomeroy and his statistical metrics for all that is hoops.
Kenpom.com
The numbers have been kind to Gonzaga all season, it being the only team nationally that ranks among the Top 10 in both offensive and defensive efficiency.
The latter is what's most important right now.
It's why the Zags are 40 minutes from their first Final Four.
Coaches will tell you there is nothing more beautiful than winning ugly, especially in a moment as significant as the Sweet 16 of the NCAA Tournament, a step Gonzaga advanced from Thursday night by outslugging West Virginia 61-58 at the SAP Center.
It means Mark Few's team is an Elite Eight win against giant killer Xavier on Saturday from departing as a No. 1 seed out the West Regional to the Final Four next week in Phoenix.
One win from exorcising all of those demons that have over the years questioned whether the West Coast Conference power should exist in discussions alongside the nation's elite programs.
One more successful outcome from removing the monkey everyone assumes Few has carried around for most of 18 seasons as head coach, this the man who recently became the third fastest to reach 500 career wins, trailing only Adolph Rupp and Jerry Tarkanian.
How's that for some company?
"I don't know that I have a monkey on my back," Few said. "I certainly don't wake up with one. I don't think my wife thinks I have one or anybody in my family, my close friends. Fishing buddies never talk about it. So, those are the only people that really matter to me.
"It would be phenomenal to get these guys, this team I love deeply, to a Final Four. It would be phenomenal to give that satisfaction to all the players I have coached and a university that has treated me so well, to Spokane, which has been an unbelievable community for our program. But it's not about me or my monkeys or dogs or cats. It's about (the players)."
All the animals in the zoo will celebrate the Zags on Saturday if they defend to the level of Thursday's effort. In a marathon of whistles that included 51 total fouls and 61 free-throw attempts, Gonzaga had the most important stop of all in between a bunch of others, limiting West Virginia to 16-of-60 shooting and not allowing the Mountaineers to get off a final 3-point attempt before the final buzzer sounded.
It's all sorts of tough to prepare for West Virginia, and not just because of its havoc pressure that rushes you into mistakes. And while the Zags handled that part well — Gonzaga had just 13 turnovers, eight below what West Virginia opponents usually offer — they were terrific again on the other end.
The team with a national-best adjusted defensive efficiency rating (points allowed per 100 possessions) of 86.7 never made things easy for West Virginia, limiting it to 5-of-23 on 3s and that forgettable 26 percent from the field.
So on a night when Gonzaga's best player (junior point guard Nigel Williams-Goss) had one of his worst games of the season with 10 points on 2-of-10 shooting and five turnovers, the Zags still found a way to grind out a win by being a little bit rougher, a little bit tougher.
"Their size bothers everyone around the rim," said West Virginia coach Bob Huggins. "They've got great size, not just size, but they're good.
And they limit you to one shot. When you're driving at the goal and you run into (Gonzaga senior Przemek Karnowksi), 7-foot-1, 300-and-whatever-he-is, it's hard to score.
"But you tell me another team in the country that can shoot 26 percent against a No. 1 seed and could have, should have won that game. I think that says a lot about what kind of guys we have."
I'm not sure how much the Mountaineers should have won. They were in it because of grabbing 20 offensive rebounds and blocking seven shots, which certainly speaks to how hard they play.
But you have to shoot a whole lot better to deserve anything, and if Gonzaga had the game's biggest stops, it also made its biggest shot when Cal transfer Jordan Mathews hit a 3-pointer with 59 seconds left and his team down 58-57.
From there, West Virginia had three shots over its final few possessions— miss, miss, miss — before not getting off a final prayer as the clock expired and sent Gonzaga to within 40 minutes of exorcising those demons.
And maybe removing a monkey from the back of a certain head coach, whether he and his fishing buddies think one exists or not.
Contact columnist Ed Graney at egraney@reviewjournal.com or 702-383-4618. He can be heard on "Seat and Ed" on Fox Sports 1340 from 2 to 4 p.m. Monday through Friday. Follow @edgraney on Twitter.