Goaltender interference remains controversial, subjective call
Updated April 29, 2018 - 6:08 pm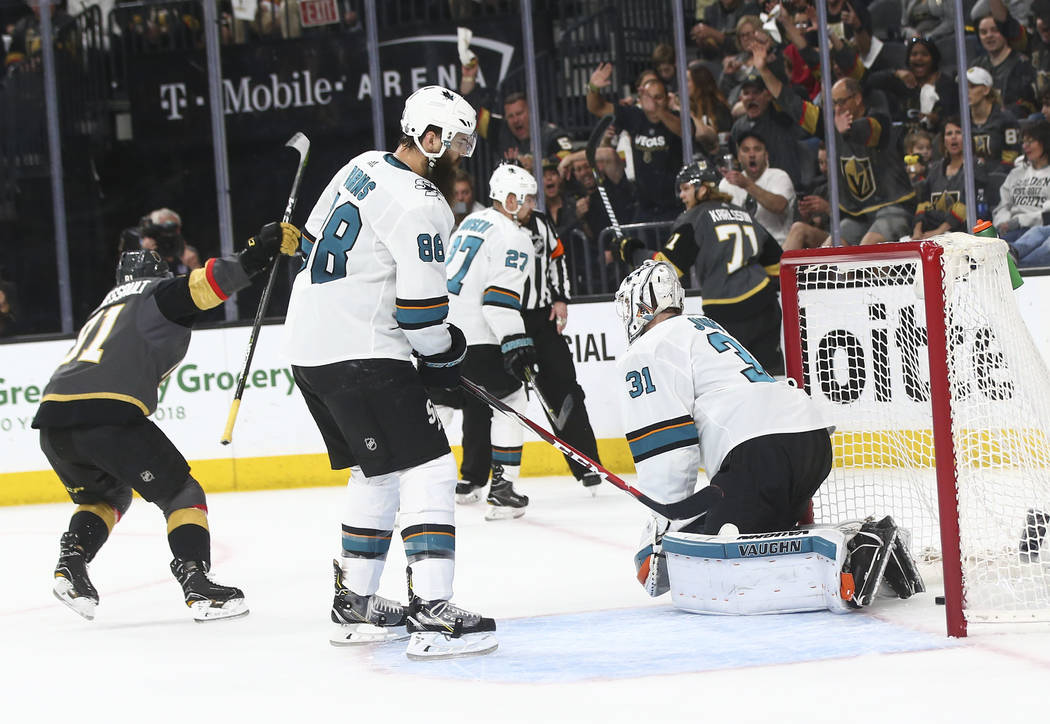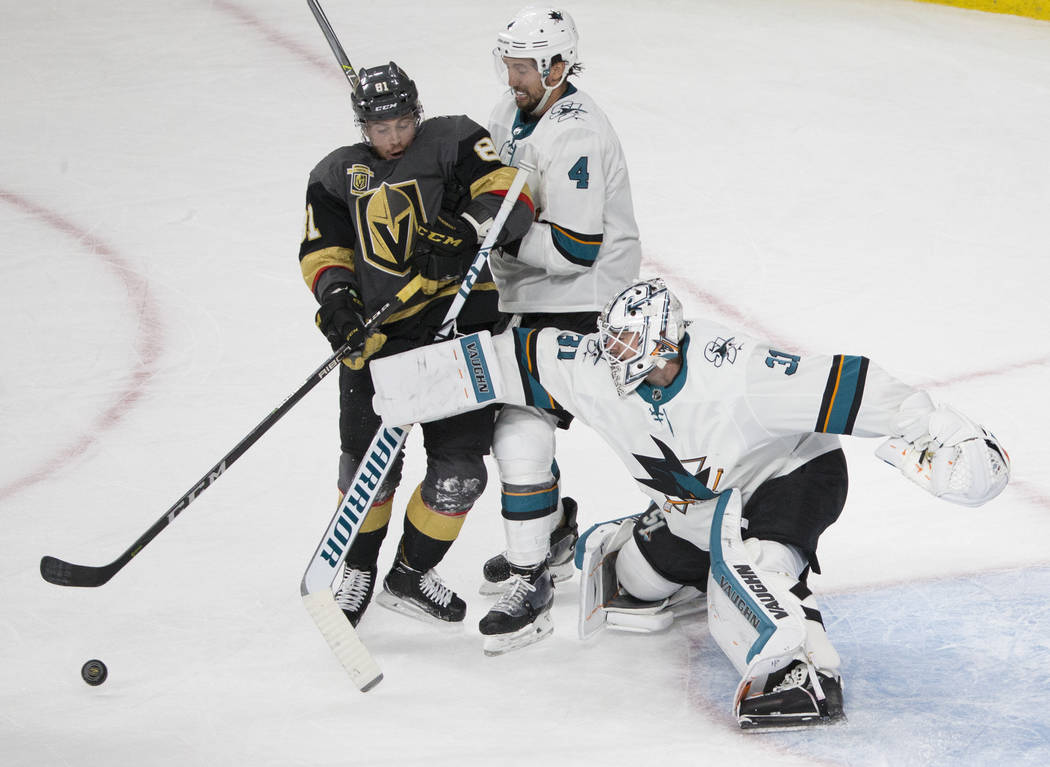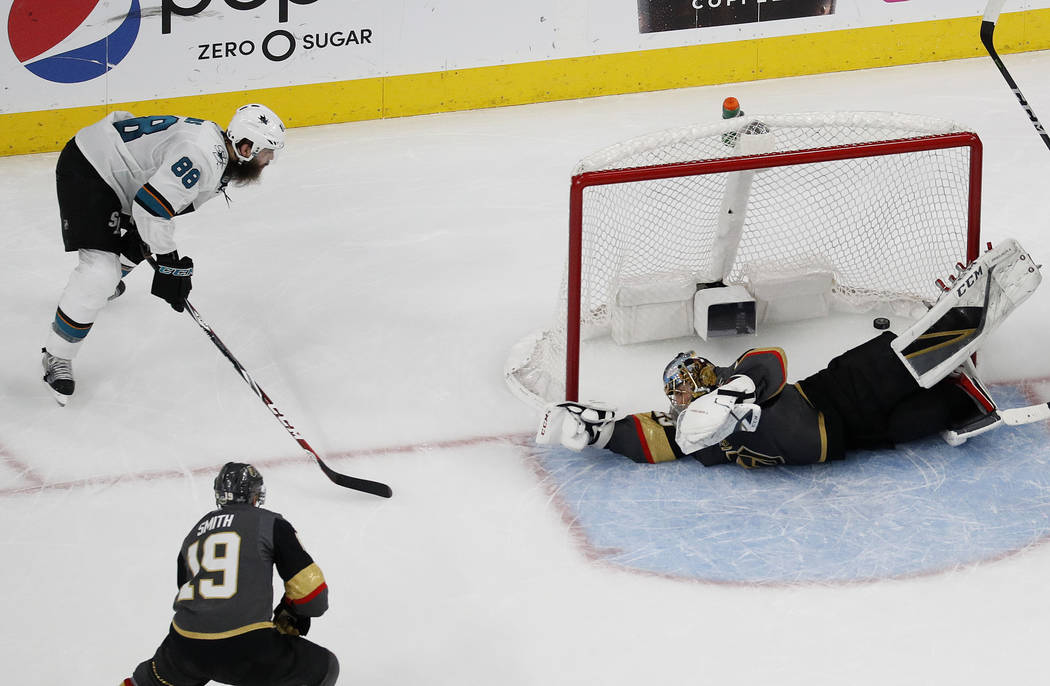 SAN JOSE, Calif. — It's almost time, the largest city in Northern California about to endure its annual morning forecast of cloudy, gloomy, overcast skies during late spring and early summer.
A little gray isn't a bad thing when it comes to weather.
When it comes to sports, different story.
The issue isn't whether what would have been a game-winning goal by the Golden Knights in Game 2 against the Sharks should have been overturned — I still have no issue with the call that disallowed the score — but rather historical inconsistencies that define goaltender interference.
The series now moves to SAP Center for Game 3 on Monday, where the Western Conference semifinal continues after San Jose posted a 4-3 victory in double overtime to even things at a game apiece, a result that again moved onto center stage one of the more debatable calls in hockey.
Yeah. It's the rule everyone despises.
It's block-charge in basketball, pass interference in football, ball-strike in baseball, offside in soccer, specific decisions by officials that over time have been contorted into a labyrinth of argument and frustration for those coaching and competing.
There will always be a problem when those a specific call affects most don't fully understand how and why a final determination is made, but such is the subjectivity of officiating sports.
Remember the good ol' days, when the only thing to worry about when it came to controversial goals was Brett Hull's foot being in the crease?
Vegas believed it had won Saturday when Jonathan Marchessault beat San Jose goalie Martin Jones at 16:58 of the first overtime. But it was determined by review that contact from Marchessault prevented Jones from having a chance to make a play on the shot.
That's really what this comes down to in the eyes of the NHL.
Can the goalie do his job?
Seems simple enough.
It never is.
The final decision was made from the league's Situation Room in Toronto, where in late March it was determined the eyes of five individuals — senior vice president of hockey operations Kris King has final say — would make all goalie interference calls for the remainder of the season and playoffs.
But as much as general managers pushed to have the call taken away from referees on ice, they never seemed to grasp a pretty basic reality: Even with the existence of video, of extraordinary technological advancements in 2018, with flawless HD views clearer than a pool of Bahamian bathwater, these are still humans evaluating the play.
There is such a thing as too many angles, an overload of information.
What you see is often opposite of the guy one seat over.
Easier said than called
These are still judgment calls, and until people in such situations are replaced with fancy industrial robots — I'm not even sure they would be an improvement — you're never going to have unanimous approval.
It's not black-and-white. It's not whether a ball went through a net or if a puck crossed a line.
It's a far more complex, totally subjective call.
"I think the NHL has tried to step in and make it a little more clear, but there is still a lot of skepticism about what that really means," said Knights forward Reilly Smith. "When it happens in overtime, I bet you half the people in the arena or watching the game saw it differently.
"You're waiting (for a decision) and hoping for the best but you don't really know. It's out of your hands completely."
There is no question a playoff game heightens reaction on both sides to such a call, but consider: According to NHL.com, through the first 1,100 games this season, there were 170 goaltender interference challenges and yet only four to six times was there strong disagreement among those in Toronto.
Think about it: All this only accounts for one half of 1 percent of all goals.
Which means that while a clear definition seems to still be lacking on what constitutes goaltender interference from game to game, this is hardly a case of gross incompetence, despite what fans and some media are convinced is robbery.
"I don't think this is the time of year to have an opinion," said Knights goalie Marc-Andre Fleury, who allowed a second-period goal to Brent Burns that was challenged and yet rightly upheld Saturday. "We'll just deal with it. That's the smartest thing to do. There is nothing that can change it. You have to put it behind you quickly and get ready for the next game.
"It was so close to winning the game — you think you won and then you don't — but it's part of the game."
Just as is block-charge in basketball, pass interference in football, ball-strike in baseball, offside in soccer.
Human eyes making subjective decisions.
Good luck finding consistency from that.
Contact columnist Ed Graney at egraney@reviewjournal.com or 702-383-4618. He can be heard on "The Press Box," ESPN Radio 100.9 FM and 1100 AM, from 11 a.m. to 2 p.m. Monday through Friday. Follow @edgraney on Twitter.