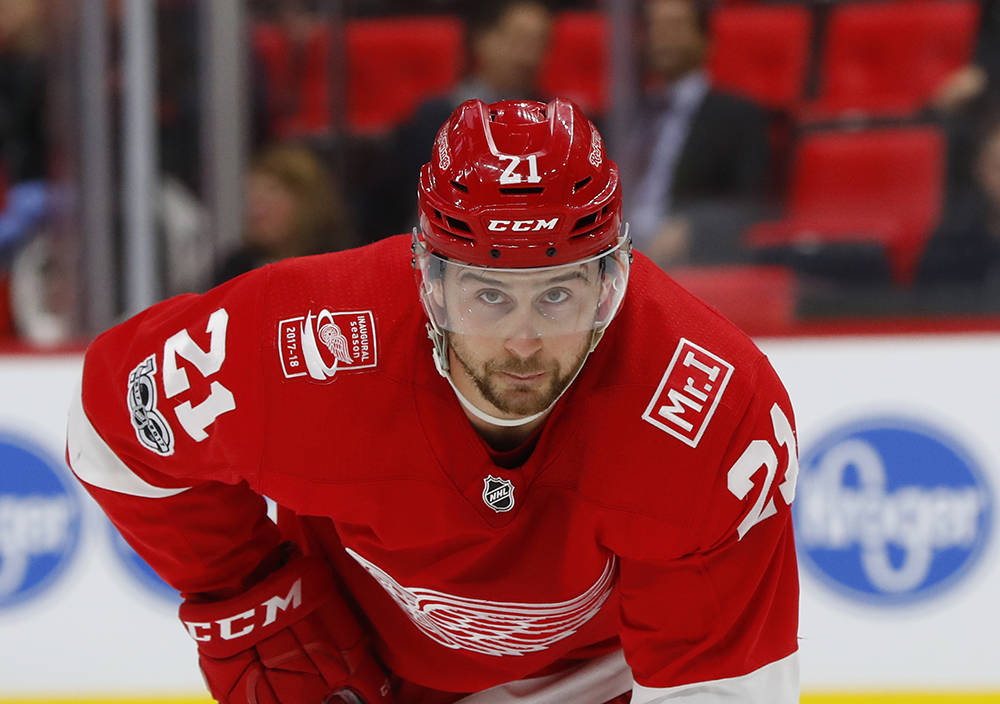 He was standing in a back hallway of City National Arena in late December, talking about things like master plans and keeping his fingers crossed and doing what's best for the club on a daily basis and over the long term.
He ended with this: "If we're in it," George McPhee said, "we're going to stay in it."
The NHL's trade deadline came and went Monday and McPhee as general manager of the Golden Knights followed his pre-Christmas assertion, and whether or not he surrendered too much for a third-line winger from Detroit or wasn't willing to mortgage the house and cars and perhaps even his first born for one of the world's best players, the concluding message was clear:
He's rolling with this group, all-in on the key guys who have a first-year expansion side a betting favorite to win the Stanley Cup.
"This team deserves to be together," McPhee said. "They have played well and we kept them together for a reason. We're trying to win right now. I like what this team has accomplished so far. That's all there is to it."
Well, there's a little more to it …
As the deadline approached, reports suggested it was Vegas being most aggressive in pursuing Ottawa defenseman Erik Karlsson, a two-time Norris Trophy winner who most rank the league's third-best player behind Connor McDavid and Sidney Crosby.
Karlsson playing in front of Vegas goalie Marc-Andre Fleury for the stretch run and into the playoffs would have been something.
Like, really something.
But if it's true the Senators wanted five or six pieces in return for Karlsson — from current NHL players to top prospects to multiple first-round picks — then it was a price McPhee refused to pay.
It's also a tough point to argue when he has a team sitting comfortably atop the Pacific Division and battling daily for the NHL's overall points lead.
He was still a buyer at the deadline and created social media buzz by landing Detroit forward Tomas Tatar for three draft picks — a first, second and third-rounder. The immediate reaction was that Vegas overpaid for a player who in five-plus NHL seasons has 115 goals and 107 assists, a 27-year old signed through 2020-21 at $5.3 million annually.
I disagree. For starters, this entire season has been nothing like imagined, and given how well Vegas has played, this year's first-round pick, now in the hands of Detroit, will be far different than anyone could have surmised would come via an expansion team.
It could be in the range of No. 27 or 28 or even later, meaning there's no guarantee Detroit lands a player who in time will prove valuable enough to paint the Tatar deal a bad one for Vegas. It's also true the three picks sent to the Red Wings are spread out over four seasons. That's a long stretch.
Draft picks and salary cap space aren't issues for the Knights. They have plenty of both. It's even possible that before the draft commences June 22 in Dallas, McPhee will have made a deal that lands Vegas a first-round selection.
What he did now was add some offensive support with Tatar and the deal that brought forward Ryan Reaves from Pittsburgh last week.
What he mostly did was trust those front-line players already in the fold, upgrading the room instead of blowing it up.
Karlsson is a generational type defenseman, but while odds favor moves for Tatar and Reaves won't fracture the chemistry that has helped lead Vegas to such a historic season — even though it will mean decreased roles and less playing time for some — the haul Ottawa wanted for its star would have absolutely changed the dynamic of the Knights.
It doesn't mean Vegas wouldn't have been better for it, but it also doesn't assure whatever sense of cohesiveness that has driven this run couldn't have been seriously damaged.
The summer will bring what it brings in terms of trades and perhaps losing key names or adding other ones (Karlsson?).
Free agency and the draft will deliver what they deliver.
But for now, George McPhee held firm, both for a group of players and the city that adores them.
"We did our best to build the best team we could and these are the results so far," he said. "This is our team, and we're excited for the stretch run."
He's rolling with it, all right.
Why the heck not?
Contact columnist Ed Graney at egraney@reviewjournal.com or 702-383-4618. He can be heard on "The Press Box," ESPN Radio 100.9 FM and 1100 AM, from 11 a.m. to 2 p.m. Monday through Friday. Follow @edgraney on Twitter.