Mountain West can blame itself if only one team gets NCAA bid
December 29, 2015 - 3:54 pm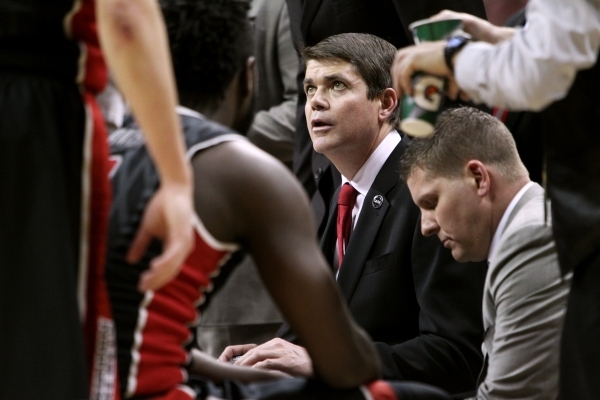 The quote goes like this: Seize the moment, because some opportunities don't come twice.
UNLV's basketball team might tape such a message to its locker room door as Mountain West play begins Wednesday night, the idea being that never under fifth-year head coach Dave Rice have the Rebels owned a better chance at capturing a regular-season conference title.
Fact: Five or six teams probably feel the same way, and for good reason.
No one is all that special.
The Rebels open against Fresno State at the Thomas & Mack Center at 8, another team very much in that group competing for a title.
And, perhaps, the lone NCAA Tournament berth that awaits the Mountain West come March.
As things exist today, the metrics are frighteningly obvious: The league deserves no more than one bid, a forgettable list of non-conference results having painted the Mountain West in the most (below) average of lights.
Never has the basketball portion of this league been so inept.
Consider history: The Mountain West has earned 17 NCAA berths over the past five seasons and has had at least one at-large bid 14 consecutive years. It has twice sent four teams into the bracket and in 2013 was awarded five berths.
The last time just one conference team advanced to the NCAAs was Brigham Young in 2001, where the Cougars as a 12 seed lost to Cincinnati in the first round.
Consider today: The Mountain West is 2-19 against Top 50 teams this season and 9-30 against the Top 100.
That's awful.
UNLV enters conference play with the league's best RPI at 64. Boise State is next at 67. San Diego State, an overwhelming preseason favorite to win the conference, is at 99 and went 7-6 in non-league play. Seven of 11 Mountain West teams have RPIs worse than 100 and five are worse than 146.
The Rebels own the best Kenpom rating at 71 and have one of those two Top 50 wins (vs. Oregon). UNLV escaped non-league play without any bad losses based on metrics — a fact that could change dramatically should Arizona State tank in Pac-12 play — but nothing suggests it or anyone else has done enough to pique the interest of a selection committee member closely examining at-large berths.
"We have to perform well in conference play, there is no doubt about that," Rice said this week. "I think that's the case for any team in our league. I think teams in our league are much better than they performed in non-conference play, but having said that, the situation is what it is and I think all of us involved know we have to do well in conference play."
So what happened?
How is the Mountain West ranked 12th in conference RPI today, behind the likes of the Colonial and Summit and Big West?
Players, for one thing. Good ones. Of the 15 that made up last year's three all-conference teams, seven were seniors and another (AJ West of UNR) left the Wolf Pack earlier this month.
Scheduling, for another. It continues to be a short-sided opinion of the conference to have an 18-game league schedule. It's stupid. It allows for little-to-no non-conference flexibility. A better option would be 16 Mountain West games and specific mandates against scheduling non-league opponents with RPIs 150 or worse.
The way it is now, a team like UNLV must pack in a murderous row of quality non-league opponents with few breathers in between and one like San Diego State plays seven games the first 15 days of a season.
How is that helping your conference build NCAA resumes?
An inevitable decline, for another. It's happening. Slowly, surely. Mountain West basketball is just now noticing the harm that was inflicted when programs like Utah and Brigham Young departed. The perception of others about the league is at its lowest point in years. It also doesn't help that in today's world, a conference is perceived to be good by kids based mostly on football, and Texas Christian also bolting hurt the overall impression of the Mountain West.
Maybe the league can get two NCAA bids. Maybe someone runs away and separates itself from 10 others, losing just a few times. Maybe it would be enough to earn an at-large berth should that same team lose in the conference tournament. Maybe the league's reputation is still strong enough inside the selection committee room.
But those are some big maybes to count on.
Can you really see any of these teams going 16-2 or 15-3, running off 10 or 11 straight wins at any point?
Because if someone can't, if the regular-season champion is 13-5 or 12-6 and the league proves merely about teams with average to bad RPIs beating up on each other, one NCAA bid would have every chance of becoming reality on Selection Sunday.
Today, as metrics overwhelmingly suggest, that's all the Mountain West deserves.
Ed Graney can be reached at egraney@reviewjournal.com or 702-383-4618. He can be a heard on "Seat and Ed" on Fox Sports 1340 from 2 p.m. to 4 p.m. Monday through Friday. On Twitter: @edgraney