Posting video-game stats another part of process for UNLV
September 1, 2016 - 10:49 pm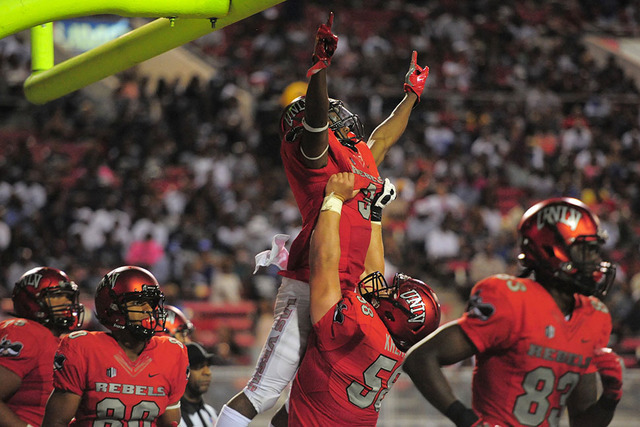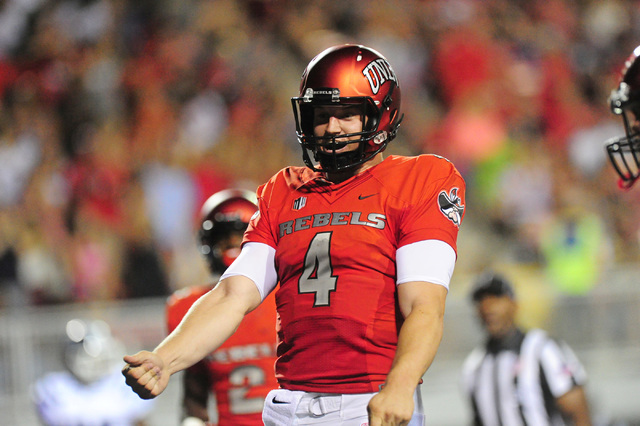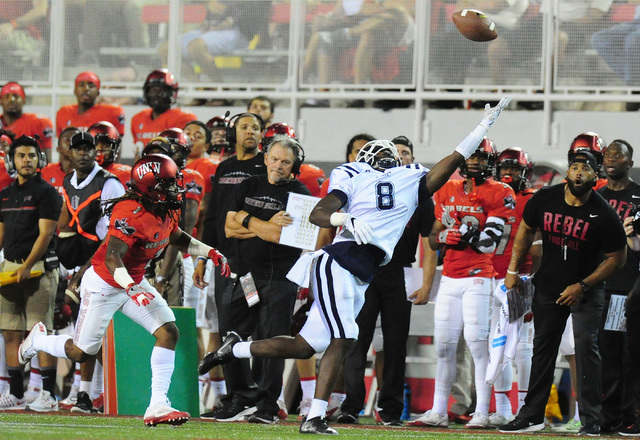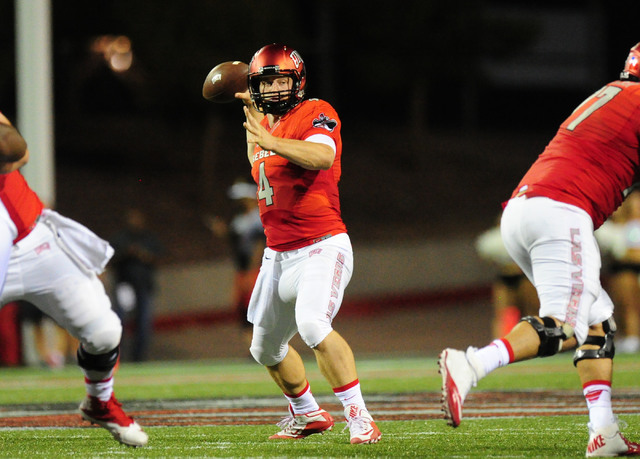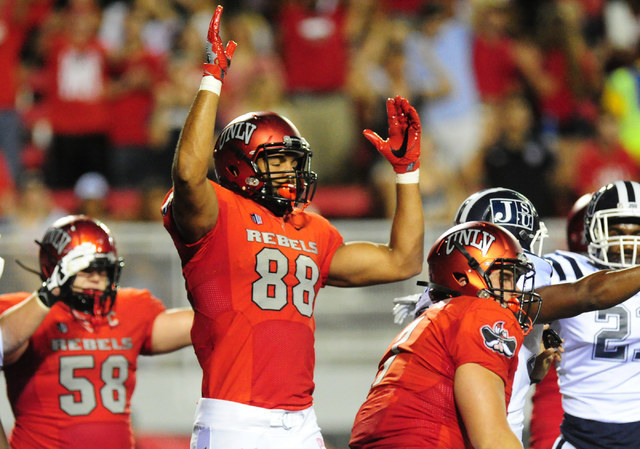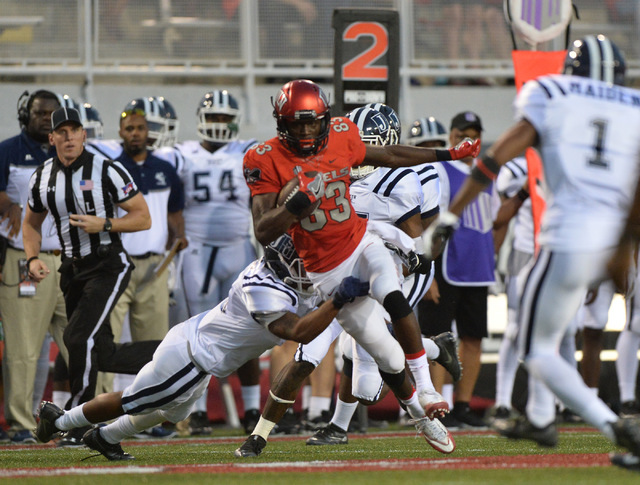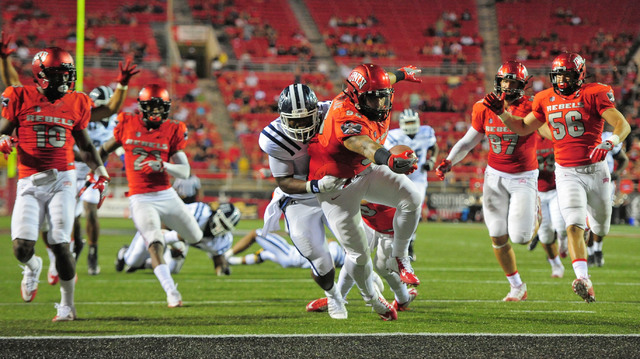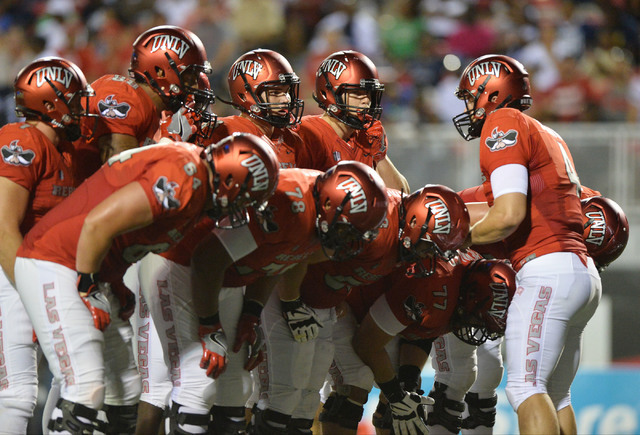 Here's the thing: You never argue with confidence wins defined by video game numbers.
They're part of the process, too, along with recruiting better players and building better facilities and instilling a better mindset when believing success is possible.
Along with all the bells and whistles and improved nutrition, self-assurance is significant.
Jackson State didn't disappoint in its expected role of a football foil to UNLV on Thursday night at Sam Boyd Stadium, a season-opening matchup before 18,575 that went as oddsmakers expected and how the Rebels hoped when scheduling the Football Championship Subdivision team.
Final: UNLV 63, Jackson State 13.
The Rebels were favored by 40.
Let that sink in for a second.
It was 14-0 not two minutes into Tony Sanchez's second season as UNLV's coach and sort of dragged on from there, because things tend to get a little long and sloppy and disjointed when the talent discrepancy is so vast and halftime is extended for a performance by Sonic Boom of the South.
Which, by the way, must go through some serious two-a-day workouts back home in Mississippi as the renowned marching band of Jackson State.
We're talking some immense skill from those beating drums and blowing horns, footwork definitely not seen from many of the Tigers players, bless their sacrificial souls.
This hasn't always been a given for UNLV, stomping the you-know-what out of inferior opponents from lower divisions. Oh, for the love of Southern Utah and Northern Arizona and that dramatic 13-12 escape against Northern Colorado.
But when you have lost as much as the Rebels over decades, specific steps are paramount when trying to create relevance. There are major ones such as a proposed on-campus facility in need of big-time donors — hey, was that Frank and Lorenzo Fertitta chatting up Sanchez before kickoff? — that must become reality to make any positive movement nationally.
Smaller ones can be nearly as important.
A visit to UCLA is next for the Rebels. Games at San Diego State and Boise State are part of the 12-game schedule. It's one reason that after UNLV junior quarterback Johnny Stanton threw touchdown passes of 56 and 32 yards over his first three attempts of the season, I glanced at new UNLV football beat writer Todd Dewey of the Review-Journal and offered: "Yeah, it's not always like this."
The famous quote says optimism is faith that leads to achievement and that nothing can be done without hope and confidence. Sanchez has the optimistic part down like nobody's business.
But a blowout victory like the one Thursday, with much tougher games arriving soon, also can do wonders for those UNLV players who desperately need to perform at a high level this season.
Which, around these parts, always begins with the offensive line.
There is an actual two-deep up front this season, even if three of five backups are true freshmen. They're talented freshmen, better than many names who lined up in previous years, and they're going to get an opportunity to prove it.
UNLV absolutely has to show a more physical presence weekly this season if it hopes to make a run at going over a projected win total of 5 and be in play for a bowl game.
You can't take much of anything from a game against Jackson State, but the Rebels' line was disciplined and blocked well enough not to get Stanton sacked and help produce 280 yards rushing.
Even within the monsoon of a 50-point win, little things can be discerned.
Stanton won the starting job late in camp and responded with a debut effort of 10-of-12 passing for 217 yards and three scores.
That's a rating of 317.7. Video game numbers.
Devonte Boyd (four catches, 135 yards, three touchdowns before sitting out the second half) at wideout again will be a tough cover for any opponent, Pac-12 or otherwise.
The young running backs impressed, including a true freshman (Charles Williams, 96 yards on 12 carries) Sanchez is incredibly high on.
UNLV's defense was opportunistic in claiming two defensive scores, but the Rebels better wrap up and finish tackles a whole lot better against UCLA on Sept. 10 or that game also will get out of control early, and it won't be UNLV whooping it up on the sideline while celebrating a big lead.
The key part for UNLV: It is 2-0 under Sanchez against FCS teams, having outscored Idaho State last season and Jackson State by a combined 143-21.
Confidence wins defined by video game numbers matter.
They're part of the process.
Maybe not as much as an impending announcement about breaking ground for an on-campus facility, but notable just the same.
Now, bring on the real teams.
Ed Graney can be reached at egraney@reviewjournal.com or 702-383-4618. He can be a heard on "Seat and Ed" on Fox Sports 1340 from 2 p.m. to 4 p.m. Monday through Friday. On Twitter: @edgraney
Visit our GameDay page for full coverage of the UNLV-Jackson State game.