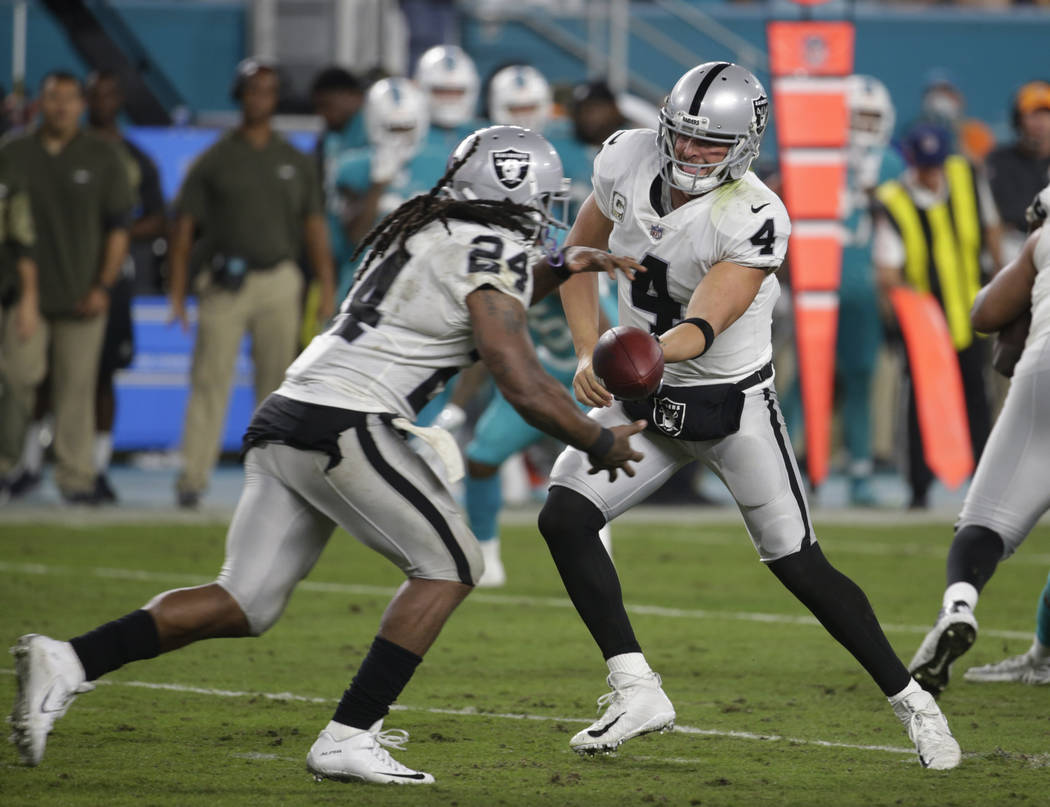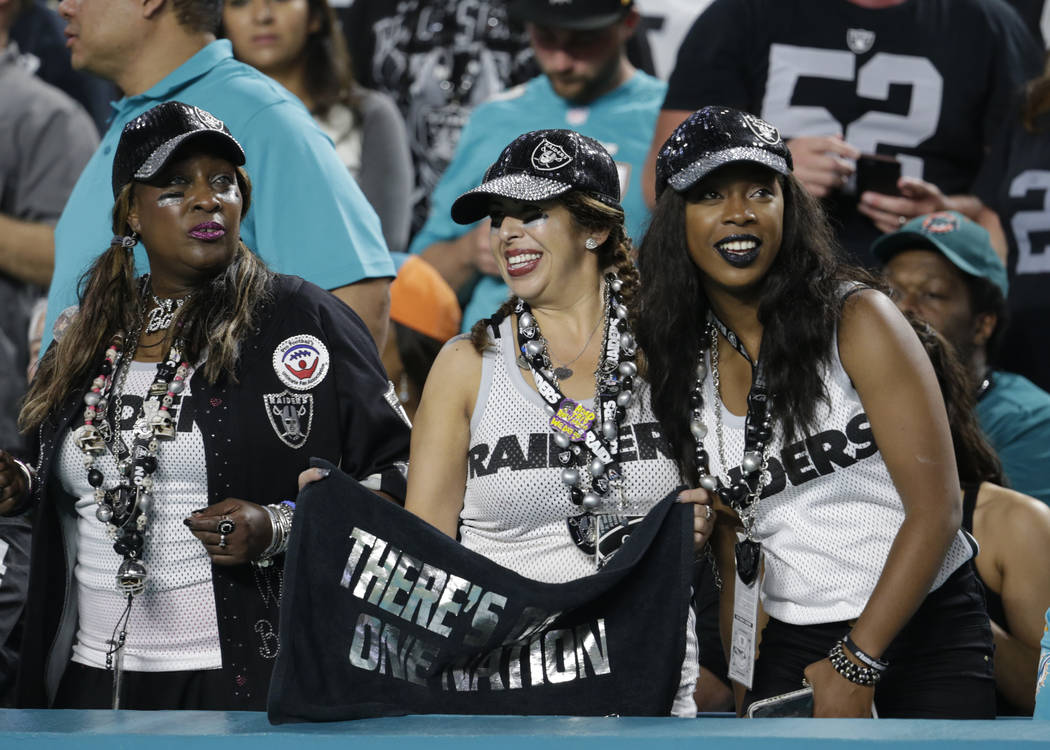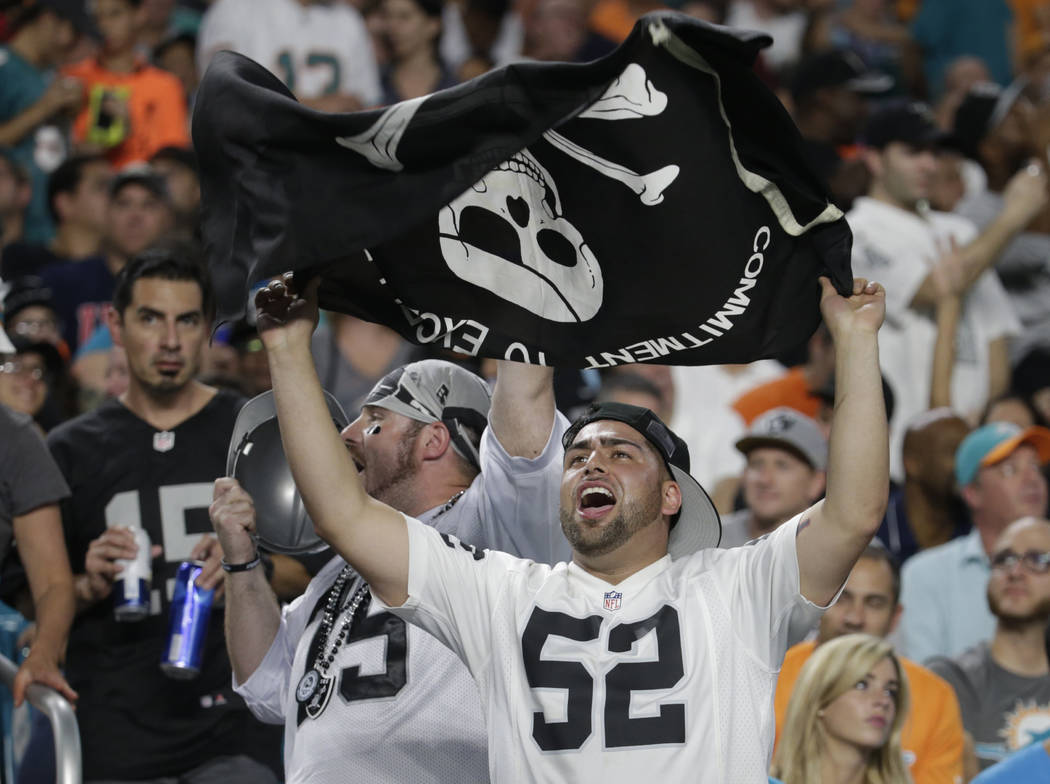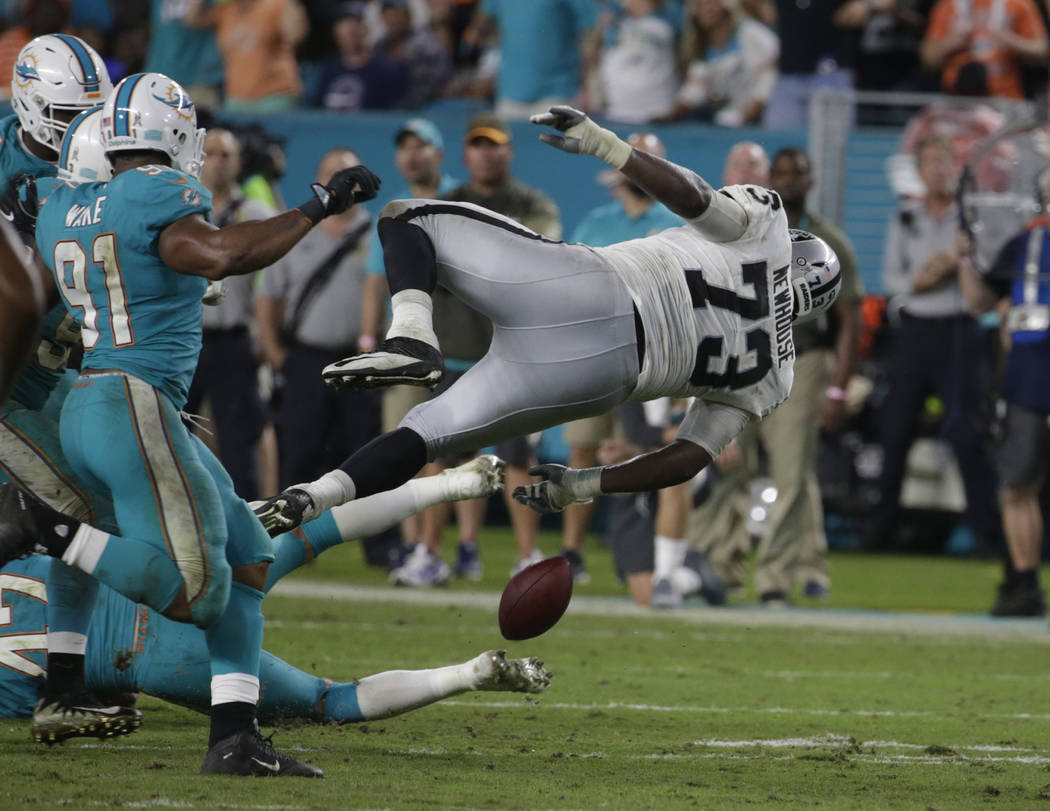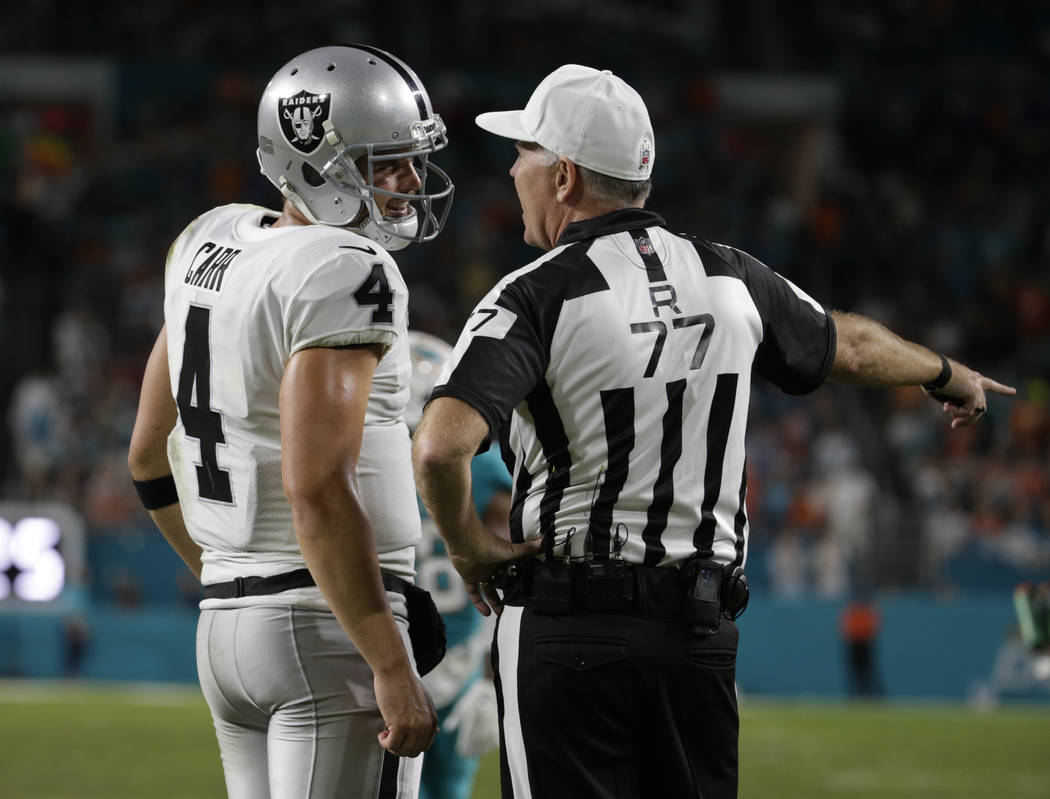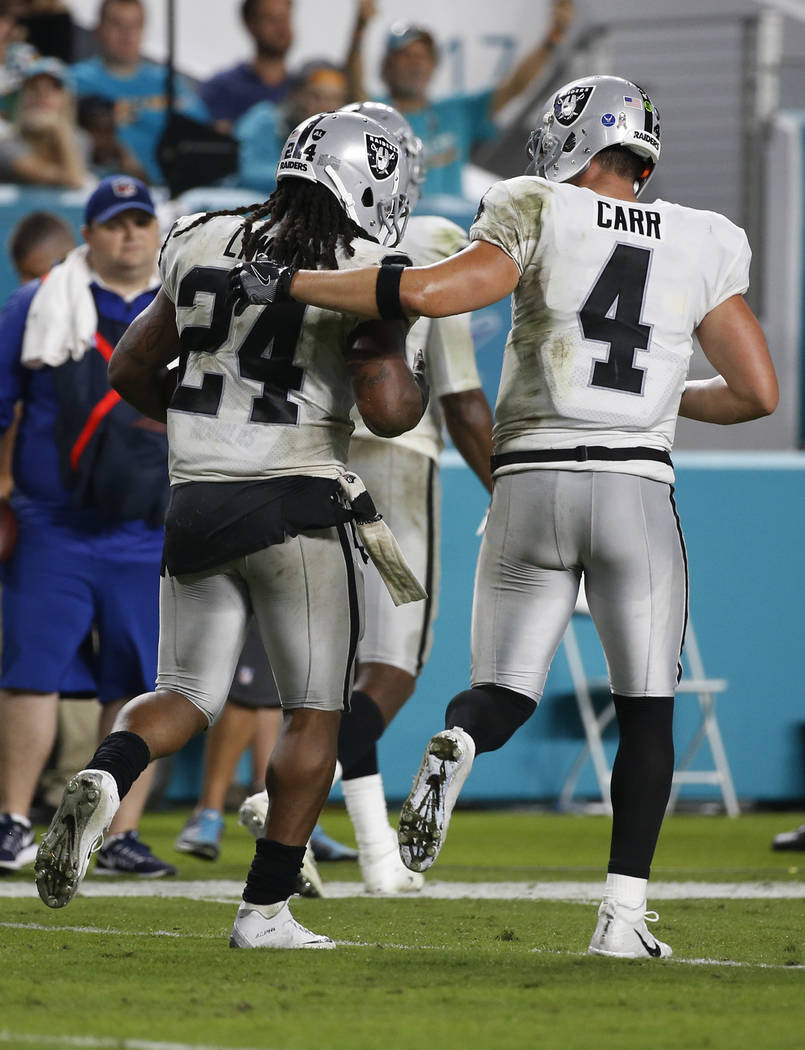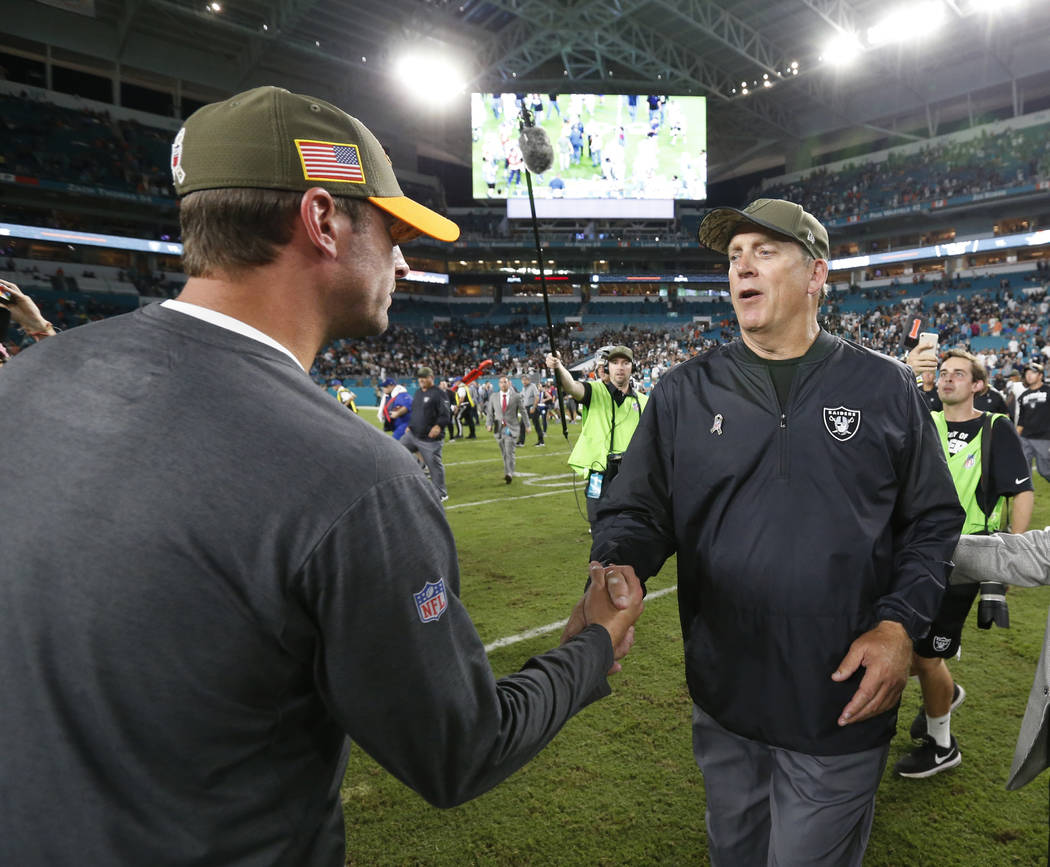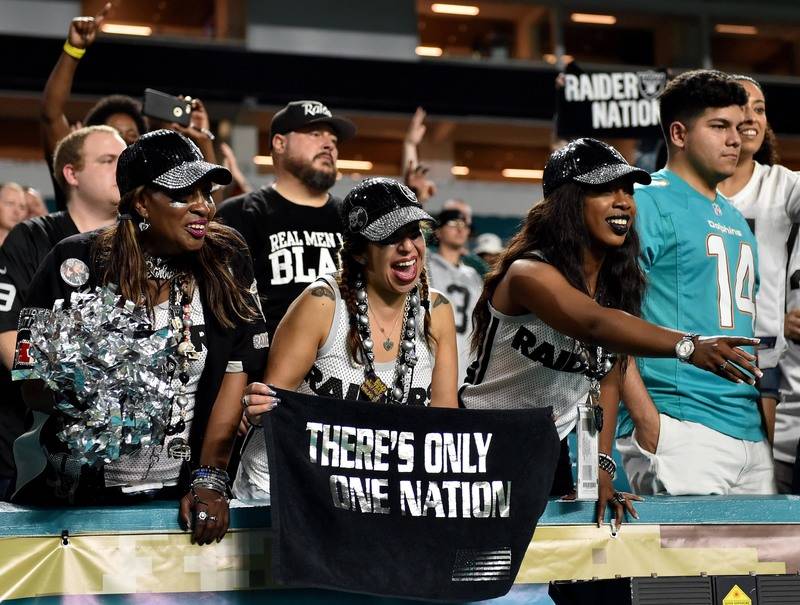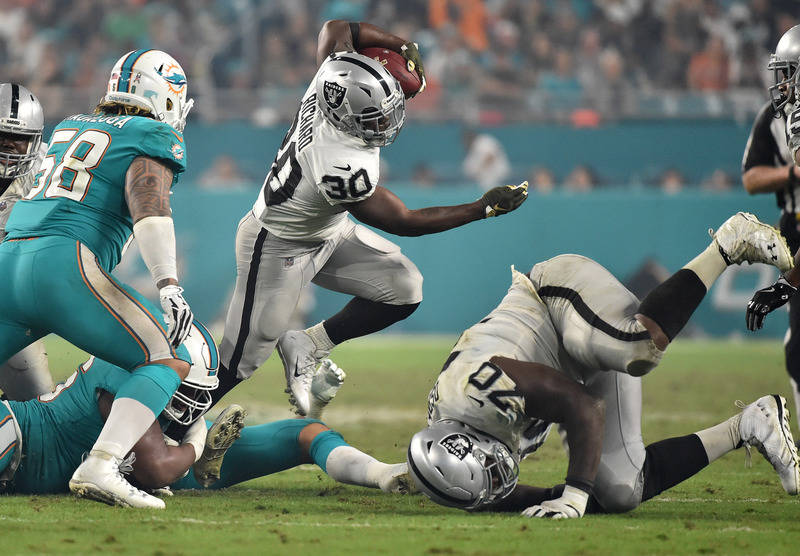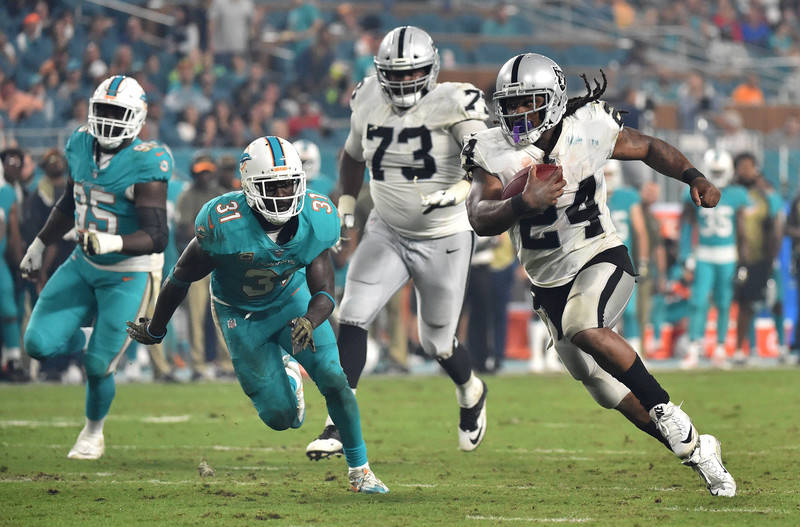 MIAMI GARDENS, Fla. — The strip and recovered fumble came with 7:28 remaining in the second quarter, at a time you wouldn't think might prove a gigantic difference in a 60-minute NFL game.
But these are the Raiders of 2017, flawed and floundering through their schedule thus far, and if resilience really is all about overcoming the unexpected, any sort of positive shift in momentum is significant.
How the Raiders arrived at a 27-24 victory against the similarly imperfect Dolphins before 65,139 at Hard Rock Stadium on Sunday night would take at least several chapters of your average L. Ron Hubbard tome to digest, but understand only that the visitors stood tallest when a season's survival was at stake.
On a night it was soft enough that Miami quarterback Jay Cutler, he of several fractured ribs, completed his first 16 passes, the Raiders defensively made just the right amount of critical plays to avoid what assuredly would have been a loss that finally buried any post-season hopes.
You have life at 4-5.
You're still breathing.
They're pretty much reading your eulogy at 3-6.
For the second straight year, the Raiders chose to practice in Florida between East Coast games, preaching since the loss at Buffalo last week that they needed to regain their mojo in order to begin the season's second half with a win.
I'm not sure beating Miami was about that.
But it sure was about the The Big Mo(mentum).
How do you respond to being caught totally off guard with an onside kick following a second-quarter Miami touchdown?
You have linebacker Bruce Irvin force a fumble at the Raiders 19, watch TJ Carrie recover it and avoid giving up any points on the drive.
"We had some big stops," Irvin said. "We got off the field in situations where … sudden changed situations. We got off the field a few times and a couple key third downs we got off, so I think we had a pretty good day at the office."
Leave it at this: They had a good day when it mattered.
Like with the forced fumble.
Like when the clowns were sent in offensively and tackle Marshall Newhouse (all 6-4, 330 pounds of him) picked up a Derek Carr fumble and, for some mysterious reason, decided to run with it, only to fumble himself.
The craziness gave Miami the ball at its own 48 with 12:46 remaining in a four-point game, but four plays later, the Raiders had held and forced a punt.
It was another one of those important stops hidden among all those Cutler completions and a final Miami scoring drive that — get this — traveled 83 yards in five plays over just 22 seconds.
"We definitely didn't want (Cutler) to go over the top of us," Raiders coach Jack Del Rio said "He was patient. We didn't hit him as much as I would like to have seen. Part of that is he had some throws available and he was taking them. The bottom line was to keep the point total down, and I think we did that for the most part.
"(It was) nice to start the second half (of the season) with a win. I thought there were some moments of some good complementary football, the kind we're going to need to play this second half of the season. Overall, a real solid win on the road. (We're) ready to get home. (Our) guys are ready to get back."
You don't complain about road wins in the NFL.
You cherish them and move on.
That the Raiders are now alone in second place in a suddenly below-average AFC West only means their impending bye week will come with a sharper focus and attention to detail as opposed to if they had lost here.
But the Raiders also had 10 penalties for 105 yards Sunday. They bent and bent and bent and even broke a few times defensively. That won't play against New England in two weeks in Mexico City or at Kansas City or at Philadelphia or home to Dallas and so on. Things need to be cleaned up.
One's breathing in the NFL can be cut off in an instant.
"Winning helps," Del Rio said. "You gotta win. We believe we have a good team. We understand where we are. When you look up, you're going to be right in the thick of it, before you know it. But what we need to do right now is just keep playing good football, find a way to just stack some wins together."
To sustain is to survive.
Sunday night, the Raiders fended off that eulogy.
Contact columnist Ed Graney at egraney@reviewjournal.com or 702-383-4618. He can be heard on "The Press Box," ESPN Radio 100.9 FM and 1100 AM, from 11 a.m. to 2 p.m. Monday through Friday. Follow @edgraney on Twitter.