Rebels baseball program pushing forward without coach Tim Chambers
October 27, 2015 - 1:13 pm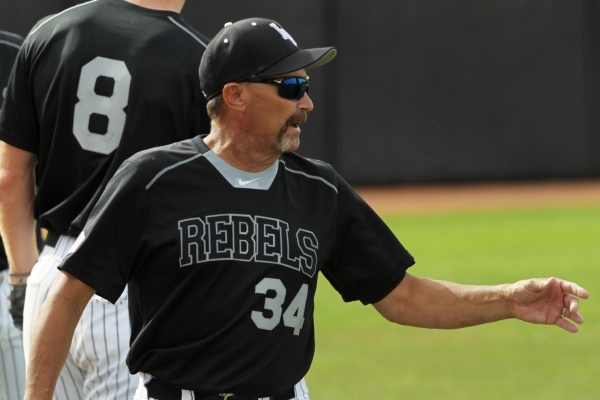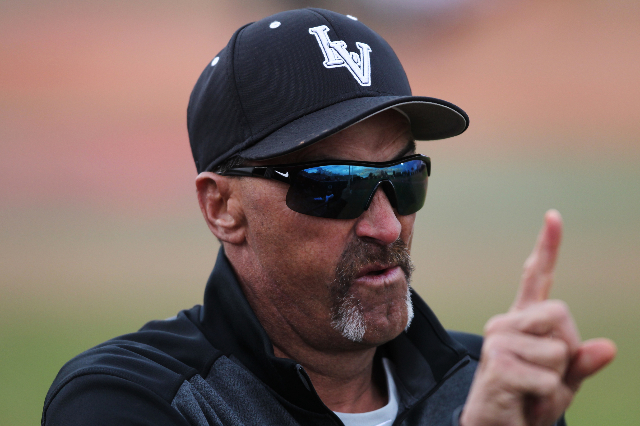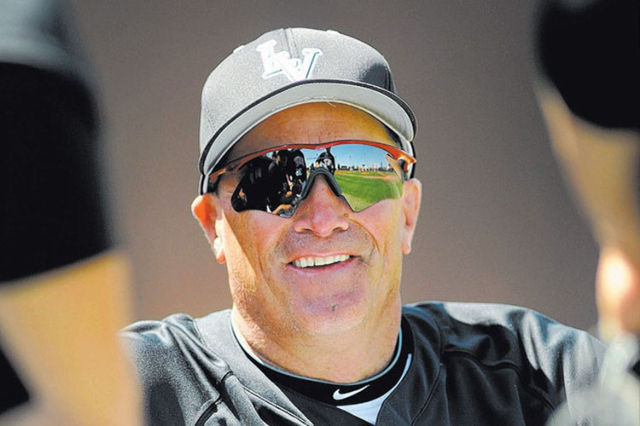 They are worried about Skip and want him to know things are going well, that his philosophy about energy and effort not being negotiable terms for any UNLV baseball player remains a standing order within the program.
They're kids, after all, resilient in the face of disturbance and mindful that those now in charge are both experienced and capable.
UNLV baseball forges ahead in the wake of coach Tim Chambers being arrested earlier this month in connection with driving under the influence and being put on administrative leave by the university. The Rebels hosted Utah as part of a fall schedule on Saturday, in which UNLV outscored the Utes over two seven-inning games and things appeared very much positive and on track.
"We're staying together for Skip and and I know he'd be proud that we're doing things the right way," junior outfielder Cody Howard said. "Skip is missed. He adds balance to everything. It was a little eerie around here for a couple days after (the arrest), but we're making it. Everything will be O.K."
This is why: Chambers went on an indefinite medical leave of absence from the team in July after missing most of last season following back surgery, meaning the program for some time now has been directed by acting head coach Stan Stolte and top assistant Kevin Higgins. There are several UNLV players who to this point in their careers have had little if any contact with Chambers.
They only know those who have been there and no one in this town, and most across the country, knows more about baseball than Higgins.
It has been more business-as-usual than challenging transition, and yet such drama has not come without a level of backlash. Opposing programs are using the uncertainty of Chambers' status against the Rebels in recruiting at a time when UNLV coaches are trying to hold onto those five or so commitments they have received for a November signing period.
You knew this would happen because it happens everywhere in every sport and everyone does it at some point. One of recruiting's more formidable cards to play is creating doubt in a prospect's mind based on the struggles of others.
"It has been difficult," Higgins said. "It's the elephant in the room, We can't actually go into a house and tell a kid and his parents we're going to be here or (Chambers) is going to be here for the long run. We're in limbo with that right now. But we have firm commitments from people who want to be part of the UNLV family and play baseball here, so I'm not too worried.
"The kids we have are grinding every day, looking forward to the season. We have some good veteran leadership and also a bunch of young kids with the right makeup, guys who just come in and go about their business and have the ability to separate what is going on elsewhere once they step on the field. We've kind of been through this before with (Chambers' medical leave), with the only difference now being we don't have that daily contact with him."
It is believed Chambers is seeking help for his issues out of state, and his health and recovery must be paramount to any long-term decision about his future as UNLV's coach. He has influential people in his corner, specifically ones who are financing a new baseball facility, and you can be certain they already have or will make their wishes known to athletic director Tina Kunzer-Murphy about Chambers eventually returning.
But the last spot any athletic director wants is to find themselves in today is anything similar to Pat Haden at Southern California, when he came under strong and deserved criticism for his handling of former football coach Steve Sarkisian's final weeks with the Trojans. Haden allowed Sarkisian to coach even after signs of a serious drinking problem arose. Subsequent reports then came to light that the coach's issues with alcohol dated much further back than this season.
Haden emerged looking either incompetent for not knowing — or indifferent for knowing — and allowing things to continue until he was forced to fire Sarkisian after another alcohol-related episode.
Either way, it didn't paint the person in charge of athletics in a positive light.
UNLV baseball is hardly Southern California football, but it is a situation where those in charge must perform due diligence in every manner when deciding under whose guidance the program will be directed for the years to come.
"Of course, we are thinking of coach Chambers and glad he is doing the things needed to take care of himself," Kunzer-Murphy said between games. "I've met with the team on three different occasions and players have come to me individually to talk. They're a great bunch of kids. (Stolte and Higgins) are doing a remarkable job making sure we move forward and that our kids are going to class and everything else we need to do is getting done during this time.
"I don't think there are any (set rules) with how you deal with adversity and hiccups. It's not easy, but for me, it's always going to be about our student-athletes. They will always come first. We've had some challenging times, but the kids are focused and steadfast in their goals."
Stolte is the program's recruiting coordinator/pitching coach and there are few better baseball men anywhere than Higgins. Things are more than being handled, and yet there will come a time soon when a long-term vision for everyone must be addressed.
Because if you think the Rebels are getting hammered in recruiting now over this issue — and they are — it will only get worse until some sense of finality arrives.
Ed Graney can be reached at egraney@reviewjournal.com or 702-383-4618. He can be a heard on "Seat and Ed" on Fox Sports 1340 from 2 p.m. to 4 p.m. Monday through Friday. On Twitter: @edgraney