UNLV coaches can't avoid blame while sifting through the rubble
November 12, 2007 - 10:00 pm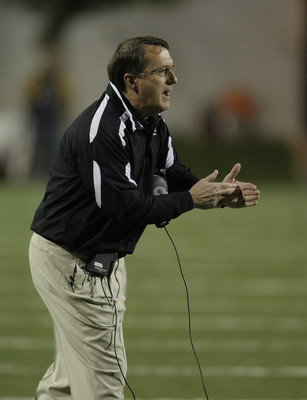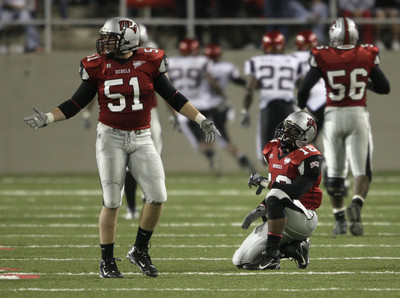 It wouldn't be this disturbing if the competition was at a level far above what UNLV's football team could capably oppose. It wouldn't be this dismal if the only thing separating the Rebels from winning more than two games per season was acquiring better talent.
You can do that over time. Recruit to it. You can find enough players to contend in the Mountain West Conference, for goodness sakes. It's not like you're talking about a non-Bowl Championship Series league that scares anyone legitimate. You know, like the WAC does.
But it's much tougher to change what has led to yet another losing season — the Rebels' seventh in eight years — for a program that once again has freed its fans to concentrate 100 percent on basketball before Thanksgiving, instead of the usual 98.5 percent regardless of where football stands.
Preparation. Discipline. Attention to detail.
It all concludes with the same issue: Coaching.
It didn't taste any better a day later, how UNLV lost to San Diego State 38-30 on Saturday night before far less than the fantasy announced crowd of 18,837 at Sam Boyd Stadium. It didn't feel any less unsettling for how the outcome transpired.
The popular sentiment remains that head coach Mike Sanford will be given a fourth year to try to raise the program from its miserable state. Fine. It's a practical decision based solely on the idea that changing coaches and systems every three years usually leads to just more inconsistency and failure. That theory has been proven more times than not.
But any soul near UNLV's football program today who doesn't believe Sanford and his assistants need to take a long, comprehensive look at themselves and how they prepare and instruct is either a member of the staff or unreasonably loyal to it.
You hear it all the time from coaches and players, these formulaic quotes about games being won not when the ball is kicked off, but in the several days before that. Through practice. Film study. Research.
UNLV has now played three games under Sanford following an off week and lost all three (to Brigham Young, UNR and San Diego State) by a combined score of 124-47. It trailed those games at halftime by a combined score of 65-7.
All three were at home.
How can even UNLV have a week to prepare for a three-win San Diego State team with one offensive skill player — quarterback Kevin O'Connell — who genuinely worries opposing coordinators and still trail 21-0 at halftime?
"I can't say, other than after a bye, even though you're fresher, there's an adjustment to the speed of the game," Sanford said Sunday afternoon. "It's like we were sitting back waiting for stuff to happen rather than making something happen. We were much more assertive in the second half. We just had a sense of urgency then.
"Without a doubt, we have to look at how we handle a bye week and why we haven't performed well after one. I wish I could tell you exactly why this happened, but I can't."
Do you know how to identify really well-coached football teams, even losing ones? There is a sense of consistency to them. They don't produce a ceaseless rollercoaster ride of ups and downs, of embarrassing play for 30 minutes followed by inspired play the next 30. They are solid on special teams. They don't lack a season's worth of discipline within countless personal fouls. They hardly ever burn timeouts for a lack of organization.
Think of those factors and then think of UNLV.
Sanford pointed out late Saturday and again Sunday that his program is a young one, far below the maximum scholarship limit of 85, and that it is a more competitive team than in his first two seasons. He is correct on both points. The Rebels' scholarship numbers are down and yet they have at least put themselves in position to win more games.
But reasons (even factual ones) for failure only sound like excuses when one loss piles on top of the next, especially when you show up after a week of rest and quickly cause any set of unbiased eyes to wonder if your team has simply given up on another forgettable season.
"Once this season is done," said Sanford, "like always, I will evaluate everything."
He needs to begin with himself and his staff and how they prepare this team to play. This isn't the SEC or Pac-10. This isn't even the WAC.
Believe it. There's a lot more to this than young players and low scholarship numbers and needing a half of football to adjust your speed.
Sheesh.
Ed Graney can be reached at 383-4618 or egraney@reviewjournal.com.
ED GRANEYMORE COLUMNS