Texans cut backup QB Ryan Mallett after missing team's flight
October 27, 2015 - 12:58 pm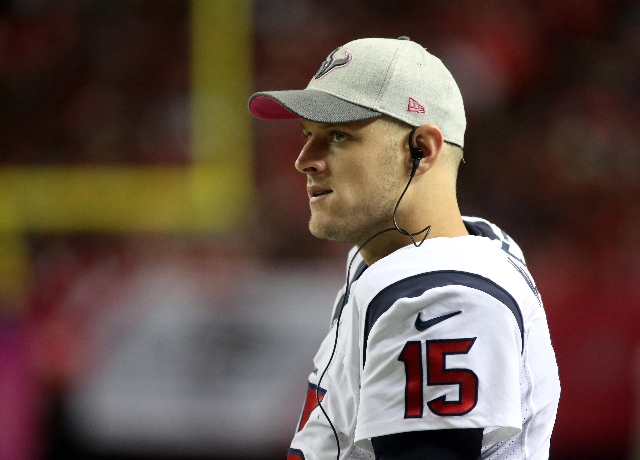 Quarterback Ryan Mallett was released by the Houston Texans three days after missing the team's charter flight to Miami.
Multiple reports linked the Texans and former backup T.J. Yates, who was traded to the Atlanta Falcons. Yates would return as a backup along with second-year option Tom Savage.
Punctuality and professionalism were hindrances for Mallett in his competition with Brian Hoyer, and proved fatal detriments at a position typically defined by leadership and decision making.
Trading Mallett was an unlikely scenario given his recent track record off the field and having completed 53.1 percent of his throws this year for 770 yards, three touchdowns and four interceptions for a 63.6 passer rating.
"We're dealing with Ryan Mallett internally, Rick Smith and I," Texans head coach Bill O'Brien said of his discussions with the Texans' general manager on Monday. "We're talking about it. We're talking about our options."
Mallett acknowledged being late following a 44-26 defeat to the Dolphins. Mallett missed a practice during training camp, saying he overslept and had vowed to Smith it would never happen again. Team officials addressed Mallett's behavior with him behind the scenes when he sulked on the sideline after being replaced by Hoyer during a loss to the Indianapolis Colts.
"I just got caught in traffic," Mallett said. "Got to be on time. It's not the leadership role that I need to exhibit. So, I have to be better."
When asked why he's repeatedly late to team activities, Mallett replied: "It only happened twice."
Texans owner Bob McNair paid a visit to the locker room Monday, one day after a disheartening loss where his team was thoroughly dominated.
Texans head coach Bill O'Brien declined to elaborate on his conversations with McNair, who praised his leadership during a kickoff luncheon prior to the season following last year's 9-7 campaign during his first season as a head coach.
"I'm not going to really get into the discussions that I have with Mr. McNair," O'Brien said of the majority owner who spoke Monday with veteran nose tackle Vince Wilfork. "Nobody is happy with where we're at. He's the owner. He's the boss.
"He's not happy and that's the way it is. That's life in the NFL, but I'm not going to get into the details of what he and I talk about."
Like Sports News on Facebook: