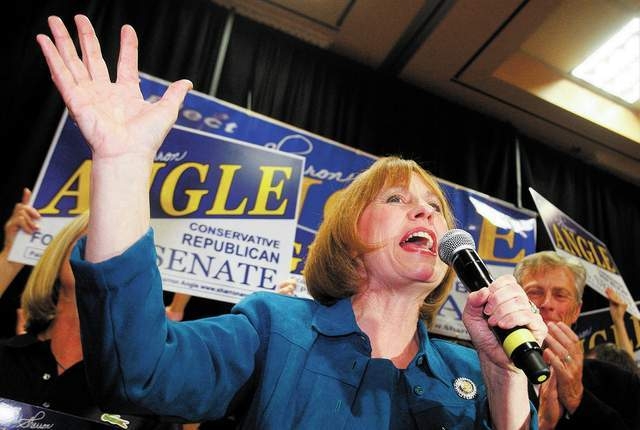 You remember Sharron Angle, right? She's the ex-assemblywoman from Reno who somehow won the 2010 Republican primary for U.S. Senate, only to be decisively defeated by incumbent Harry Reid after a disastrous general-election campaign.
Well, she's back. Sort of.
Angle appeared Wednesday on Alan Stock's radio show on KXNT-AM 840 to discuss her latest projects, including a trio of ballot initiatives currently being circulated. (They'd impose voter ID requirements, outlaw health-care exchanges under the Affordable Care Act, and protect student information.)
Stock asked Angle about rumors that she'd run for U.S. Senate in this year's Republican primary, where Republican Rep. Joe Heck is running to replace the retiring Reid. "I think it's more than a rumor, Alan," Angle said, adding that she'd been encouraged to run by state Sen. Don Gustavson, R-Sparks, and Assemblyman Brent Jones, R-Las Vegas, two of the Legislature's most conservative members.
"I said, well, if you've got the money, I've got the time," Angle said. And what better reason is there to run for office than having plenty of time on your hands?
Stock — who's a conservative, by the way — noted that Angle's 2010 campaign was a disaster and a repeat performance could become a distraction for Heck, forcing him to spend money in a primary when he should be husbanding his resources for the general-election contest against Democratic former Attorney General Catherine Cortez Masto.
"I'm sure that people said that to Carly Fiorina," Angle replied, referring to the former HP executive who lost bids for U.S. Senate in California in 2010 and for president this year. To repeat: Fiornia lost bids for those offices. She lost. Yet Angle cited her as a reason to run? It's good to see that some things never change!
"I think that what you have to do is let the people decide," Angle added. "That's what Brent and Don said, let's let the people decide."
Stock asked Angle whether she thought Heck was a real conservative, and Angle once again demurred, referring listeners to a right-wing website that ranks Heck with just a 38 percent conservative voting record. That's far lower than Heck scores in other surveys, although he's by no means ranked among the most conservative members. (Heritage Action gives Heck a 53 percent rating, third behind fellow Nevada Reps. Mark Amodei and Cresent Hardy. FreedomWorks gives him a 59 percent rating. And the American Conservative Union gives him a lifetime rating of 65 percent.)
The fact that Angle is more conservative than Heck is not in dispute. The fact that Angle would certainly lose to Heck in a primary is also not in dispute. And the fact that — even if she once again were to pull off a miracle somehow and win a primary — she'd lose badly to Cortez Masto in November is not in dispute.
In fact, Angle should know that her biggest cheerleaders are not Jones and Gustavson, but the state's Democratic Party and staffers for Cortez Masto, who see her as a stumblingblock for Heck. That's probably why Stock literally begged Angle on the air to avoid another run for Senate.
"From the bottom of my heart, I'm begging you, don't run," Stock said. "You did it once before and it was a disaster."
Replied Angle: "Well, I don't know that it was a disaster, Alan. Harry Reid was pretty scared."
For the record, Reid was not scared. Staffers for Reid told me weeks before Election Day that based on the excellent polling of Mark Mellman they knew Reid would win by 6 percentage points, which was almost Reid's exact margin of victory. Plus Reid's campaign was near flawless in its execution.
Also during the interview, Angle mentioned the fact that she's got a new book out, titled "New Angle for America," a follow-up to her 2011 self-published biography "Right Angle." Apparently, you can get both books bundled together in a special deal right now and…
Oh, wait. Now I get it. Angle's not really trying to run for office or pass laws via initiative. She's trying to earn money! Totally makes sense.
Look, I could be wrong, but when filing closes March 18, I'm willing to bet that Angle's name will not be among the rest of the candidates. She may know people with money, she may have time on her hands, but she knows the real scratch is in selling an image, not actually hustling for votes. She may be completely delusional about her 2010 campaign, but she's got a keen understanding of the conservative politico-literary-industrial complex.