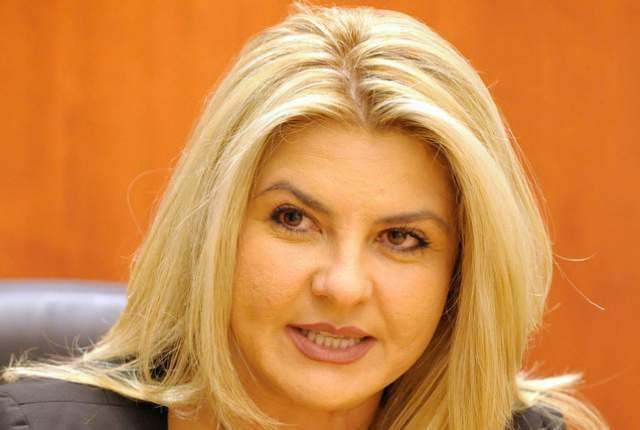 CARSON CITY — Assemblywoman Michele Fiore, R-Las Vegas, bullied into silence? On a bullying bill?
That seems like exactly what happened on the Assembly floor today, as lawmakers took up Gov. Brian Sandoval's anti-bullying Senate Bill 504, legislation that would expand parents' rights when it comes to bullying cases and set up a statewide Office for a Safe and Respectful Learning Environment in the state Department of Education.
Now, you might ask, who could be pro-bullying? And the answer is, nobody. And, you might wonder, since Sandoval is a Republican, and since he made the bill a priority in his State of the State address, and since the Assembly is controlled by Republicans, the bill must have sailed through, right?
Nope. Not even close.
Assemblyman Ira Hansen, R-Sparks, started the ball rolling by objecting on procedural grounds. "The primary reason I have objections to it is that I haven't had a chance to read it," Hansen said.
The bill has been declared an emergency measure under the Constitution, which means certain rules are suspended and the bill was put on a fast-track for passage. Hansen said he didn't think there was an emergency, and that there were already anti-bullying programs in place in Nevada public schools.
Fiore then got up to say she was against bullying and wanted to vote for the bill, but also had not had time to read the measure. "I want a chance to read the bill," she said. She eventually made a motion to delay the bill by one day, a motion that was sustained (as required under the rules) by two of her colleagues.
That's where things went haywire.
Members rose to speak, not to the motion on the floor, but to the issue and the procedure. (Speaker John Hambrick, R-Las Vegas, promised to take up Fiore's motions after the comments.) Assembly Minority Leader Marilyn Kirkpatrick, D-North Las Vegas, rose to give a classic, impassioned speech. She noted we're just 20 days from the constitutionally mandated end of the session. She said she's already read the bills on the agenda for final votes for tomorrow's floor session. (She's well known as a policy maven, so that's not unusual.) And she sharply reminded her colleagues that it's their job to read the bills and come prepared to floor sessions. (The measure was passed by the state Senate May 4 by a vote of 18-1 and heard in the Assembly Ways & Means Committee at a lengthy hearing, after which members recommended approval.)
And then she called for the question.
Now, there's some dispute as to what should have happened next. Fiore's motion was apparently in order before Kirkpatrick's remarks, so Fiore could have objected, perhaps by raising a point of order. Then again, a motion calling for the previous question takes precedence over a motion to postpone an item to a time certain. Hambrick immediately moved to open the roll on the bill, and the Assembly's parliamentary staff did not move to correct him.
Even if Hambrick had taken up Fiore's motion, however, it appears she would have lost anyway. The names turned green quickly on the big board in the Assembly chambers, and the bill finally passed on a vote of 36-6, with Fiore, Hansen and four others voting no.
The bill now goes to Sandoval, where it's sure to be signed into law.