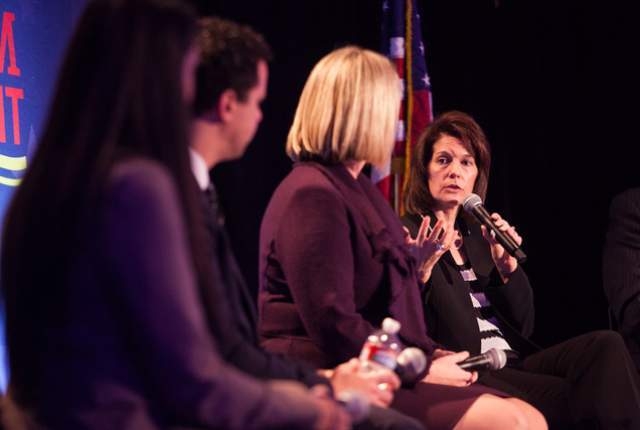 Author's note: This post has been altered from its original version to reflect the correct name of the Nevada System of Higher Education.
Former Attorney General Catherine Cortez Masto today formally announced her candidacy for the U.S. Senate seat currently held by Senate Majority Leader Harry Reid, who last month announced his retirement.
Cortez Masto resigned from her job as executive vice chancellor of the Nevada System of Higher Education, a post she held for just three months.
Here's her statement:
My name is Catherine Cortez Masto. I've spent my life and career fighting to protect the families of Nevada. And today, I'm proud to announce that I am running to become the next U.S. Senator from Nevada.
As attorney general, I stood up to special interests and fought for consumers in Nevada. I worked with local law enforcement to crack down on meth labs to help combat our state's growing drug problem, protected domestic abuse victims and children preyed upon by sex traffickers and looked out for seniors who have been cheated by scam artists.
As a native Nevadan, former prosecutor and attorney general I care about the people of our state and that's who I'll be standing up for in the Senate. I was proud to be the first Latina elected to serve as attorney general. To be the first Latina elected to the United States Senate would be an honor, and an incredible opportunity for me to fight for all Nevadans.
I'm running for the Senate to continue my work standing up for Nevada seniors, consumers, homeowners, women and children. But these days, campaigns aren't as simple as which side has better ideas. Outside groups and special interests will try to tear me down. Outside money and attacks will flow into the state. It's not a battle I can fight on my own.
We need to show the special interests that we mean business not just with words, but with action. Sign here to stand with me today.
Until next time,
Catherine
Cortez Masto was anointed by Reid shortly after he announced his retirement. Since then, the Democratic Senatorial Campaign Committee has indicated it will back her in the race. Those two factors give Cortez Masto a big boost in the race, although other Democrats — most notably Rep. Dina Titus — have yet to decide whether they'll get into the race.
On the Republican side, Las Vegas Councilman Bob Beers is the only declared candidate for the race, although other potential candidates could include Gov. Brian Sandoval, state Senate Majority Leader Michael Roberson, R-Henderson, Lt. Gov. Mark Hutchison and Attorney General Adam Laxalt.
The National Republican Senatorial Committee was swift to welcome Cortez Masto to the race. Here's what spokesman Jahan Wilcox said:
"Despite being Harry Reid's handpicked candidate, Catherine Cortez Masto will quickly learn that running for Senate is no picnic. Nevada was a top pickup opportunity for Republicans before Reid threw in the towel and his handpicked liberal candidate jumping in the race does nothing to change that."
UPDATE: Here's my colleague Laura Myers with the story.
UPDATE: The Democratic Senatorial Campaign Committee has endorsed Cortez Masto. Here's what that group had to say:
"Catherine Cortez Masto has made protecting Nevada families and consumers her life's work, and she is the strongest candidate to keep this Senate seat in Democratic hands and continue Harry Reid's legacy of fighting for Nevada's best interests. As state attorney general, Cortez Masto built a record of working to combat drug dealing, standing up for homeowners and consumers, and protecting seniors, children and women from abuse. Cortez Masto's record and her reputation for integrity and staunch advocacy will power her campaign to a victory in 2016.
"We look forward to supporting Catherine Cortez Masto in her campaign and are confident she will go on to serve as the next senator from Nevada."
UPDATE: Reid wouldn't let the news cycle slip by without fulfilling his promise to help Cortez Masto, would he? Of course not! He issued a fundraising pitch on her behalf today. It says:
When I decided to retire, I said I hoped that Catherine Cortez Masto would run. Nevadans immediately took to social media and agreed.
Today we got our wish.
Catherine just announced her candidacy for U.S. Senate, and I am proud to endorse her. She's spent a lifetime fighting to protect Nevada families. And I know she will continue that work in the Senate. The first Latina to serve as Nevada's attorney general, Catherine's election to this seat would be historic. She would be the first Latina ever to serve as a United States senator.
As Catherine kicks off her campaign, let's make sure she gets off to a strong start. Make a contribution right now.
…
You've been an important part of my team, and I hope you will join me in helping Catherine launch her campaign. Early support is critical — please click here and make a contribution now.
Thank you for all you've done for me, and all that you will do to help Catherine become the next United States Senator from Nevada.
Harry Reid