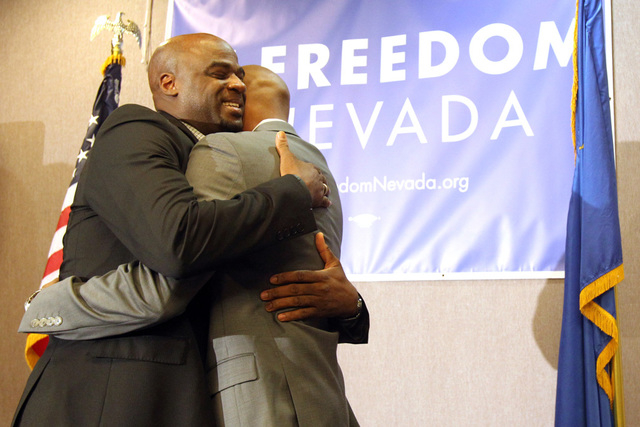 Give Nevada's most strident opponent of gay marriage, Richard Ziser, credit for one thing at least: When he warned the 2009 Legislature that passing a domestic partnership law would undermine the state's straights-only marriage policy, he was right.
The fact that Nevada grants same-sex couples all the legal benefits of marriage — but denies them access to the franchise itself — was among the many justifications cited when the 9th U.S. Circuit Court of Appeals struck down a constitutional and statutory ban on gay marriage Tuesday.
The widely anticipated ruling rejected the desperate pleas of Ziser's Coalition for the Protection of Marriage, which was the first group to propose a constitutional ban back in 2000, and the last man standing in 2014, when the state abandoned its defense of the amendment in light of an important precedent in another case.
The Coalition argued that marriage encourages and supports the rearing of children, and that allowing gay couples to marry would undermine a fundamental message of support for the traditional institution, with disastrous social consequences. But a three-judge panel of the 9th Circuit dismissed those arguments handily.
"First, they [the Coalition and the state of Idaho, where marriage laws also were under attack] argue that since same-sex families will not include both a father and a mother, a man who has a child with a woman will conclude that his involvement in that child's life is not essential," the ruling reads. "They appear to contend that such a father will see a child being raised by two women and decide that because the state has said it is unnecessary for that child — who has two parents — to have a father, it is also unnecessary for his child to have a father. This proposition reflects a crass and callous view of parental love and the parental bond that is not worthy of response." (emphasis in original)
The Coalition argued that opposite-sex couples will opt to marry less if same-sex couples are allowed to enjoy the franchise. "However, the fear that an established institution will be undermined due to private opposition to its inclusive shift is not a legitimate basis for maintaining the status quo," the court panel wrote.
The Coalition argued that procreation binds heterosexual couples, even if a pregnancy is unplanned. "Defendants' argument runs off the rails, however, when they suggest that marriage's stabilizing and unifying force is unnecessary for same-sex couples, because they always choose to conceive or adopt a child," the court panel wrote. "Raising children is hard; marriage supports same-sex couples in parenting their children, just as it does opposite-sex couples."
Plus, if states wanted to encourage children to be raised by married parents, they'd do better to repeal no-fault divorce laws, rather than making divorce so easy and quick it becomes a cottage industry. (Not only that, but "the fact that Nevada has seen fit to give same-sex couples the opportunity to enjoy the benefits afforded married couples by state law makes its case for the constitutionality of its [anti-gay marriage] regime even weaker than Idaho's," the court added. "With the concrete differences in treatment gone, all that is left is a message of disfavor.")
And that, the state may not do. Citing the seminal case of Brown v. Board of Education, and the more recent case of Windsor v. United States, the panel notes that Windsor "forbids state action from 'denoting the inferiority' of same-sex couples."
"Classifying some families, and especially their children, as of lesser value should be repugnant to all those in this nation who profess to believe in 'family values.'" the court wrote. "In any event, Idaho and Nevada's asserted preference for opposite-sex parents does not, under heightened scrutiny, come close to justifying unequal treatment on the basis of sexual orientation."
Thus ends a particularly sad and puritanical chapter of Nevada history, a wedge finally dislodged by changing national opinion, a well-timed lawsuit and the enduring power of the Bill of Rights. As Judge Stephen Reinhardt wrote in his separate concurrence: The Constitution "demands not merely toleration; when a state is in the business of marriage, it must affirm the love and commitment of same-sex couples in equal measure. Recognizing that right dignifies them; in so doing, we dignify our Constitution."
Steve Sebelius is a Las Vegas Review-Journal political columnist who blogs at SlashPolitics.com. Follow him on Twitter (@SteveSebelius) or reach him at 702-387-5276 or ssebelius@reviewjournal.com.