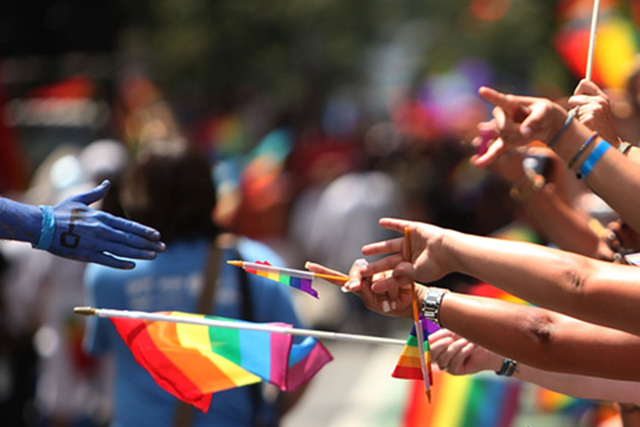 If pang of conscience prevents a person from performing his or her job in government, or upholding an oath to administer justice under the Constitution, that person needs to resign.
As the legal dust settles and Nevada prepares to extend marriage equality to all its citizens, there's one small, sad footnote to be written: The signature on the legal document enjoining the state from enforcing its 12-year-old ban on gay marriage will not be that of U.S. District Judge Robert C. Jones.
Jones, formerly the chief federal judge in Nevada, oversaw Lambda Legal's lawsuit against the state, which contended that Nevada's voter-approved constitutional amendment banning gay marriage was unconstitutional. Jones presided over the trial, heard and evaluated each piece of evidence, weighed the arguments and rendered a ruling upholding the state's gay marriage ban.
To be sure, Jones' ruling was wrong. His analysis included the observation that gays could legally marry in Nevada, just not other gay people of the same gender. And that gays have come a long way, baby, inasmuch as "the public media are flooded with editorial, commercial, and artistic messages urging the acceptance of homosexuals." And that President Barack Obama's decision to stop defending the anti-gay Defense of Marriage Act was proof that gays are not victims but in fact a powerful lobby.
Jones embraced the argument that the 9th U.S. Circuit Court of Appeals handily rejected, including the fact that straight people would abjure marriage if gays gained the franchise. No, really: "Should that [marriage] institution be expanded to include same-sex couples with the state's imprimatur, it is conceivable that a meaningful percentage of heterosexual persons would cease to value the civil institution as highly as they previously had and hence enter into it less frequently." And that the right of children to be raised in traditional, two-parent, opposite-sex marriage households is a compelling reason to retain the constitutional ban on gay marriage.
When a three-judge panel of the 9th Circuit rejected those arguments and found the ban unconstitutional, it sent the case back to Jones with the explicit command to promptly issue "an injunction permanently enjoining the state, its political subdivisions, and its officers, employees and agents, from enforcing" the gay-marriage ban. That's standard practice when an appeals court overturns a District Court judge, as Jones — who has seen his share of reversals — knows full well.
It was at this point that, instead of complying with the 9th Circuit's mandate, Jones decided to recuse himself in a one-sentence order, referring the case to the new chief judge of the district, Gloria Navarro.
What?
Jones gave no reason for his recusal, no explanation of why he was fully able to hear and decide the case in 2012 but not able to sign his name to a court ordered injunction just two years later.
Clearly, Jones disagrees fundamentally with the 9th Circuit's view. But that's entirely beside the point: His job calls on him "to administer justice without respect to persons, and do equal right to the poor and to the rich, and that I will faithfully and impartially discharge and perform all the duties incumbent upon me as District Court judge under the Constitution and laws of the United States. So help me God."
If pang of conscience prevents him from living up to that oath, or carrying out the duties imposed on him by law, the proper remedy isn't to simply slink away on one case. It's to resign.
And its not as if this is Jones' first tussle with the 9th Circuit. He got into a battle of the briefs with judges there in a case where Republicans sought to deny Nevadans their ability to cast votes for "none of these candidates" back in 2012, to keep votes from bleeding away from Mitt Romney. Jones was accused of dragging his feet on an order as a ballot-printing deadline approached, which he denied.
But those were mere misdemeanor shenanigans compared to his 11th-hour recusal in this case. Jones needs to carefully consider whether he has the ability to do the job to which he's been appointed. If he can't, he needs to make way for somebody who can.
Steve Sebelius is a Las Vegas Review-Journal political columnist who blogs at SlashPolitics.com. Follow him on Twitter (@SteveSebelius) or reach him at 702-387-5276 or ssebelius@reviewjournal.com.