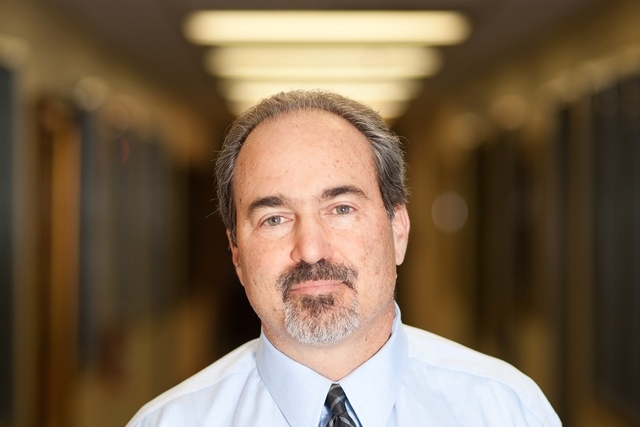 There was some bad news in the paper Tuesday: The "Ralston Reports" TV show is coming to an end.
I'll say at the outset that my friend Jon Ralston and his longtime producer, Dana Gentry, are fierce competitors for political news in Nevada. They've broken many stories over the years, most recently one about the pathetic response of higher education leaders to a UNLV study of the impacts of the Education Initiative that didn't sit well with the city's business community.
But even though the show was tough competition for the rest of us covering political news, I still hate to see it go. And so should you.
There are fewer and fewer legitimate sources of local news and information, places where people can go to get accurate information about what's really going on at City Hall, in Carson City or Washington, D.C. That's because digging out those stories is tough work. It's even tougher to make sense of it and convey that information to other people in a way that makes sense. And when you find a professional who does it well, that's a very valuable thing.
"Ralston Reports" was unquestionably that kind of a show. Whether it was a tense interview with UNLV President Don Snyder, who was defending his decision to seek a review of the Center for Business and Economic Research's study of the Education Initiative, or debates with candidates for office, or hard-to-get sit-downs with media-shy people such as Sharron Angle, "Ralston Reports" covered all the bases.
That's not an accident. Ralston came to Las Vegas as a reporter for the Review-Journal in 1984, and has been covering news and especially politics in this town (and state) ever since. That kind of experience is impossible to buy, and takes years to develop. It's not cheap, but there's a huge payoff for readers and viewers in public service.
Starting Dec. 12, Nevadans (the show aired statewide) will no longer have the benefit of Ralston's daily half-hour look into Nevada politics. And while there are some who cheer the development, they're generally members of two camps: the haters, and those who felt the sting of accountability, or feared one day they would.
For everybody else, it was a bad news kind of day.
■ Speaking of bad news, Nevada could get some when it comes to everybody's favorite political football, Yucca Mountain. Although U.S. Sen. Harry Reid and President Barack Obama teamed up to cut the project's funding and start looking for alternatives, the project is only legally dormant, not legally dead.
I've written before that the law of the land is still pro-Yucca, and that there are still plenty of lawmakers from around the country (from both parties) who want to see the nuclear waste currently sitting in their states shipped off for deep geologic burial in Nevada. (They now count among their number Rep.-elect Cresent Hardy, who represents the 4th Congressional District, which includes the dump. Hardy said during the campaign that "it's a great area for" nuclear waste, if it can be proved safe.)
Since the law was never changed, and since Reid is about to become the Senate minority leader because of last month's Republican wave, rumblings about reviving Yucca Mountain are once again making the rounds in Washington, D.C. The Nevada Agency for Nuclear Projects last month issued a report telling state officials that the dump is not dead, and that Nevada needs to push on with efforts to fight the repository plan.
This should serve to illustrate why it's important to build a coalition to change the law — rather than just de-funding a duly authorized initiative by crafty legislative maneuverings. The last time I wrote that about Yucca, Reid told me I shouldn't look at it that way. There's a big fence surrounding the Yucca repository site. It's dead, he said.
But it's not really dead until the law is changed. Otherwise, we wouldn't be talking about it at all.
Steve Sebelius is a Las Vegas Review-Journal political columnist who blogs at SlashPolitics.com. Follow him on Twitter (@SteveSebelius) or reach him at 702-387-5276 or ssebelius@reviewjournal.com.