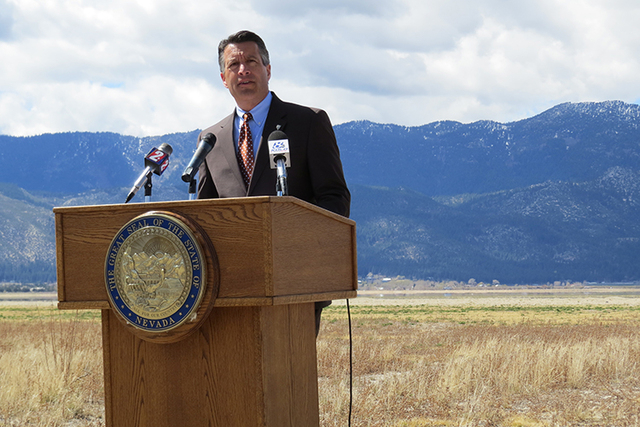 A statement from the Nevada Assembly GOP caucus supporting other Republican leaders for demanding a review of federal safeguards before accepting more Syrian refugees was less than unanimous.
That's because some members weren't invited to add their signatures, another sign of the deep divide between moderates and conservatives within the party.
Sixteen Republican Assembly members signed the statement praising Gov. Brian Sandoval, U.S. Sen. Dean Heller and Reps. Joe Heck and Cresent Hardy for "demanding a review of the processes that all departments of the federal government have in place in regards to resettlement programs."
Assemblyman John Moore, R-Las Vegas, was one of several GOP caucus members whose names were missing. Moore on Monday wrote the governor urging him to reject Syrian refugees because of terrorism concerns.
"Why should I sign on since I was the first to make the call?" Moore tweeted Wednesday in response to a question about why his name was not on the GOP caucus statement.
"They are just following my leadership at this point, as usual," he said.
Nine Republican caucus Assembly members were not on the list. That's because they either weren't invited to sign it or declined, a caucus spokesman said.
Members who are openly supporting the campaigns of candidates challenging sitting members weren't included.
Some conservative members of the GOP are targeting more moderate members who supported Sandoval's $1.4 billion tax package approved by lawmakers this year to help fund the governor's budget and education agenda.
—Sandra Chereb
Treasurer weighs in on refugee issue
State executives, including Nevada's Republican Gov. Brian Sandoval, aren't the only ones expressing concerns about the Syrian refugee issue in the wake of the Paris terrorist attacks.
Nevada State Treasurer Dan Schwartz put out a statement on Thursday agreeing with Sandoval's comment that "we must balance our nation's role as an international leader with the safety and security of our citizens and visitors."
"No public official in Nevada wants to be responsible for harming our citizens," Schwartz said. "But no public official in our state should undermine the values and principles that make our state and country great — and unique in the world."
He also said, "Immigrants have long played a crucial role in our State's economic prosperity. We should simply bear in mind that most if not all of the Parisian terrorists were French and Belgian citizens living in Europe. Furthermore, the barbaric cruelty of ISIS has its roots in Sadam Hussein's Iraq not Syria."
—Ben Botkin
New Zealand bound?
A Las Vegas audience got some tongue-in-cheek immigration advice from Sig Rogich, a longtime political observer whose career includes working for President Ronald Reagan.
Rogich was speaking about the upcoming presidential race and Nevada caucuses with Billy Vassiliadis, principal and chief executive officer of R&R Partners, at NewsFeed, an event sponsored by the Las Vegas Metro Chamber of Commerce and the Review-Journal.
Rogich, who disclosed he's affiliated with Jeb Bush's campaign, joked about what he'd do if the race came down to choosing between billionaire businessman Donald Trump on the Republican side and Democrat Hillary Clinton.
"If it's Trump and Hillary, I'll probably move to New Zealand," he said.
The audience laughed. But Rogich isn't packing his bags just yet. A lot can change between now — as Trump leads the GOP field in most polls — and when people start casting ballots in the early-voting states.
—Ben Botkin
Governor's place is … in the kitchen
With Thanksgiving a few days away, Gov. Brian Sandoval will be exchanging his tie and executive pen for an apron and a rolling pin.
At the Sandoval household, his place is in the kitchen come the holidays. At least when it comes to dessert.
Pumpkin pie is his specialty, and he'll be making two of them for Thanksgiving dinner.
"That's my mother-in-law's expectation every year," the governor said. He doesn't dare disappoint by showing up empty-handed.
He makes his crust from scratch, and daughter Marissa, 11, will be helping out and watching the technique Sandoval learned as a student at University of Nevada, Reno.
He honed his culinary skills cooking for the nuns at Saint Mary's Hospital while going to school.
Sandoval's holiday pie-baking evolved into a family tradition, and he'll be back in the kitchen whipping up a few more come Christmas.
—Sandra Chereb
Contact Sandra Chereb at schereb@reviewjournal.com or 775-687-3901. Find her on Twitter: @SandraChereb
Contact Ben Botkin at bbotkin@reviewjournal.com or 702-387-2904. Find him on Twitter: @BenBotkin1