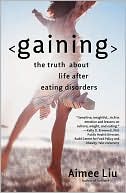 "Gaining: The Truth about Life After Eating Disorders" is not Aimee Liu's first book on the subject, nor even her second. She wrote "Solitaire," also a memoir about her personal struggle with disordered eating, 30 years ago, when the disease had barely been identified, let alone scientifically studied.
Liu published "Gaining" in 2007, and its cover declares that it has been a New York Times best-seller. Barnes & Nobel had positioned the book, attractively priced at $13.99, face out in its smallish section on eating disorders. I frankly had a hard time finding the "Eating Disorder" books at all, having struck out in the "Health," "Medicine" and "Diet" sections. I won't quibble here with their editorial decision to treat eating disorders as a subsection of "Self-Improvement." My more important task is to recommend both this book and another, "Life Without Ed: How One Woman Declared Independence from her Eating Disorder and How You Can Too" by Jenni Schaefer with Thom Rutledge. They move beyond the basic definitions of anorexia, bulimia, and bingeing and purging, and offer the intelligent layman information, and hope, on the power of food and our crazy relationships with it.
Liu recounts her own case history, and those of about 40 others, in a readable way. After her early eating struggles, she thought she was, for want of a better word, "cured." My own conclusion is that, like alcoholics and some other addicts, the disordered eater is rarely cured, but can hope to become healthy, and, in effect, to choose to put the disorder "into remission."

Liu explains, through her research, that she found several psychological characteristics that disordered eaters share, and they may not be the ones you expect. Eating disorders, says Liu, are not related to age, culture, class or weight! Genetics, anxiety, depression and temperament do influence whether or not someone develops an eating disorder. The book provides light at the end of the tunnel, in several forms. Reading/study group questions are provided, as well as an appendix of treatments and a bibliography for further reading.
"Life Without Ed" is another recent entry into the market of literature on the subject, and one which is, like "Gaining," commendable. Schaefer (who has her psychotherapist as her co-author) takes a huge risk, by trying humor in a book about eating disorders! For the most part, she succeeds. She creates an extended metaphor, personifying her relationship with food, or, more accurately, her disordered relationship with food, and calls this creature "Ed." Her therapist had encouraged her to see her eating disorder as a relationship, rather than a condition.
In humorous chapters, Schaefer tells her story, including a dinner date with "Ed." She wants the cheeseburger with fries; she orders the low-fat chicken. It's about control. In the end, the book emphasizes what Liu had emphasized. It's your choice. We control what we eat and don't eat.
While this book would certainly not be a stand-alone education about eating disorders, its addition of humor to the party is a welcome one. Even the most serious of human endeavors can be brightened with a touch of levity. Read "Gaining: The Truth about Life After Eating Disorders" for anecdotal evidence about the characteristics which may influence the lifelong struggle of disordered eating. Read "Life Without Ed" next. Both books reinforce the National Eating Disorders awareness that it's not about the size of your body. It's about the size of your heart.