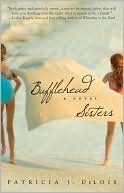 Janet is an only child. And like many lonely onlys, all she wants is a sibling — specifically a sister.
One night as Dad was tucking me in, I asked him how long you had to pray for something before it came true.
He smoothed my hair against my pillow. "Prayers aren't the same as wishes, honey, they don't just come true. God answers all our prayers, one way or another. Do you mind if I ask what you're praying for?"
"Sisters," I told him, "like the Lennon Sisters. I want sisters more than anything else in the world." …
I continued to pray, but I saw no signs of any sisters. I began to withdraw some of my demands. Okay, not three sisters, maybe only two, and it's okay if they don't sing, we can do other things together. Eventually my praying became begging and all I wanted was one, just one sister.
In the wonderful first chapter of Patricia J. DeLois' "Bufflehead Sisters," Janet meets Sophie during her first week of kindergarten. Little Janet believes Sophie has been sent to her by God and the girls become fast friends.
As the girls get older, it becomes clear to Janet's parents that things aren't as they should be in Sophie's home. The situation quickly escalates when Sophie's mother tries to kill her. The crazed woman is removed from the home, but Sophie's philandering father doesn't take much interest in the young girl, so she spends much of her days and nights at Janet's house.
Janet loves having Sophie around. She believes her newfound sister has magical powers, that she's able to talk to animals and has visions of the future. Sophie's eccentric personality makes her a target for her classmates and even Janet's mother is heavy with the criticism, but Sophie brushes it all off, seemingly secure with who she is.
But trouble follows Sophie well into adulthood. Janet continues to stand by her friend, but a devastating secret threatens to tear apart the two sisters who have remained connected not by blood, but by love.
"Bufflehead Sisters" is a charming novel with characters who will break your heart. DeLois spins a story that captivates and resonates while exploring themes of fallibility and redemption, the true definition of family and the limits of forgiveness.