Clinics give kids a chance to learn about wildlife and to fish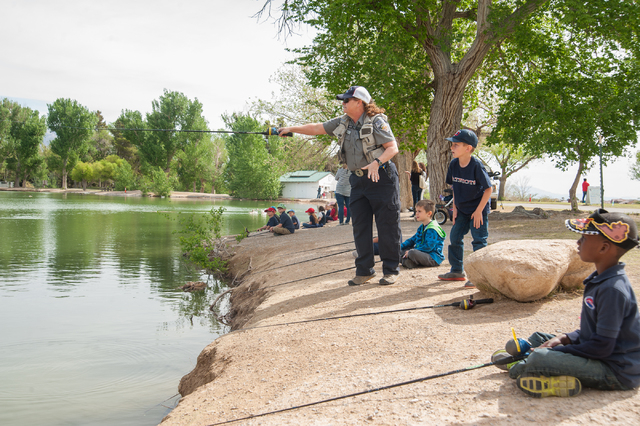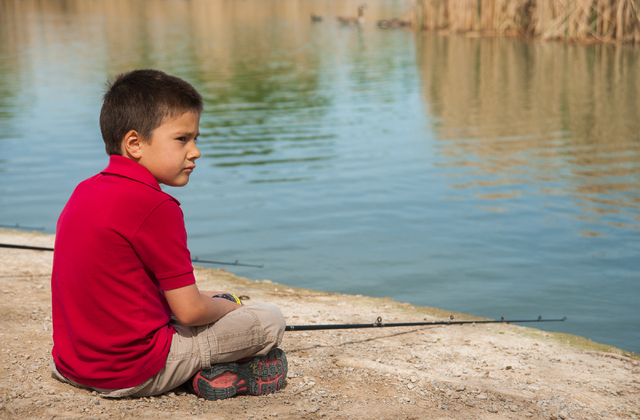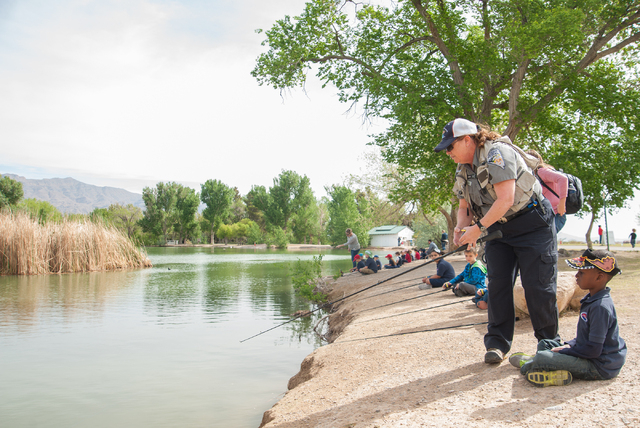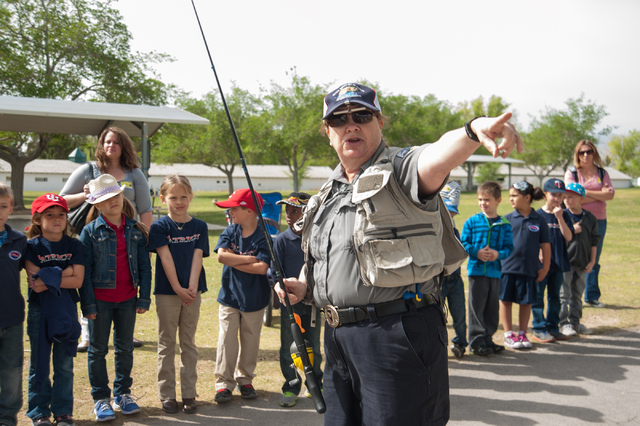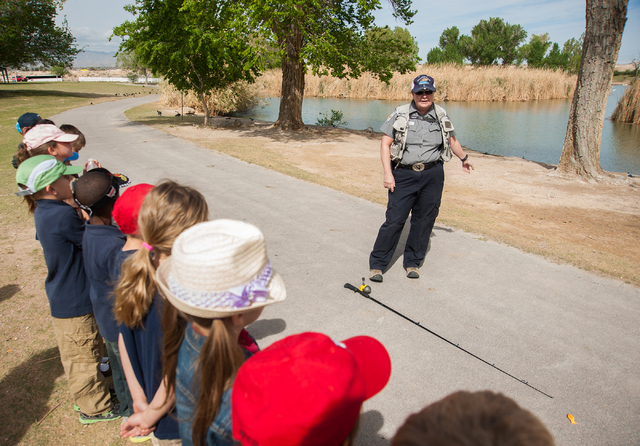 Local children are venturing into the mostly unfamiliar field of fishing with the help of an annual program that teaches nature and wildlife to elementary school students.
For the last two decades, Ivy Santee with the Nevada Department of Wildlife has been directing fishing clinics to a select group of students in the Las Vegas Valley.
"This particular program is geared towards life science and meets a lot of state standards," Santee said. "The goal is to have children catch a fish and identify it. This enforces learning about speciesism and habitats."
Santee conducts the popular fishing clinic from March to May. The clinics are open to all elementary schools throughout Nevada.
Before inviting the children to participate in the hands-on activity, Santee visits them at their schools and holds a one-hour lecture on the life of fish and their environment.
With the newly acquired knowledge, children are expected to identify the fish they catch.
"A lot of children who grow up in the city don't get exposed to nature," said Tiecha Ashcroft, school volunteer. "This clinic gives kids an opportunity to learn patience and respect nature."
At Floyd Lamb Park at Tule Springs, Santee sets up a fishing area and a game area where students learn how to cast. The fishing clinic can accommodate up to 120 children.
Santee starts the field trip by talking about the history of Floyd Lamb Park and the wildlife that inhabits the area.
Children are then divided into three groups and have 40 minutes to rotate among fishing, playing games or taking a hike and having lunch.
School volunteers are assigned to a group of five students.
During the 40-minute fishing trial, Santee entertains the students by singing songs and helping individual students with their fishing techniques.
"The kids were very excited this morning," said Bryan Rudden, first-grade teacher at Pinecrest Academy. "We try to take any opportunity we can to expose the kids to the outdoors. They can gain a lot from experiences like these."
Children learning to fish are helped by Santee to cast their rod and then sit crossed-legged on the ground until they catch a fish. They are taught how to tighten the line so they can feel the tug if they catch a fish.
Those lucky enough to catch a fish must stand up quickly and let their instructor know.
Once the fish are caught and identified, Santee and her team of volunteers will release the fish back into the water.
"I liked the clinic because I got to try to catch fish for the first time," said Ava Gibson, 7. "I also learned about the names of fish."
At the end of the fishing trial, participants receive a stamp on their arm.
"There was some research done more than 20 years ago that said if children weren't exposed to fishing by the age of 12, they'd never be exposed to fishing," Santee said. "I felt that there was a need to teach kids how to fish and about the wildlife."
Santee said she started fishing clinics for schools approximately 20 years ago when she was first hired by the Nevada Department of Wildlife. Santee added she is usually booked by August or September for next spring's fishing clinics.
With the help of volunteers, Santee is able to do two or three fishing clinics a week from March through May.
Don Ingram and his son Mason have been volunteering for more than a year at the clinics.
"This is a great program because it gets kids out of the house and gives kids an opportunity to enjoy the wildlife," Ingram said.
On average, there are six students who catch fish, according to Mason.
"Some days are slower than others, depending on the weather," Mason said. "(Regardless), this program teaches kids about wildlife, and they learn how to feed themselves."
Santee said the ponds at Floyd Lamb have nine species of fish. She added that the clinic has become so popular because children can have fun while learning.
"This clinic was amazing," said Braden Henrie, 7. "It was so much fun. I learned about patience and how to cast. Ivy is a good instructor."
For more information, call Santee at 702-486-5127, ext. 3503.
Contact North View reporter Sandy Lopez at slopez@viewnews.com or 702-383-4686. Find her on Twitter: @JournalismSandy.