Former member of state advisory commission calls for ad to cease
September 14, 2016 - 6:18 pm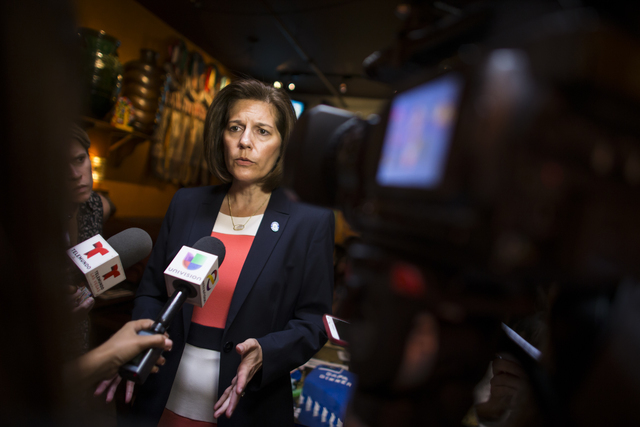 A former member of a state advisory commission who appears in footage of a super PAC attack ad targeting Catherine Cortez Masto is calling for the ad to be taken down immediately, saying he's being used as a "political prop."
The ad in question was produced by Senate Leadership Fund, and released this week as part of a $6 million effort. Cortez Masto, the Democratic candidate in the U.S. Senate race faces U.S. Rep. Joe Heck, R-Nev.
The ad features a brief exchange at a 2014 meeting of the state's advisory commission on the administration of justice. Richard Siegel, then a commission member, and Cortez Masto, Nevada's attorney general at the time, are discussing rape kits.
The exchange on the ad:
"Are you aware of this issue about the unprocessed rape kits?" Siegel asks Cortez Masto.
"No, I am not aware of that issue," Cortez Masto replies. "At least it hasn't come to our attention."
"Maybe I can get you that information," Siegel responds.
In a statement Wednesday, Siegel, a registered Democratic voter, said it's "reprehensible" to use him as a "political prop."
He also demanded that the ad be taken down immediately.
Siegel also criticized the ad for politicizing sexual assault, adding that Cortez Masto fought as attorney general to help victims of sexual assault and sex trafficking.
"Shame on the Republicans who back this ad for turning support for victims of these horrific acts – the victims that both Catherine and I worked to help – into a partisan matter," Siegel said.
The super PAC cannot coordinate with campaigns under federal law. Senate Leadership Fund spokesman Ian Prior said the ad will continue to run.
Contact Ben Botkin at bbotkin@reviewjournal.com or 702-387-2904. Find @BenBotkin1 on Twitter.