Former state senator upset over state actions on annuities complaint
October 6, 2013 - 7:37 pm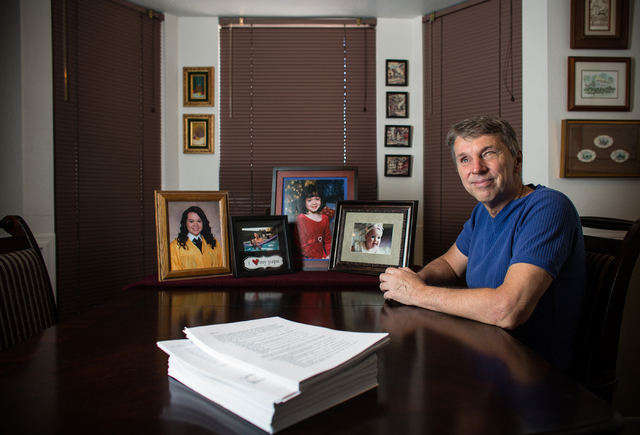 CARSON CITY — Las Vegas resident and former state Sen. Bob Ryan thought he had a sweet retirement mapped out for himself and his family when he invested all his savings in complex financial instruments recommended by a trusted investment adviser.
Now Ryan says as much as $1 million might be at risk because of what he says are questionable actions by the Nevada Division of Insurance regarding a complaint he filed detailing allegations of fraudulent actions by the firm that sold him the investments. Efforts to enlist Gov. Brian Sandoval's help to resolve his concerns with the Division of Insurance were fruitless, he said.
Mac Bybee, communications director for Sandoval, said the office did respond to Ryan's concerns but could not offer the relief he requested.
The Division of Insurance issued a statement saying the agency does not comment on consumer complaints.
The tale begins in 2007 and 2008 when Ryan bought nine variable annuities from Royal Alliance Associates, a national network of independent financial advisers. He said verbal statements by the company's Las Vegas agent, adviser Al Whalen who had done some IRS work for him years before, suggested that Ryan and his wife, Vicki, could enjoy a healthy retirement income while still providing a substantial death benefit to their daughter, Anji, and granddaughter, Lilly.
Whalen would not comment for this story.
A variable annuity is a contract between an investor and an insurance company where a lump-sum payment or series of payments is made in return for periodic payments. The value of the annuity depends on the performance of the money in a chosen investment option.
But Ryan said he later determined that the verbal statements made by Whalen did not match the actual contracts detailing the annuities, and that his $857,000 investment will likely generate no death benefit at all.
In 2009, he asked the Division of Insurance to investigate but was told the agency would not do so without evidence.
Ryan dedicated 1,200 hours of his own time into an investigation that resulted in a 56-page report with multiple exhibits detailing the allegations of misconduct by the firm and its agent. He filed his report with the Nevada Division of Insurance in August 2011.
Ryan said his initial contact with the division was encouraging. He said Insurance Commissioner Scott Kipper told him the division could not force changes to the contracts detailing the benefits from the annuities, but that the agency had in the past obtained compensation for consumers by reducing or eliminating fines on wrongdoers. Eliminating or reducing fines would create an incentive for Royal Alliance to settle with Ryan directly.
Ryan and his attorney had previously negotiated a $68,000 settlement with Royal Alliance through an insurance industry mediation process in June 2011, but it was not even close to the amount at risk, which he said could end up being nearly $1 million. The cash settlement taken by Ryan precluded any further legal action on his part but did not prevent a separate investigation by the Division of Insurance. Ryan's calculation of a potential $1 million loss includes the loss of the $857,000 investment as a minimum death benefit, plus other aspects of the annuities that he said differed in the written contracts compared to what was represented to him verbally.
Over the next 20 months, Ryan said Division of Insurance staff regularly updated him on the status of its investigation into Royal Alliance.
Ryan said he decided to try to independently negotiate a further settlement with Royal Alliance in March after Ted Bader, a senior investigator for the division, told the company that if it settled with Ryan, the case would be closed with no further action. Ryan said he was close to reaching a deal when the whole effort derailed in May.
At that time, Ryan said, the Division of Insurance decided to undertake a more costly and thorough review of the company's practices, called a Market Conduct Examination. Moving forward with the examination eliminated any incentive for the company to settle with him directly, he said.
Ryan said he was not told of the decision to move forward with the examination by Kipper or his staff, but instead learned of it on May 10 from a Royal Alliance executive with whom he was negotiating.
When Ryan heard of the decision, he emailed Sandoval on May 22 seeking a meeting. Ryan said Sandoval's deputy chief of staff, Jackie Bryant, stonewalled him for more than a month. By the time a meeting was set with Kipper in late June, Ryan said, the decision to perform the examination had already been made. A contract with a private firm to conduct the examination had been signed on June 21.
Kipper called Ryan and told him of the decision on June 24.
Sandoval never made contact with Ryan directly.
Ryan, who is blind from glaucoma, served as a Nevada state senator from 1983 to 1986 when he ran unsuccessfully for a seat in Congress. Now 65, Ryan has also served as press secretary to former U.S. Sen. Paul Laxalt, R-Nev.
Ryan said he is dismayed that Sandoval would not give him the courtesy of a personal response to his concerns about the Division of Insurance and how it handled his complaint.
He also said the reason for the change in the agency's review process, which has put any potential settlement at risk, has never been explained.
In a scathing email sent to Bryant on July 3, Ryan said Sandoval "would be appalled to know that his administration is becoming synonymous with deceit, deception, duplicity, stealing the 1,200-hour work product of an already defrauded consumer …"
Bybee said a decision had already been made to go forward with the Market Conduct Examination of Royal Alliance when Ryan contacted the governor's office. As a result, there was no opportunity for the governor's office to intervene, he said.
"The governor's office is not going to interfere with an investigation done by state regulators," Bybee said.
The review is now being performed by an outside firm at a cost Ryan said is $120,000, which the company must pay.
Jake Sunderland, public information officer with the Division of Insurance, said market conduct examinations are ordered when there is concern that there may be marketwide issues that affect all Nevada consumers of insurance. Any fines or monetary penalties that might be assessed by the division go to the state general fund as required in state statute, he said. Sunderland said the division typically performs 35 such examinations a year. There are 14 currently open and they can be performed on any insurance company that is licensed to do business in Nevada.
The completion date of the review of the Ryan complaint is confidential, he said.
The Insurance Division's legal mandate to forward fines and penalties to the general fund is in contrast to the Nevada Secretary of State's office, which also has a responsibility for reviewing financial investments. The office focuses on securities rather than insurance investments. It investigates complaints and can impose civil penalties similar to the powers of the Insurance Division.
Ryan said the Division of Insurance could still reduce the level of any fines or penalties that may ultimately be imposed on Royal Alliance in an effort to give him some leverage to broker a settlement, but all communication with the division has come to a halt.
Linda Malamut, spokeswoman for Royal Alliance, issued this statement about the Ryan complaint: "Royal Alliance is absolutely committed to our clients. We are fully cooperating with the Nevada Department of Insurance's review and look forward to resolving this matter."
The U.S. Securities and Exchange Commission offers advice to potential investors, including the recommendation that written materials be read before making an investment. Questions such as how the investment will make money, what must happen for an investment to increase in value and what risks exist are important questions to ask.
Ryan said he fears his family will be "kicked to the curb" when the review is completed, ending up with no compensation.
"I am afraid that they will impose fines and give me nothing," he said in a recent phone interview. "I can't tell you how frustrating this is. I was lied to."
To worsen matters, Ryan said, it was his painstaking work documenting the problems that the division is using to investigate Royal Alliance. Ryan kept track of the time he invested in the effort.
"I lay all of this at the feet of Brian Sandoval," Ryan said. "Is he going to sanction the theft of my intellectual property and the abuse I received at the hands of his administration? I appeal to his sense of fair play."
Contact Capital Bureau reporter Sean Whaley at swhaley@reviewjournal.com or 775-687-3900. Follow @seanw801 on Twitter.w