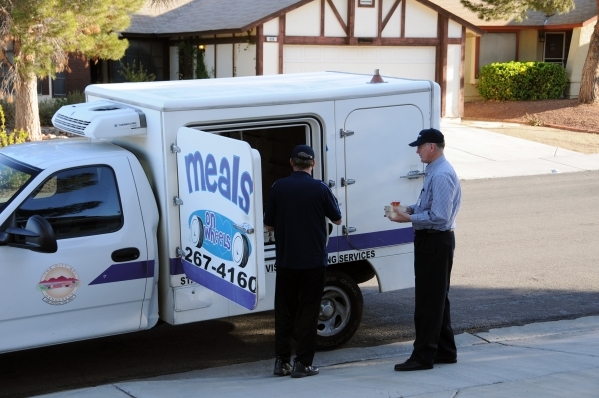 In the upcoming year, Fox Ridge Park is scheduled to experience some of the benefits of a recovering economy, according to city of Henderson officials.
The 30-year-old park at 420 Valle Verde Drive is set to be renovated after the project goes out to bid in the first quarter. The upgrades are a reflection of the city renewing its focus on reinvesting in its infrastructure and making efforts to find creative funding sources, said Kim Becker, the city's public information officer.
"When we were involved in the recession, we had a reserve, but we had to tap into it to balance the budget," she said. "Now, with the recession behind us and the city carefully looking forward, we could start to look at some of the projects that have been deferred; some things have been deferred since 2008."
The park renovations are set to include the addition of a shade structure for the playground and enhancements to lighting and pathways. The residential construction tax and funds from the Southern Nevada Public Land Management Act and the Macy's Love Your Park program are set to pay for the $378,000 project.
"We are seeing increased development and job creation locally, and we will continue to balance our available resources with the needs of our community," said Richard Derrick, chief financial officer, in an emailed quote.
Also in 2016, the city plans to expand its Meals on Wheels program to include food for pets owned by meal recipients. The pet component is set to be launched in the first quarter and sustained through sponsorships that include pet food or funding. The Meals on Wheels program has 350 recipients who own a combined 140 pets, city officials said.
"For a senior, a lot of the time, having a pet helps them combat isolation and helps them have companionship," Becker said.
In the area of public safety, the city aims to improve the fire department's alarm notification system by transitioning from analog to digital equipment. Also, the city plans to enhance emergency medical services response through an integrated emergency medical services system, which helps personnel access a patient's medical history more efficiently.
"This will enable the Henderson Fire Department and our local partner agencies to address the complexities of pre-hospital medical care through a unique public-private participation model that will enhance service delivery while also maintaining response agility," said Fire Chief Steven Goble in an emailed quote.
Also planned in 2016 is Blue Skye Development LLC's Southend on Water project at 314 Water St. The 6,500-square-foot, two-story facility is set to include office space for Tate Snyder Kimsey Architects, which is designing the mixed-use building, and a ground-floor cafe overlooking Water Street. A second phase on adjacent land currently owned by the Henderson Redevelopment Agency would include additional retail and office uses, along with a residential component on the second floor. A groundbreaking on the first phase took place Dec. 10, with construction set to start in January and last six months.
Also, Lovelady Brewing Co. is set to open a 4,000-square-foot facility in March at 20 S. Water St. Additionally, the 214-bed Henderson Hospital, part of the Valley Health System, is slated to open in fall 2016 at U.S. Highway 95 and Galleria Drive. A live webcam of the construction process is available at hendersonhospital.com/watch-the-hospital-grow.
— To reach Henderson View reporter Cassandra Keenan, email ckeenan@viewnews.com or call 702-383-0278. Find her on Twitter: @CassandraKNews