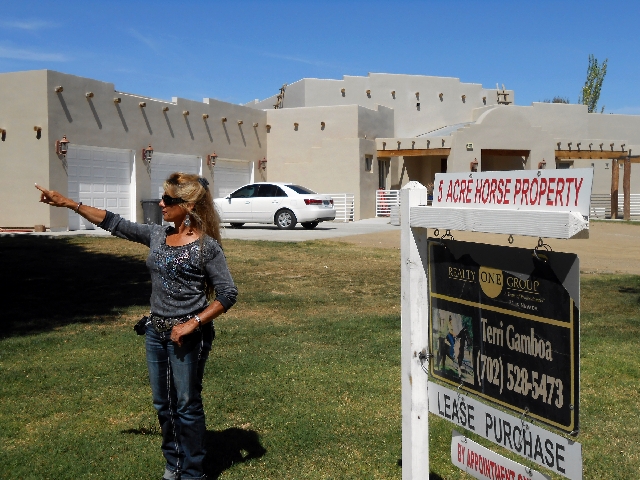 The most expensive home for sale in Centennial Hills is listed at $15 million. The least expensive home, a short sale six miles away, has a list price of $15,000.
Similar price gaps can be seen across the six Centennial Hills-area ZIP codes west of Decatur Boulevard, where foreclosures slowed and housing prices rebounded by an average of 10 percent between the start of 2011 and the end of last year.
It's the same story elsewhere in the Las Vegas Valley, where 2012 saw a major uptick in land values, sales volume and median home prices while foreclosure activity ground to a near halt.
For Centennial Hills-based Realtor Jim Croteau , all this good news has become a huge headache.
"I've got a buyer coming in about 10 minutes," the Coldwell Banker Real Estate agent said . "I'm not going to be able to find him a home, because we've got a critical inventory shortage.
"It's killing us trying to find homes under $200,000. Six months ago, it was so easy."
What has changed, Croteau explain ed, is the market response to Assembly Bill 284, state legislation adopted in October 2011 designed to slow a wave of foreclosures threatening to flood Nevada's housing market.
Croteau blames the law — which requires banks to file a laundry list of deeds and other property documents before dropping a foreclosed home back on the market — for a bottleneck in distressed inventory and an artificially depressed supply of homes.
But he blames hedge funds and other cash investors for driving up list prices and freezing many prospective home buyers out of the area's new, smaller market.
"We're having to turn people down that have gone online to Zillow or Trulia and seen homes that are within their range," Croteau said. "What they're not seeing is that 80 percent of our inventory is already in contingency or under contract (to investors).
"If I wanted to, I could sell all day to investors and smile all the way to the bank."
Melissa Chupa could also sell off the bulk of her listings to hedge funds. She, like Croteau, would rather not.
"It's a seller's market, for sure," the Sovereign Realty agent said. "I don't think I could buy a house right now."
Chupa recently put her own home up for sale. As one of just 3,000 single-family homes up for grabs in the Las Vegas Valley, she expects it to move quickly and for $100,000 more than it would have a year ago.
Both Chupa and Croteau expect that a softer market will follow an uptick in short sales and an influx of new bank-owned listings over the next 12 to 16 months.
Her advice until then?
"Find a really, really good agent," Chupa said , " and be very lucky."
Contact Centennial and North Las Vegas View reporter James DeHaven at jdehaven@viewnews.com or 702-477-3839.