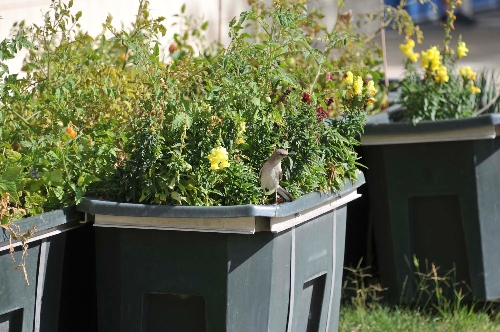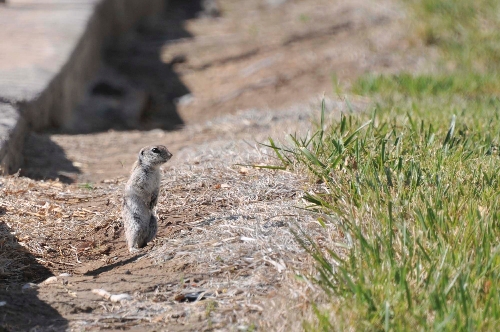 Hawks are natural predators of round-tailed ground squirrels, but the Desert Hawks of Heard Elementary School have a friendlier relationship with the rodents.
The school is inside Nellis Air Force Base, and the indigenous squirrels were living under the dirt long before it was built.
First-grade teacher Cris Cisneros started at the school two years ago and noticed the kids' fascination with the creatures. Much like a hawk, Cisneros has developed an eye for them.
He routinely spots squirrels —- just a few inches long —- in the grass about 30 feet away. He also is quick to point out every burrowing hole during a stroll around the school grounds.
"They've been here for 60 years," Cisneros said. "It's an inadvertent preserve."
Sometimes the squirrels initiate the contact.
Cisneros said the squirrels have developed tunnels under the school and have been known to burrow into classrooms occasionally.
Cisneros' time at the school has led to a mutually beneficial relationship between the species. He planted a garden outside his classroom that has yielded tomatoes, squash, green beans and more. He teaches his students how to care for the garden and lets them enjoy its yield.
"I'm a gardener at heart," Cisneros said. "You want to be able to share something nice with (students). The kids get to have a healthy snack. It's great seeing the kids go out and pick peas. Most kids wouldn't know where peas come from.
"If we lived in the sticks, this would be normal. I'm trying to bring a little bit of the sticks to the desert. It's a nice reprieve from urban life."
Cisneros' students and those from other classrooms feed the squirrels, from a safe distance, several times a week. This usually consists of throwing a tomato near a hole.
"They usually eat plants, dandelions," Cisneros said. "They're in heaven with this garden."
The squirrels are especially active in spring because it is breeding season, said Rachel VanHorn, a zoologist at the Springs Preserve.
Students jumped at the chance to talk about their experiences with the squirrels.
First-grader Cassidy Olive said she once got a squirrel to approach her.
"I copied it, and I was doing this," Cassidy said, while demonstrating her squirrel stance.
Some students also said they researched the animal on the Internet after learning about it at the school.
Ann Bedlion is a natural resources biologist at Nellis. She and other biologists at the base study the squirrels and every other type of animal found on the base.
"They bark a bit when we handle them," Bedlion said. "I don't recommend other people handle them."
And while there is a small risk of being bitten, the squirrels are "fairly harmless," she said.
Contact View education reporter Jeff Mosier at jmosier@viewnews.com or 224-5524.