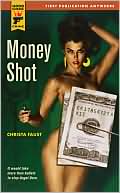 A new paperback series called "Hard Case Crime" has been on the market since 2004 and is reminiscent of the hard-boiled crime pulp novels of the '50s and early '60s. The publishers give new and established authors the opportunity to write a PI mystery, or a police procedural, or a straight who-done-it suspense thriller in the style of times long passed. The series premiered with "The Colorado Kid" by Stephen King and from there has showcased the talents of Donald E. Westlake, Lawrence Block, Max Allan Collins, Richard Powell, David Dodge and now Christa Faust, just to name a few.
Like historical novels and westerns, I don't usually read many books written by women. Both men and women have a certain style of writing and either you like the style or you don't. Over the years I've only found a few female authors who I've thoroughly enjoyed—the late, great Helen MacInnes, whose spy novels were as good as anything written by Alistair MacLean and Robert Ludum; Anne Rice, whose first three "Lestat" novels and "The Witching Hour" are now considered true classics in the horror genre; and Laura Reese, who combined erotica and suspense to create two top-notch thrillers that have remained underground best-sellers for the past decade.
Now, there's Faust, who has been writing for more than 10 years, putting her impressive stamp on fiction in the erotic/suspense field, horror, movie novelizations, and crime/mystery. Her latest book is "Money Shot," and it continues the line of "Hard Case Crime" novels with a story of crime, sex, murder and revenge. There's no holding back here as Faust lets go with both barrels of the shotgun, demonstrating that women can write crime novels every bit as intense and edge-of-your-seat as the men, if not better.
"Money Shot" deals with Angel Dare, a former porn star who now runs a modeling and talent agency for women in the adult business. The novel starts out with Angel tied up in the trunk of an old Honda Civic, contemplating her impending death. It seems that a local Hollywood crime boss, who runs a sex-slave ring consisting of foreign women who come to America with dreams of a good life, has had a briefcase full of money stolen from one of his men, and the woman who took it happened to pay a visit to Angel's office on the day that she died. The money has disappeared, and the crime boss thinks that Angel may know something about it. He has her tortured in order to find out what she knows. When he soon realizes that she knows nothing, he has one of his men drive her to the parking lot of a vacant warehouse so that a bullet can be put into her head. She barely manages to escape with her life and has to turn to a part-time employee named Malloy, who used to be an LAPD homicide detective. Together, they try to stay one step ahead of the bad guys and to find the briefcase.
Angel, however, wants more than just the money. She's after revenge for what was done to her and wants to kill everyone involved. Malloy knows from firsthand experience that revenge doesn't always clear the air, and all he wants is to find the money and then get out Dodge with Angel before their time runs out. A lot of people are going to die terrible deaths before the climax is finally reached, and Angel is going to discover that even your closest friends can't be trusted when large amounts of money are at stake.
This is not a PG-13 crime novel. No way! Faust doesn't hold back or pull any punches in "Money Shot" with the language, the sex and the violence. She tells it like it really is. Some readers might find this offensive, but for true aficionados of crime fiction this is the pot of gold at the end of the rainbow. She gives you an inside look at the porn industry in all its shades of black and white, takes you on a tour to the seedier sides of Los Angeles, creates some very believable characters that resonate with an evil all of their own, and delivers a genuine heroine who has to become what she hates most in order to get even with those who destroyed her life and killed her friends.
This isn't a novel for the weak of heart.
Faust is definitely an author to keep an eye out for. Now that she's had a taste of being a hardboiled crime writer, there's no stopping her!