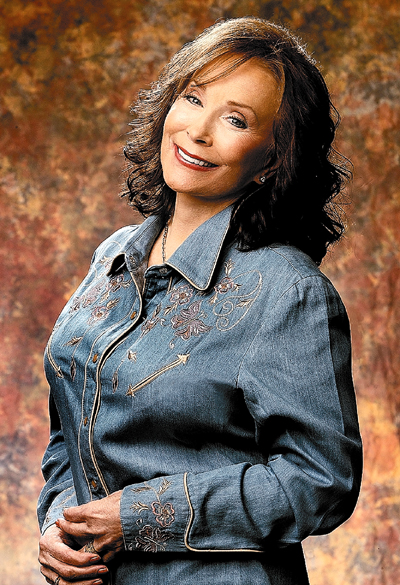 "I'm gonna take one of these, in case I get weepy," my female companion said as she grabbed an extra bar napkin before entering the show, just in case she needed something to dab her eyes with.
And she would.
Rather quickly.
The song was "Here I Am Again."
"I told you that I'd never come around again, but here I am again, here I am again," Loretta Lynn sang solemnly.
"I said I'd never let you get me down again, but here I am again, here I am."
Yes, here she was, looking fabulously matronly in a flowing turquoise gown complete with Liberace-levels of sequins and matching eyeliner and shoes.
At 74, Lynn's the reigning godmother of country music, still capable of singing in that feisty backwoods yelp that first made her a household name close to 50 years ago.
At Texas Station's Dallas Events Center on Saturday night, Lynn occasionally flubbed her lines — "I'm supposed to be singing right now, but I'm not," she chuckled in song after missing her cue at one point — and seemed a bit fatigued at times.
"Y'all don't mind if I sit down?" she asked before taking a seat four songs into the show.
But Lynn was still a commanding presence nonetheless, a regal populist who sings with clear, unwavering authority.
"I'm about as old fashioned as I can be / And I hope you're likin' what you see / 'Cause if you're lookin' at me / You're lookin' at country," she sang commandingly.
It's kind of ironic, because hearing Lynn speak about women's lib in song and on stage, it's as if she doesn't really consider herself a part of that movement.
And yet, her catalog contains some of the fieriest feminine anthems ever penned.
From the defiant sass of "You Ain't Woman Enough" to the sexual liberation inherent in "The Pill," Lynn is forever a woman in control.
"Look who's a cryin', it ain't me," she tells a no-good ex on "I Wanna Be Free."
Flanked by a seven-piece band and a trio of backing singers who added rich harmonies and aching pedal steel to Lynn's many heart-on-the-sleeve hits, Lynn remained in loose, off-the-cuff spirits throughout the show.
"OK boys, hit a number and I'll try and hang on," she instructed, doing her best to keep up with her band during the last gig of a clearly draining three week tour.
As to be expected, it all ended with Lynn's most signature tune, "Coal Miner's Daughter."
"Lots of things have changed since way back then, and it's so good to be back home again," she sang. "Not much left but the floor, nothing lives there anymore. Just the mem'ries of a coal miner's daughter."
And those mem'ries won't be fading any time soon.