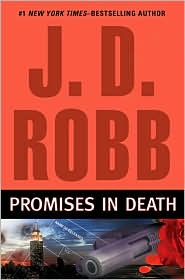 In "Promises in Death," best-selling author J.D. Robb's latest in her "In Death" series, Lt. Eve Dallas is on the hunt for a cop killer in New York City in the year 2060.
Eve will have to question the victim's co-workers, informants and neighbors while digging into her past. While Eve continues her investigation, the killer takes notice, sending Eve a personal message — and it isn't a love note.
In another series continuation, "Night and Day," Robert B. Parker's latest installment in his series featuring Jesse Stone, the police chief finds himself on the trail of The Night Hawk, a voyeur tormenting the women of Paradise, Mass.
Also hitting shelves this week: "Abraham Lincoln: A Life" by Michael Burlingame; "One Day at a Time" by Danielle Steel; "Terminal Freeze" by Lincoln Child; "White Witch, Black Curse" by Kim Harrison; "Above the Law" by Tim Green; "If I Grow Up" by Todd Strasser; "American Rust" by Philipp Meyer; "Blood and Ice" by Robert Masello; "The Caryatids" by Bruce Sterling; and "Safer" by Sean Doolittle.