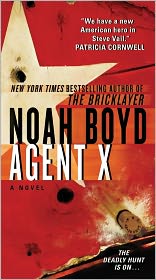 Shame on me. I should have read Noah Boyd's first novel on former FBI agent Steve Vail, "The Bricklayer," before I read his follow-up, "Agent X," now out in paperback.
As a book critic, if I'm introduced to a series, I try to read as many earlier entries as I can before tackling the latest release. I want to familiarize myself with the characters, past events, etc., as much as possible. It's called "doing your homework."
But due to other projects and a dose of laziness, I didn't get around to reading "The Bricklayer," which was a New York Times best-seller. The San Jose Mercury News said it had "great action, great writing (and a) great story."
If that story had those qualities, I've gotta get around to reading it soon because the sequel, "Agent X" is pretty good. I'm reluctant to describe modern thrillers as "great" because many of them are formulaic and predictable.
"Agent X" is different. At first, it seems like a by-the-numbers spy thriller. The handsome, jack-of-all-trades hero Steve Vail is called upon to help solve a Cold War-style case in the Washington, D.C., area. He works with Kate Bannon, a smart and sexy assistant director at the FBI, on the case. They have a budding romantic relationship. Things go well, then not so well as the spy dilemma deepens.
It doesn't sound very exciting at first. Glamorous male-female "good guys" team tries to beat the "baddie" Russians. Yawn.
Fortunately, Boyd, a former veteran FBI agent, grounds his story and characters in 21st century reality. The Cold War has been over for about 20 years, and the Russian spy syndicate has grown into different directions. There are new bad guys who want a slice of the international criminal pie. And Vail and Bannon's relationship gets complicated. So has the technology that they use to help solve the case. Also, Vail has a troubled relationship with his former employer. He basically works as an independent contractor in "Agent X."
"(Vail) would find some way to involve himself in the case and succeed when everyone else failed," Boyd writes as the case starts to unfold. "And then he would walk away, his final measure of contempt for the FBI and those who thought they ran it."
So what is the case? It revolves around a man known as Calculus, who is an intelligence officer at the Russian embassy in D.C. He provides the FBI a list naming several Americans who are giving confidential government information to the Russian secret service, the SVR. In exchange, he wants a lot of money for each traitor the FBI arrests.
Suddenly, Calculus is recalled to Moscow, and the feds suspect the Russians know what Calculus is doing. This launches Vail and Bannon's adventure into finding who the traitors are before bodies start littering the metro area.
Of course, there's lots of action and violence and some surprises. Boyd keeps the action moving, and the banter between Bannon and Vail is superb. Boyd is a sharp, focused writer.
"Agent X" works well as a stand-alone story, and I don't think it's necessary to read "The Bricklayer" beforehand. That's what good writers do with each story — grab new readers and satisfy their old ones.