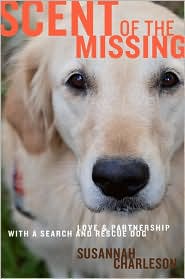 Dogs, their faces and those of their handlers etched with tiredness, making methodical paths through the debris of a shredded building, form some of the enduring images from the Oklahoma City bombing. Dallas resident Susannah Charleson, a dog lover and pilot who had participated in searches from the air, clipped a photo of an exhausted handler, leaning into the back of his equally tired search dog in the awful hours after the Murrah Building bombing.
The photo inspired Charleson to join a certified canine team as a volunteer assistant and then to qualify to train her own dog. The dog was Puzzle, a bright and bossy golden retriever. Charleson tells their story in "Scent of the Missing: Love & Partnership with a Search and Rescue Dog." The book is coming out in April 2010 from Houghton Mifflin Harcourt.
The result of her work is a sparkling gem of a book. Full disclosure: I love dogs. I've lived with four in the past 15 years. I think that in some ways a lot of them behave in a way that's morally superior to how a lot of us behave, even if perhaps unintentionally — on the dogs' part, I mean. And, I really enjoy being delighted by a book for which I had low expectations. Just so you know.
That said, Charleson is a lyrical writer. She writes about night flying, ''Other nights a blanket of stratiform cloud stretched wide above the little Cessna, and I flew small and secret, like a child with a flashlight under the blanket, flying beneath an eiderdown beautifully up-lit at its edges by the lights of cities on the horizon."
About one of her Pomeranians, an anxiety-ridden little fellow who alerted her to a burning leaf ignited by a citronella candle on the back porch, she writes, ''When Spirits'l is excited, he tends to spin rather than travel in a straight line; this made a trip back to the porch rather like following a dreidel.''
Much of "Scent of the Missing," however, is about how dogs search for lost people. Dogs have an extraordinary sense of smell in comparison to humans. While we have 5 to 6 million olfactory receptors for odors, dogs have an average 220 million (bloodhounds have even more). Anyone who ever has walked a dog knows how the pooch can become entranced by a leaf, a garbage can or an invisible spot on the ground, sniffing, investigating, shifting position to conduct the investigation from another angle, peeing on it for a reason known only to dog and God and then launching the canine investigative process all over again — as we stand there and time crawls infinitesimally on while our life passes back and forth before our eyes.
Training a dog to apply that incredible skill to searching for people is as much art as science. A perfectly capable dog can wash out through the fault of the handler. Trained wrongly, a dog can lose heart. Its spirit can be broken beyond repair. Search dogs must learn to sort one scent out of possibly hundreds, and track that scent through musty rooms, garbage-strewn lots, structures holding the smell and sweat of many people. Dogs must learn to find someone without scaring someone possibly already traumatized. Dogs must teach their handlers to read their signals — this alley seems promising, there's nothing in here, come right now!
Charleson and Puzzle begin the long hours of drills, practice and testing to become a search team. Along the way, an Alzheimer's patient wanders away. A teen vanishes. A man disappears from a boat on a lake in front of his horrified mother. Space Shuttle Columbia rips apart over east Texas.
In our modern age, with GPS locaters, cell phones and ultrasensitive microphones that can be lowered into rubble piles to listen for sounds of life, the fact remains that after virtually every disaster involving missing persons, the call comes for search dogs. In Mexico, in China, in Iran, in Russia, in the rubble of the World Trade Center. Find this! Find someone! Find some more!
In moving, poetic language, with a keen appreciation and respect for the heart and mind of a dog, Charleson takes us inside the world of canine search-and-rescue teams. And in the times we now live, in which terrorism has joined such natural threats as earthquake and tsunami, it's a comforting thought that if ever we are overtaken by disaster, our savior might be a dog.
I loved this book.