DVDS

"Book of Eli" (R): Denzel Washington headlines this post-apocalyptic odyssey about a loner fighting his way across country to protect a sacred book that might hold the key to saving humanity: the last remaining Bible. Gary Oldman and Mila Kunis co-star for filmmaking twins Albert and Allen Hughes ("From Hell").
Elsewhere on the recent-release front, "Youth in Revolt" (R) returns Michael Cera to his trademark geek-in-lust role, as a bookish guy who falls for a precocious prep school student (Portia Doubleday) while on vacation — and invents an arrogant "supplementary persona," a bad-boy Frenchman, to help him win her heart. In "When in Rome" (PG-13), an unlucky-in-love New Yorker (Kristen Bell) steals some coins from a legendary fountain of love — and finds herself pursued by several suitors, including a sausage magnate (Danny DeVito), a street magician (Jon Heder), a painter (Will Arnett), a narcissistic model (Dax Shepard) and a reporter (Josh Duhamel) who might just be Mr. Right. And in "Stark Raving Black" (R), Lewis Black takes the stage at Detroit's historic Fillmore Theatre for a comedy concert featuring his trademark blistering social and political commentary.
Turning to titles that never made it to local theaters, "Happy Tears" (R) casts Demi Moore and Parker Posey as sisters who return to their childhood home to deal with their aging father (Rip Torn) — and their own tangled lives. Ellen Barkin co-stars. A mysterious interrogator (Samuel L. Jackson) and an FBI agent (Carrie-Anne Moss) take on a terrorist (Michael Sheen) in the thriller "Unthinkable" (R). The clay-animated "Mary and Max" (not rated) recounts the 20-year friendship between an 8-year-old Australian goth girl (voiced by Toni Collette) and her pen pal, a 44-year-old New Yorker (Philip Seymour Hoffman). And in "Collapse" (not rated), documentarian Chris Smith ("American Movie," "The Yes Men") focuses on a former L.A. cop who predicted the current financial crisis — and now warns of a new global meltdown rooted in oil, economics and covert U.S. policies.
A very Vegas guilty pleasure leads today's Blu-Ray Disc debuts: a 15th-anniversary "Sinsational" edition of the infamous 1995 "Showgirls" (NC-17). Also hitting Blu-Ray today: Jim Jarmusch's offbeat 1989 Memphis romp "Mystery Train" (R), Liam Neeson in 1990's "Darkman" (R), "Lost" star Terry O'Quinn's 1987 horror breakthrough as "The Stepfather" (R) and the campy 1980 "Flash Gordon" (PG). Tuning in to TV transfers (all unrated): "MacGyver: The TV Movies," "Hawthorne: Season One," "Johnny Bravo: Season One," "My Three Sons: Season Two, Vol. Two," "Sanctuary: The Complete Second Season," "Best Years: Complete Second Season," "Everwood: The Complete Third Season," "Leave it to Beaver: Season Three," "Here's Lucy: Season Three," "Secret Life of the American Teenager: Vol. Four," "American Dad: Vol. Five," "Family Guy, Vol. Eight" and "Raffles: The Complete Collection."
CDS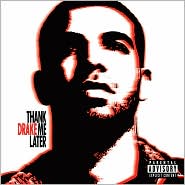 Drake, "Thank Me Later": It's been a while since the most anticipated album of the year was a debut, but you could argue that this is the case with young Canadian rapper/crooner Drake's hotly tipped first disc.
With guest spots from such luminaries as Young Jeezy, Lil Wayne and Jay-Z and production from Timbaland, Swizz Beatz and Kanye West, "Thank Me Later" boasts plenty of ammo to shoot up the charts.
And Drake's sure to notch plenty of hits with his approachable, radio-friendly rap/R&B hybridizing, which is just as satin-smooth as the guy's chocolate-sweet singing voice.
Also in stores: The Stanley Clarke Band, "The Stanley Clarke Band"; Cowboy Junkies, "The Nomad Series: Renmin Park, Volume 1"; Devo, "Something for Everybody"; The Gaslight Anthem, "American Slang"; Ed Harcourt, "Lustre"; The Like, "Release Me"; Sarah McLachlan, "Laws of Illusion"; The Steve Miller Band, "Bingo!"; Pernice Brothers, "Goodbye, Killer"; Tom Petty and the Heartbreakers, "Mojo"; Rasputina, "Sister Kinderhook"; Robyn, "Body Talk PT 1"; Kevin Rudolf, "To the Sky"; and Suzanne Vega, "Close-Up Vol. 1, Love Songs."
BOOKS

"Frankenstein: Lost Souls" by Dean Koontz: The best-selling author picks up where his popular paperback trilogy left off with the first in a new trilogy, in which five characters, drawn together in different ways, must stop the man they knew as Victor Helios from using stem cells and nanotechnology to create a race of superhumans.
Author Catherine Coulter also returns with another series installment this week with "Whiplash," the latest paranormal romantic thriller featuring FBI agents Dillon Savich and Lacey Sherlock.
Also hitting shelves: "Between a Heart and a Rock Place: A Memoir" by Pat Benatar; "Confessions of a Prairie Bitch: How I Survived Nellie Oleson and Learned to Love Being Hated" by Alison Arngrim; "Imperial Bedrooms" by Bret Easton Ellis; "Lowcountry Summer" by Dorothea Benton Frank; "The Overton Window" by Glenn Beck; "That Perfect Someone" by Johanna Lindsey; "Spies of the Balkans" by Alan Furst; "Uncharted Territori" by Tori Spelling; and "The Upside of Irrationality" by Dan Ariely.