THE LIST: DVDs, CDs and books hitting stores week of March 31
DVDS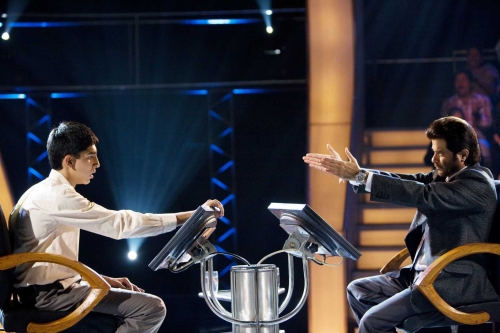 "Slumdog Millionaire" (R): Winner of eight Academy Awards, including best picture, this beguiling Bollywood fairy tale focuses on an orphaned Mumbai teen (Dev Patel) who becomes an unlikely contestant on the Hindi version of "Who Wants to Be a Millionaire" — not for money, but for love.
In "Marley & Me" (PG), meanwhile, Jennifer Aniston and Owen Wilson bond with a naughty, neurotic — and utterly lovable — yellow Labrador retriever in this adaptation of John Grogan's best-seller.
And in "Seven Pounds" (PG-13), Will Smith plays an enigmatic IRS agent who embarks on a quest for redemption that involves seven strangers (played by, among others, Rosario Dawson and Woody Harrelson).
Rounding out the week's recent theatrical releases: the terrific French thriller "Tell No One" (not rated), about a pediatrician (François Cluzet), still mourning his murdered wife after eight years, who becomes a suspect all over again when police reopen the case. Kristin Scott Thomas co-stars.
Another overseas thriller, "Timecrimes" (R) follows a vacationing Spaniard who follows a strange woman into the woods — and into a time-tripping jigsaw puzzle.
Turning to other titles that never played locally, an unassuming comic book fan (Michael Rapaport) develops superpowers while participating in an experimental drug study in "Special" (R). And in the romantic comedy "The Other End of the Line" (PG-13), a marketing expert (Jesse Metcalfe) develops a phone romance with a young woman (Shriya Saran) he thinks is from California — who really works at an Indian call center.
On the documentary front, "The Great Depression" (not rated), narrated by Mario Cuomo, revisits America's economic crisis of the 1930s, while "Killer at Large" (not rated) explores America's current obesity epidemic.
Comedy fans can revel in such stand-up specials as "Ricky Gervais: Out of England," "Jim Gaffigan: King Baby" and "Dennis Miller: The HBO Specials" (all unrated).
For vintage movie buffs, Blu-ray editions of musicals "An American in Paris" (G) and "South Pacific" (not rated) join Criterion Collection editions of foreign-language classics "General Della Rovere" (not rated), starring one Italian master (Vittorio De Sica) and directed by another (Roberto Rossellini), and "Danton" (not rated), featuring Gerard Depardieu directed by Poland's Andrzej Wajda.
Speaking of classics, "Shakespeare's An Age of Kings" (not rated) serves up a 15-part series, based on Shakespeare's history plays (from "Henry V" to "Richard III") recorded from live 1960 BBC broadcasts, with a pre-007 Sean Connery, Julian Glover, Eileen Atkins, Robert Hardy and Judi Dench leading the cast.
Elsewhere in the TV-to-DVD realm, Nickelodeon's "Spectacular!" (not rated) and "Hannah Montana: Keeping It Real" (G) provide family-friendly musical fun, along with "Schoolhouse Rock: Earth," "The Real Ghostbusters, Vol. 1" and "The Adventures of Robin Hood: The Complete Third Season" (all unrated).
Series arriving on DVD (all unrated) include: "In Plain Sight: Season One," "The IT Crowd: The Complete Season One," "The Fugitive: Season Two, Vol. Two" and "Voyage to the Bottom of the Sea: Season Four, Vol. One."
CDS

Yeah, Yeah, Yeahs, "It's Blitz": "Dance, dance 'til you're dead," Karen O. commands, thundering like a storm front.
The Yeah, Yeah, Yeahs frontwoman/cannonball issues her band's marching orders early on the group's latest disc, and third overall, "It's Blitz," an album that sees the Yeah, Yeah, Yeahs come with their most hip shakin', dance floor-minded album yet.
A record that filters the sexy sass of a band like Blondie through the Yeah, Yeah, Yeahs' art punk aesthetic, "It's Blitz" is a disc with limbs as loose as Karen O's lips.
Also in stores: The Answer, "Everyday Demons"; Ashbury, "Let's Make a Scene (EP)"; Rodney Atkins, "It's America" (first single: "It's America"; Bow Wow, "New Jack City II"; Flo Rida, "R.O.O.T.S. (Routes of Overcoming the Struggle)"; Gomez, "A New Tide"; Diana Krall, "Quiet Nights"; Peter Bjorn and John, "Living Thing"; Prince, "MPLSoUND / LOtUSFLOW3R / Elixir"; Queensrÿche, "American Soldier"; Silverstein, "A Shipwreck in the Sand"; UGK, "UGK 4 Life"; and Keith Urban, "Defying Gravity."
BOOKS

"Long Lost (Myron Bolitar Series No. 9)" by Harlan Coben: In his latest thriller, "Long Lost," best-selling author Harlan Coben returns to the world of Myron Bolitar.
This time around, Myron gets wrapped up in a case full of buried secrets when his former flame, Terese Collins, calls him and asks him to meet her in Paris. She's desperate for help after being named a suspect in the murder of her ex-husband, Rick.
Myron agrees to help, and soon finds himself the target of terrorists as he tries to unravel the mystery surrounding Rick's death, including whether Terese's daughter, killed in a fatal accident, might still be alive.
On the nonfiction front, actor Michael J. Fox recounts the past decade of his life in "Always Looking Up: The Adventures of an Incurable Optimist," which follows his journey of self-discovery as he has struggled with Parkinson's disease.
Also hitting shelves this week: "Dear Husband" by Joyce Carol Oates; "Seven for a Secret (New Amsterdam, Book 2)" by Elizabeth Bear; "Breaking the Slump: How Great Players Survived Their Darkest Moments in Golf — And What You Can Learn from Them" by Jimmy Roberts; "Color of Lightning" by Paulette Jiles; "Skunk Girl" by Sheba Karim; "Crazy Love" by Leslie Morgan Steiner; "Smoke" by Mavis Jukes; "Castle" by J. Robert Lennon; "Encyclopedia of Crafts: An A-to-Z Guide with Detailed Instructions and Endless Inspiration" by Martha Stewart Living Magazine Staff; "Shadow and Light" by Jonathan Rabb; "Lavender Morning" by Jude Deveraux; "Trust Me" by Peter Leonard; "A Reliable Wife" by Robert Goolrick; "Creature of the Night" by Kate Thompson; "The Killing Way" by Tony Hays; and "Malice" by Lisa Jackson.