DVDS
"Edge of Darkness" (R) — A vengeful Boston cop (Mel Gibson) investigates the murder of his activist daughter in this remake of an award-winning British series; Ray Winstone and Danny Huston co-star.

From thrillers we move to chillers. In "Legion" (R), the archangel Michael (Paul Bettany) teams up with some folks at an isolated diner (including Dennis Quaid, Lucas Black, Tyrese Gibson and Charles S. Dutton) to battle for humanity's survival. In "Daybreakers" (R), it's 2019, and a plague has transformed most humans into vampires — including an undead scientist (Ethan Hawke) unwittingly caught up in a scheme to reverse the disease. Sam Neill and Willem Dafoe (as an ex-bloodsucker named Elvis) co-star. The chill's for real for two mountain climbers in the acclaimed German drama "North Face" (not rated), when they set out to conquer the most dangerous rock face in the Alps, Switzerland's Eiger, just before the 1936 Olympics in Berlin.
From there, it's summer movie tie-in time, as special editions of "Toy Story" and "Toy Story 2" (G) serve as a warm-up for "Toy Story 3," which hits theaters (in 3-D) next month. Before you catch "Robin Hood" this weekend, you can check out the "Robin Hood Collection" on DVD, including Cornel Wilde in 1946's "Bandit of Sherwood Forest," Jon Hall in 1948's "Prince of Thieves," John Derek in 1950's "Rogues of Sherwood Forest" and TV's Robin Hood, Richard Greene, in 1960's "Sword of Sherwood Forest" (all unrated). And let's not forget Mel Brooks' spoofy 1993 "Robin Hood: Men in Tights" (PG-13), which makes its Blu-Ray Disc debut along with such other madcap Brooks favorites as 1977's "High Anxiety" (PG) and 1981's "History of the World, Part 1" (R).
Also arriving on Blu-Ray today: the Criterion Collection edition of Fritz Lang's 1931 classic "M" (not rated), with Peter Lorre's legendary portrayal of a psychotic child killer; another summer remake inspiration, 1984's "The Karate Kid" (PG); the 1979 cult fave "Rock 'n' Roll High School" (PG); Clint Eastwood's 1968 Western "Hang 'em High" (PG); and "The Magnificent Seven Collection," featuring the 1960 original (not rated) with Steve McQueen and Yul Brynner, plus 1966's "Return of the Magnificent Seven" (not rated), 1969's "Guns of the Magnificent Seven" (G) and 1972's "The Magnificent Seven Ride" (PG). "Essential Art House: Kurosawa" (not rated), meanwhile, salutes the director of "The Magnificent Seven's" inspiration, "Seven Samurai," with three more unrated classics: the samurai "Macbeth" adaptation "Throne of Blood" (1961); the poignant drama "Ikuru" (1952); and the rousing "The Hidden Fortress" (1960), which inspired a minor trifle titled "Star Wars."
Leading the TV-transfer roundup (all unrated): the "Lonesome Dove" prequel "Dead Man's Walk" and the "Lonesome Dove" sequel "Streets of Laredo," starring James Garner. Other debuts: "My Wife & Kids: Season Two," "thirtysomething: The Complete Third Season," "The Fresh Prince of Bel-Air: The Complete Fifth Season," "Hell's Kitchen: Season Two," "Daria: The Complete Animated Series," and Tom Brokaw's CNBC report on "Boomers! The Epic Story of a Generation."
CDS
Sage Francis, "Li(F)e": He's one of the best MCs you may have never heard of, but here's your chance to get a "Li(F)e."

Simultaneously eloquent, cutting, introspective and incisive, Sage Francis has cast a long shadow over indie hip-hop for years now.
And on his latest release, Francis continues to push buttons and boundaries with equal aplomb.
Also in stores: As I Lay Dying, "The Powerless Rise"; Crash Test Dummies, "Oooh La La!"; The Dead Weather, "Sea of Cowards"; Everest, "On Approach"; John5, "The Art of Malice"; Kaskade, "Dynasty"; Keane, "Night Train"; Jim Lauderdale, "Patchwork River"; Meat Loaf, "Hang Cool Teddy Bear"; The National, "High Violet"; We Are the Fallen, "Tear the World Down."
BOOKS
"Heart of the Matter" by Emily Giffin: Tessa Russo, mother of two and wife of a pediatric surgeon, and Valerie Anderson, an attorney and single mother, have little in common other than the love they have for their children. But a tragic accident causes their lives to collide in a way neither could have predicted.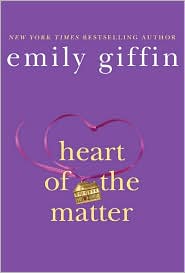 Of possible local interest, in "Wanna Get Lucky?" by Deborah Coonts, Lucky O'Toole, the head of customer relations for the Babylon resort on the Strip, has a lot on her mind as she deals with the adult film industry awards, a spouse-swapping convention and the death of a young woman who fell from a tour helicopter, landing in the lagoon in front of the Treasure Island in the middle of the Pirate Show.
Also hitting stores this week: "Crazy for the Storm: A Memoir of Survival" by Norman Ollestad; "Crisis Economics: A Crash Course in the Future of Finance" by Nouriel Roubini; "Dragon Haven: Volume Two of the Rain Wilds Chronicles" by Robin Hobb; "Executive Intent" by Dale Brown; "Feed Your Pet Right: The Authoritative Guide to Feeding Your Dog and Cat" by Marion Nestle; "Fever Dream" by Douglas Preston; "Horse Soldiers: The Extraordinary Story of a Band of U.S. Soldiers Who Rode to Victory in Afghanistan" by Doug Stanton; "The Intellectual Devotional Biographies: Revive Your Mind, Complete Your Education, and Acquaint Yourself with the World's Greatest Personalities" by David S. Kidder; "Moment of Glory: The Year Underdogs Ruled Golf" by John Feinstein; "A Nation Rising: Untold Tales of Flawed Founders, Fallen Heroes, and Forgotten Fighters from America's Hidden History" by Kenneth C. Davis; "No Wonder My Parents Drank: Tales from a Stand-Up Dad" by Jay Mohr; "The Nearest Exit" by Olen Steinhauer; "Revolutionaries: A New History of the Invention of America" by Jack Rakove; "Sports Illustrated Heaven" by Walter Iooss; "Steinbrenner: The Last Lion of Baseball" by Bill Madden; "Ultimate You: A 4-Phase Total Body Makeover for Women Who Want Maximum Results" by Joe Dowdell; and "War at the Wall Street Journal: Inside the Struggle to Control an American Business Empire" by Sarah Ellison.