'The Sweet By and By' a compelling debut
February 18, 2009 - 5:00 am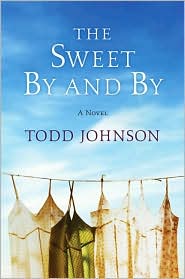 "The Sweet By and By," Todd Johnson's debut novel, is packed with so much poignancy readers might want to keep some tissues handy.
Centered around five women in North Carolina, this novel carries in it lessons of family, friends, kindness, generosity and love.
Each woman tells her story in alternating chapters. Margaret lives at a nursing home where she is one of the few without some sort of dementia. She's strong-willed and opinionated while at the same time grateful and compassionate, especially when it comes to her neighbor Bernice, whose mind hasn't escaped the ravages of grief and age. Lorraine, a church-going nurse who gives everything she has to those around her, works at the nursing home and befriends Margaret and Bernice. Lorraine's daughter, April, also has a story, one of a young black woman with dreams that are bigger than what is expected from her. And then there's Rhonda, the beautician who does hair at the home, giving to these women the small luxury of a good shampoo.
The women's lives and stories become interwoven as they give each other comfort and friendship. And friendships are at the heart of the novel — loving and enjoying those around you, even if you find them half out of their mind in a nursing home. But "The Sweet By and By" is more than just a story of friends. It's about getting old, being alone, feeling helpless, easing someone's worries and providing dignity in small ways to those in need.
April walks in on her mother helping Margaret after the old woman soils herself. Lorraine works to clean Margaret and get her clothes and bedding changed. April can see the humiliation in Margaret's eyes and feels she has intruded.
I needed to let her know that her privacy was a sacred thing, that I would never mention even to my mother what I had seen. I could only think of her searching eyes, scanning the room. I knew she wanted to flee. I also knew that she used to stand and dress and go out to dinner and chat with other ladies, and carry a purse and wear shoes. I knew that she used to send Christmas cards and wrap birthday presents. That she knew what it feels like to laugh until you start to cry. That she used to plan her tomorrows by herself. Her eyes revealed everything.
Age is something that, if we're lucky, catches us all. By doing small things to add dignity to the lives of others, hopefully there will be someone there to give that dignity back to us. Lorraine knows that age is coming for her, too.
I love serving. No, maybe that's not true, but I do love people, most of 'em. I can't help it. Even when they're as different from me as anybody could be, even when they don't make sense, because they are here … and right now they are making their way down the same path that I will have to walk one day.
Johnson delivers a heartfelt novel with "The Sweet By and By." He realistically portrays the challenges the elderly face and captures the authentic voices of these five very different women. He wraps it all up in a blanket of Southern comfort, through language, tastes and smells that set a colorful backdrop to this touching story. This is a novel not to be missed.
Johnson will be in Las Vegas speaking and signing books at 7 p.m. Monday, Feb. 23, at the Clark County Library, 1401 E. Flamingo Road.